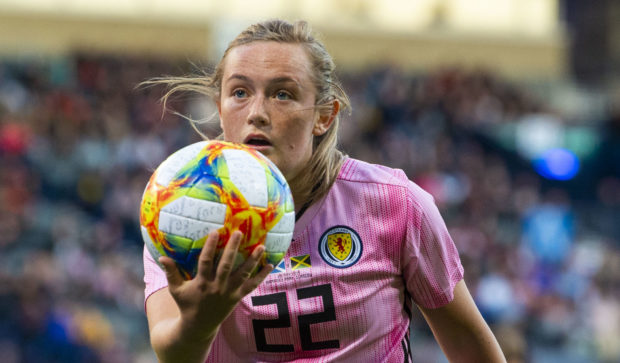 There will be no inferiority complex when Scotland's women lock horns with England in their first ever World Cup finals fixture, Erin Cuthbert has insisted.
The last time the nations met at a major tournament, the Scots were on the wrong side of a 6-0 result at the 2017 Euros.
The improvement in the Scotland team has been significant since then, however, according to Cuthbert.
Chelsea's player of the year is one of 12 in Shelley Kerr's squad for France who now play their club football down south.
And Cuthbert, who scored a stunning long-range goal in Tuesday night's Hampden send-off against Jamaica, believes that familiarity with Phil Neville's players, the return of key performers and the "unlocking" of their potential under Kerr will make for a much more even battle in Nice on June 9.
"We don't like to make excuses about the Euros but there were critical players missing that day," she said.
"So, it is nice to have a full pool of players and we are going into the tournament with a lot of confidence as well.
"I came on as a sub late in the Euros game. I don't know what score it was at the time but I remember a few goals going in and it was too late to influence the game. I was young and inexperienced and since then I have improved and I've got a good season under my belt.
"I have had a good season at Chelsea and I feel I'm at a good level of physical performance.
"Playing time has been really important for me this season and I have played a lot so I feel fit and feel ready and let's just hope the team can all come together and perform the way we can on June 9.
"That wasn't the prettiest of performances against Jamaica but we still found a way to win and we found a way to win against Brazil before that. That stands us in good stead.
"Even when we are not at our best, we still find a way to win and we need that going into tournament football because the games come thick and fast and we need to have that killer instinct."
Cuthbert added: "Most of the squad are playing full-time. We are all in full-time environments, playing at the same clubs as the English players.
"We all know each other, we are all friends and we are all familiar with each other, so we are excited about it and, in my mind, it is quite a level playing field."
Anna Signeul was in charge of Scotland at the Euros, with Kerr taking over for the Word Cup qualifying campaign.
"You get a freshness with a new person coming in," said Cuthbert.
"It can become almost laboursome when you have had the same manager. Not for me because I was only in the national team for a couple of years, but for some people, having the same manager and the same tactics and the same philosophy for so long.
"When something is fresh, it is exciting and it brings out a side of you, you hadn't been able to unlock. Under Shelley players have been able to do that and I think we always had the quality in the team but now we are playing a different style of football.
"Shelley has introduced a different philosophy, based on attacking, and we are enjoying that.
"It is exciting to play and it is attractive to watch and we want to capture the interest of the nation and get that 18,000 coming back.
"To do that we have to play a brand of football that gets people off their seats. We showed some of that against Jamaica. There were more than 18,000 people going home happy.
"Against England we know we are going to have to get our defensive side of the game right but attacking-wise we can hurt anybody and we have showed that against Brazil."
The Jamaica game felt more significant than a run-of-the-mill pre-tournament friendly given the size of the crowd and all that went with it. After scoring a goal from nearly 30 yards out, it is little wonder Cuthbert already looks back on it as a special occasion.
"I try them in training all the time but usually shank them!" she joked. "You never ever dream of them going in, especially in a game like this. That was beyond my wildest dreams.
"I think you could see the shock in my celebration. I just put my hand over my mouth. I couldn't quite believe it. I think the gods were looking out for me.
"I can't quite describe it. It has been a crazy 12 months for me – a Champions League semi-final and now scoring at Hampden in front of such a big crowd.  It is what dreams are made of.
"I just wish I celebrated better, honestly, I really do. I wish I had slid to my knees or gone right round.
"I watched the Leigh Griffiths goals v England.  I was in the main stand that day. I hit my knee against the seat celebrating."
The Scotland team have friends in high places.
"Judy Murray, Steve Clarke and Nicola Sturgeon came in to wish us the best of luck after the game," said Cuthbert.
"Me and Nicola Sturgeon share the same birthday, went to the same school, and we are obviously quite tight! I'm a better player than her but she is a better First Minister than me!
"I think Nicola is coming across to watch the game in Nice. We are really thankful for all their support. It means a lot for all the girls to get the recognition they deserve.
"For the First Minister to come in and the national team manager to congratulate us is great. Although he (Clarke) said he would give Shelley some pointers on what we can improve on, so I'm sure that will be relayed back to us when we meet up in camp.
"We really appreciate their support. It is nice that the women's game is moving forward. We can all see promising signs."