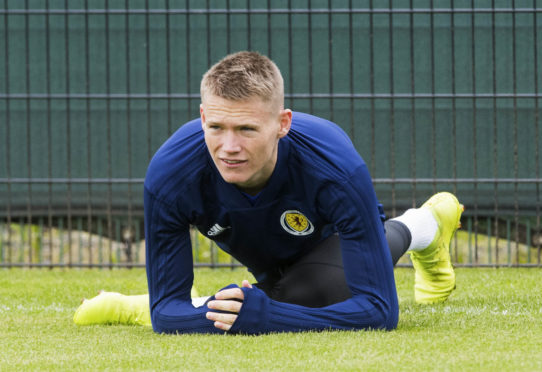 Scott McTominay believes the time has come to stop asking him why he chose Scotland over England.
The Manchester United midfielder was born in Lancaster south of the border but selected the Scots, for whom he qualified through his father Frank.
Both England boss Gareth Southgate and the then Scotland manager Alex McLeish wanted McTominay before he finally picked a side and was rewarded with a debut against Costa Rica in a Hampden friendly on March 23 of last year.
Having now won seven caps and standing on the cusp of a new era under boss Steve Clarke, McTominay thinks it's time to stop asking if he has had second thoughts.
The talented 22-year-old, who is set to play his eighth game for his country in the Euro qualifier against Cyprus at home on Saturday night, said: "I never thought about that once.
"A lot of people do ask me about it but I've forgotten about it all now.
"It was my decision to play for Scotland and my family couldn't be more proud that they can see me hopefully playing many more games and getting lots of goals as well.
"When people ask about the Scotland-England thing, I reply: 'What sort of question is that? Ask me about something else. Ask me about my holidays.'
"That question is irrelevant now.
"It is two years ago and I have forgotten about it.
"It's a question I'm not interested in and nobody else should be either.
"It's in the past now and you have to look forward."
His club suffered a miserable season in the Premier League but, personally, McTominay impressed so much for the Old Trafford men that he has to be considered a first-team regular.
He has certainly not looked out of place in big games against the likes of Paris St Germain.
"It was a difficult season for us," admitted McTominay.
"On a personal level you have to do your best and if that's how things pan out then that's the way it goes."
He has been used both in deep midfield and further forward by both Jose Mourinho and his successor Ole Gunnar Solskjaer.
McTominay added: "Different managers and different systems allow you to change position a little bit and I was a little bit higher up the pitch.
"Obviously, I still played number six as well.
"So there was a little bit of both, with the number eight too.
"You are a midfield player who is adaptable for both positions and you want to play both.
"You want to go box to box but you can also do that shielding job in front of the back four, have a presence and get about the pitch as well.
"I am enjoying it. I have played in some big games, going back two seasons now.
"You are playing against some of the best players in the world but that's what happens when you are at Manchester United.
"Also, when you are playing for Scotland you have to face top teams like Belgium, Russia and Cyprus.
"But we have a really good group here as well. We have had a couple of not so good results but go three points on the board.
"Now is the time to really start kicking on under Steve Clarke."
Like many of the squad, it was a case of meet and greet the new gaffer at Oriam yesterday.
McTominay said: "It is the first time I've met him, yeah.
"He seems like a really top bloke who is driven and really understands the game.
"He has a lot to show all the boys and it will be a real learning curve for everybody because he has a high level of experience working under some top coaches.
"That is a credit to him and it's absolutely perfect that he is now in charge.
"Managers move on, and sometimes it works out and sometimes it doesn't. That's football.
"All the boys are really focused on working under Steve Clarke now.
"This is a journey we are all going on together and we need to get to a major tournament. All the boys are totally driven to aim for that goal.
"Now it's about getting a reaction and not dwelling on those two games. Although we did beat San Marino we should have done much, much better than we did on the night.
"We have to leave that in the past now and instead totally focus on the games ahead.
"You hear all the time interviews in which people say let's forget about this or that because we need a clean slate. This is a proper clean slate for us though.
"It is a chance for us to really push on and show people that we really are more than capable of going to a major tournament. That is the message that has been talked about within the group and the manager has that same belief as well."
With the Man United-Liverpool rivalry being one of the fiercest in football, McTominay admitted that although he was delighted to see his Scotland skipper Andy Robertson win the Champions League for the Anfield side, the Madrid final against Tottenham did not make for enjoyable viewing for him.
"I'm a Man United man through and through so I can't lie," he said.
"It wasn't easy – it was a tough watch.
"But it was good to see a fellow Scot on the pitch and beautiful to see what Andy has gone through from 2012 to now.
"It's amazing for him and we're relishing getting him back and hopefully kicking on in a Scotland jersey."