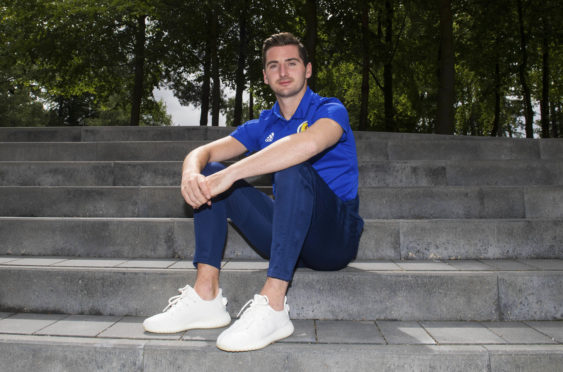 It is a sobering thought that a Scotland international swigging from a bottle of alcopops was one of the sights of the season.
Kenny McLean was drunk on a wee bit more than just success as Norwich City celebrated their promotion to the English Premier League.
The footage of the former Aberdeen player, booze in hand, declaring himself to be Mayor of Norwich while ringing a bell and donning the ceremonial hat unsurprisingly went viral on the internet.
The episode attracted a fair bit of attention from those who tut-tutted at such behaviour from a professional athlete but most people – including the Canaries themselves – treated as a bit of harmless fun.
Now McLean has nursed his hangover and is ready to star for Scotland when they face Cyprus in their Euro 2020 qualifier at Hampden on Saturday night.
The midfielder said: "That was carnage and a mad few days.
"The celebrations got the better of me a wee bit but it was good.
"We deserved to enjoy ourselves for a few days and I maybe enjoyed it more than anybody else!"
He revealed with a smile that he has since been stripped of his mayoral title and had to hand back the feather-topped hat.
"They have taken it off me," he said.
"I got a tweet when I was in Dubai last week, which was disappointing!
"Just before the bus parade we were in the town hall and out on the balcony and the mayor was with us.
"His hat looked appealing.
"I stuck it on, took his bell and ended up out on the balcony.
"I had a few drinks in me and that didn't help!
"It was just a special day that everybody will remember.
"I now hope I am known for my football.
"We have just been promoted and everybody is talking about the Mayor of Norwich!
"The real mayor was tweeting me and asking for his hat back because I had it the whole night!
"I took it without his permission and then he played along with it.
"The fans played along with it, too, and we all had a good laugh, which was brilliant."
On a more serious note, McLean is about to join a very exclusive club – Scotland players who are in the English Premier League.
Leading that list is, of course, by Scots captain and new Champions League winner Andy Robertson at Liverpool, while both McLean and Aston Villa midfielder John McGinn will get their membership cards in time for August.
McLean said: "We have a really good squad at Norwich and we will add a few I am sure because we have already brought in Patrick Roberts.
"We already have some really young, exciting players and if we can keep them together this summer then I am pretty sure we will do well.
"You want to play at the highest level you can and there is nowhere higher than the Premier League in England.
"To test yourself against the best will be something to really look forward to.
"As far as Scotland is concerned, we've already got Robbo, who has done something special, and also Ryan Fraser (Bournemouth) and Stuart Armstrong (Soputhampton) playing in the Premier League.
"It is brilliant for Scotland and you want to go into the Prem and test yourself."
Having enjoyed the end-of-season celebrations as much as he did, though, is it going to be difficult to turn his attention to international football?
He replied: "No, I don't think so.
"Since then I have been away on holiday but I have been working hard and got fitness programmes from my club.
"We have had tough training sessions this morning and everybody looks up to speed.
"I don't think it will be hard at all to refocus.
"When you get the honour of being called up for your national team your head is switched on right away. You are on your game.
"We have got Cyprus and Belgium coming and we will be ready when the time comes."