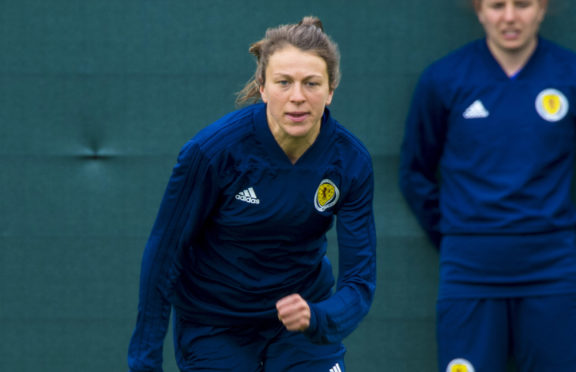 An match against England in a major championships is nothing new for the Scottish women's team as Sunday's World Cup group opener in France draws closer.
But as far as the Scots actually having a realistic chance of winning it, the circumstances of the Nice fixture could not be more different to the Euro 2017 clash in the Netherlands that was a brutally one-sided affair.
Injury robbed Anna Signeul's squad of three key players back then – Jen Beattie, Kim Little and Lizzie Arnot. But this time around Shelley Kerr has all her stars available.
And the fact that a few of those stars are now lighting up the English Women's Super League won't hurt the country's chances of getting the World Cup off to a flying start.
"I was at home just watching it on TV two years ago," said Arnot, who had ruptured knee ligaments.
"Obviously I was backing the girls all the way although it was devastating not to be there. But now I think everything happens for a reason.
"We were there for each other and you knew you weren't suffering alone.
"I think it's going to be very different this time. It's two years on. We've grown as a squad and are well positioned to challenge them.
"It was hard watching that two years ago. I didn't like watching my team lose.
"But the girls have responded well. We've grown. We haven't used it as an excuse, more motivation to push on.
"I felt a lot of sympathy for the girls that day. They weren't in the best position, with injuries, to face such a strong side.
"But we'll use that memory, that disappointment, to make sure it doesn't happen again – and that we create a new positive memory."
Arnot now plays her club football with Manchester United and she has plenty of company in the English leagues.
"There are a lot of us down in England," said the former Hibs player. "People are getting recognised.
"Claire (Emslie), Jen (Beattie) and Caroline (Weir) have just won the FA Cup with Man City, Erin (Cuthbert) is in the team of the year, Kim (Little) and Lisa Evans) have won the league. That's massive.
"We have players involved at the highest level now.
"For me, it was important to move down. It was good playing in Scotland but I needed to get out of my comfort zone to push on as a player and a person.
"It has been massive for me in that sense, especially leading into a World Cup, getting that exposure in a different league and a different country. I feel like I have grown as a person.
"There are a lot of people in the team who have played full-time before, so it was a step up but I needed it."
United were the last of the big English clubs to start a women's team but they haven't wasted any time in making an impact, blowing the competition away to clinch the Championship title and secure promotion to the top flight.
"At the start, they said they were waiting to do it until they knew they could support us in every way," said Arnot.
"It has been incredible. Obviously the men are always going to be at a different level. They are training at Carrington but we don't expect to train there. They are trying to develop the Cliff for us to have our own place.
"That would be pretty special. Hopefully the sooner the better we get down there.
"I've not seen Phil Neville (ex-United star and current England women's team manager) down there, although he came to one of our games in a pre-season friendly.
"I think that was just to watch some of the England girls. That was when he was newly-appointed.
"It would be amazing if we could silence a Manchester United legend in that opening game but it is not at the forefront of my mind!"
A recent documentary about Scottish football hall of famer Rose Reilly shone a light on the closed doors that frustrated women players in this country of previous generations.
Arnot is grateful that times have changed for the better.
"I was always included in the boys' football at school," she recalled.
"They never said: 'Oh, Lizzie's playing …' They were always saying: 'Yeah, good, Lizzie's playing!"
"They'd never not include me. I felt like one of them.
"Obviously you get older and need to move on to girls' football. But the transition was smooth.
"It's crazy, when you think that the very idea of women playing football was looked down upon.
"I'm so lucky that it's now in a good place, the game is growing and it's only going to get bigger.
"I watched the documentary on my own. It was amazing."
So has the enormity of being part of the first Scottish women's team to compete in the World Cup finals sunk in?
"You don't take it all in," Arnot admitted. "Maybe in the odd quiet moment, a family member will mention it.
"You have to take it in your stride and not build it up too much. You don't want to create too much hype.
"But it's good that we can be excited."