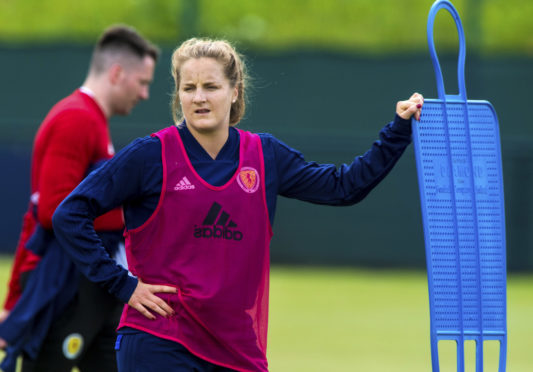 None of the footballers in Shelley Kerr's squad has been to a World Cup with Scotland before. But there is a player who has been to one…… with Germany.
Born and raised in Hanau, Howard went on to start her professional career with 1899 Hoffenheim.
The centre-back's progression took her into the German under-20 squad in the Under-20 World Cup final in Japan seven years ago.
But, with an English father and a Scottish mother, her senior international options were still open.
The pull of Scotland proved to be the strongest and Howard now has another World Cup to look forward to. And a much bigger one.
"Obviously that (the under-20 competition) was a great experience but it's not the highest you can go," said the 25-year-old.
"At that time it was my largest experience. Germany went into the tournament as one of the favourites so I know about that sort of pressure.
"Full national team is a different story, though.
"I knew even then that I didn't just want to be involved. I wanted to play a part.
"I played in the warm-up games but not the tournament itself.
"That was frustrating, as you can imagine for anyone that doesn't play. You just have to keep going and I'm just glad it worked out in the end.
"For footballers who are ambitious, you always want to go to the World Cup. There was a time when I wasn't part of a national team and that was hard, as you didn't have anything to work towards.
"When you do get a call-up, you want to be prepared. I wanted to be ready to go and smash it."
What does Scottishness mean to a young Sophie Howard, then?
"Traditions," she said. "My roots are British – my mum is Scottish and my dad is English, so I can't say I feel English or Scottish.
"All my holidays used to be England or Scotland.
"It was all about going home to see the family on mum's side. I see a lot of them now obviously. They're in the Edinburgh area.
"I stayed with my uncle last week. I've always had a close relationship, even when I've been living in another country."
There may be mixed heritage in the Howard family but there will be no mixed loyalties – not even for dad, Neil.
Sophie said: "Eh, no! Obviously he'll support me. He has no choice. My parents have always been supportive, whatever I've done.
"When I was playing for Germany's youth team it was the same. My mum's heart is obviously with Scotland, though."
The decision to choose Scotland over England had a lot to do with the camaraderie that exists in Kerr's squad.
"I was at a next generation camp with England, which came through my club at the time," Howard recalled.
"That was about three years ago.
"Once I came here, it felt like the right place. I instantly got that feeling.
"I had a rough season with injury last year – a double hamstring tear. I got a lot of messages from the Scottish girls. I hadn't known them that long – two or three years.
"There were constant messages to keep going because they knew I had had several setbacks.
"That made it clear how much this team means to me and how much I mean to them as well. It makes you feel accepted."
Playing with boys' teams is a familiar story for girls in Scotland but it doesn't usually last to the age of 16, as it did for Howard in Germany.
"When I first started, there were hardly any girls' teams," she explained.
"My twin sister, Samantha, played with the girls. She started a couple of years later so they had founded a girls' team by then.
"I tried with the girls. I tried to play with my twin sister but I didn't like it so I went back to the boys.
"That kind of defines my playing style as well, which is quite aggressive. I had to fight for my spot against the boys, not only on the pitch but within the squad, just being accepted.
"I am glad I did it. I think it helped me. I can only encourage little girls to do that. However, now there are good girls' teams with good coaches."
A Howard back post header ensured Scotland's Hampden send-off was a winning one, which was a relief to her as she had given the ball away in the build up to Jamaica's equaliser last Tuesday night.
"It was my first international goal," she said. "After causing the second goal Jamaica scored it was extra special to score the winner.
"Everyone makes mistakes. I'll just learn from it and move on. It's out of my system now and hopefully I won't do it again in France.
"I'm very aware that not many people get to score a winning goal at Hampden and I'm very proud of that."
Scotland have an array of talent in midfield and attack that will rival anything in the tournament. For a defender, the task is clear.
Howard said: "We know that with the quality we've got up top we're capable of scoring against anyone. So it's up to us at the back not to concede.
"I know a lot of the English girls. They have quality but so do we. And I definitely think we can compete with them."
The slick pass-and-move style of play Scotland will bring to the World Cup is a different one to that honed by the coach's predecessor Anna Signeul – and much more enjoyable for the players to be a part of.
"As defenders we are more exposed but we get to play the ball, which is nice," said Howard.
"We have the players to play like that – not just boot the ball and run after it. I like the style we have at the moment. We keep the ball and try play from the back. Sometimes it goes wrong but I enjoy it."
Howard played club football for Colorado before returning to Hoffenheim and then signing for Reading, a club that men's national coach, Steve Clarke, has managed.
"I met him the other night and we talked about my header, which was nice," she said.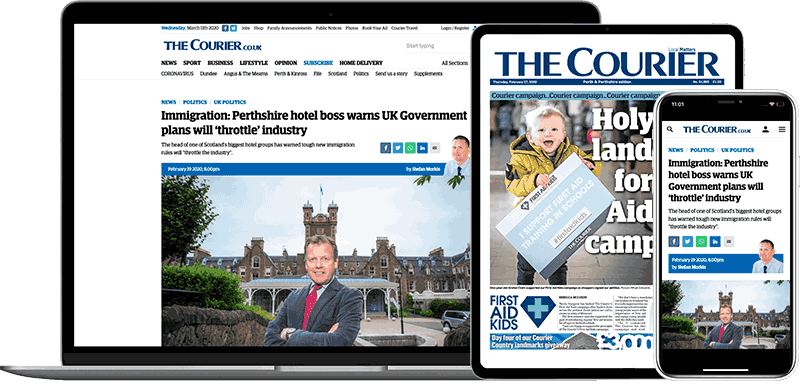 Help support quality local journalism … become a digital subscriber to The Courier
For as little as £5.99 a month you can access all of our content, including Premium articles.
Subscribe