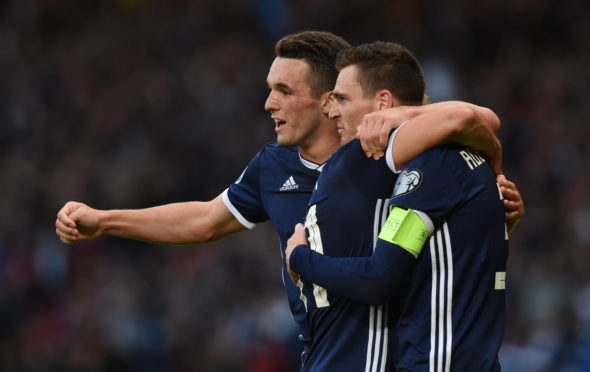 John McGinn believes even brilliant Belgium will be fearful of Scotland's star-studded left-hand side.
The Scots head to Brussels to take on the team ranked the best on the planet in the latest FIFA rankings – ahead of world champions France.
The Belgians boast Eden Hazard, the £130 million man who has just agreed his gilt-edged move from Chelsea to Real Madrid.
They also have other top attacking talent in the form of Kevin de Bruyne, Dries Mertens and Romelu Lukaku so there will be plenty to keep McGinn and his teammates busy in the King Baudouin Stadium tomorrow night during this Euro 2020 qualifying group I clash.
However, the Aston Villa midfielder feels Belgium won't fancy dealing with the threat posed up the left flank by Scotland skipper Andy Robertson and Ryan Fraser.
Steve Clarke's men go into the daunting challenge with a win at their back following Saturday night's 2-1 home victory over Cyprus.
Scotland opened the scoring through Liverpool's Champions League hero Robertson. It was a beautiful strike that lifted a hitherto flat performance from the home team.
Bournemouth wide man Fraser, meanwhile, fired over cross after cross from the wing, including the ball that was first nodded on to the post then tapped into the net by Oli Burke for the last-gasp winner.
The Robertson-Fraser combination is so good that McGinn believes it will give Belgian boss Roberto Martinez food for thought.
The Scots midfielder said: "You look at our left-hand side and it is probably one of the best combinations in Britain so we need to start using that to our advantage.
"I think we did that against Cyprus.
"We are lucky to have them.
"Robbo is a Champions League winner, while Ryan is probably coveted by the majority of the (English) Premier League
"So it is really important to have our best players out on the pitch and see them link up well.
"We have probably not had enough of a chance to see that done by Scotland so hopefully they get a partnership going.
"I am sure even Belgium won't look forward to playing against that left-hand side.
"Hopefully, we can take that into Tuesday and give them a problem.
"They are still ranked the best team in the world and Eden Hazard has just gone for £130 million.
"We have to respect him and the team but at the same time if we want to get to a major tournament we have to go to places like this and get results.
"Wales do it, the Irish do it and it is up to us to start doing it. Hopefully, we can do it on Tuesday.
"You can't write off any game.
"I think in internationals football now, as you saw against Cyprus, there is no easy match.
"Every team is organised, they have technical ability and they can hurt you. Cyprus nearly did that to us so hopefully we can do that to Belgium."
McGinn had a part to play in Robertson's opener at Hampden, teeing him up with a pass, and was delighted to see his skipper cap a terrific time for his club with a glorious goal for his country.
"It was a great goal but it was all about the pass!" joked the former Hibs man.
"I half thought about shooting and the old me might have had a shot.
"I just saw Robbo out of the corner of my eye so I gave the ball to him.
"That is the quality he has. That is why he has that Champions League medal.
"We knew it was in all the way and we are all delighted for him.
"I think it tops off a special week for him.
"He will just be glad to have helped the team'. It is great to have someone like that who has achieved so much.
"To be a leader like him is just amazing.
"He is just a normal guy like any of us and it is great to see people like that do well.
"Hopefully, he has saved another one for Tuesday."
The significance of Burke's dramatic tap-in was not lost on McGinn. With group rivals Russia having hammered San Marino 9-0 and Belgium beaten Kazakhstan 3-0, only a win would have sufficed.
McGinn said: "We were probably moments away from the campaign ending.
"I think everyone knew that.
"We had to show great character to come back and Oli popped up with the goal.
"The manager stressed all week how important the boys on the bench are and credit to big Oli for coming up with such an important goal.
"Now we have given ourselves a chance to qualify.
"We are under no illusions about how difficult the games coming up and, over the piece, we know we have to improve.
"The performance probably needs to be a bit more consistent. We showed in spells what we can do but we need to make this place a fortress and put teams away earlier.
"We don't want to have to rely on last-minute goals but no complaints!"
McGinn revealed that the players are already benefitting from new boss Steve Clarke's steady guidance.
He said: "I think this squad is probably the strongest it has been for a long time.
"On a few trips we have had a lot of call-offs and injuries but I think it feels a lot more settled this time.
"Hopefully, we can get the players who are in form for their clubs to carry that on and start showing that for Scotland."
He certainly feels Clarke's tactical nous can help when facing tough away trips like tomorrow's one.
"Hopefully, that can become a trend and start making ourselves hard to beat.
"In recent times we have been shifting goals far too easily and have become a soft touch.
"It is up to us to become hard to play again, be nasty and get results when we are not expected to."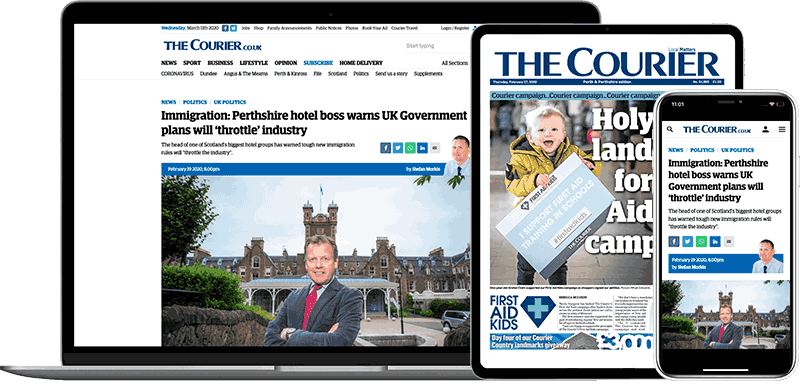 Help support quality local journalism … become a digital subscriber to The Courier
For as little as £5.99 a month you can access all of our content, including Premium articles.
Subscribe