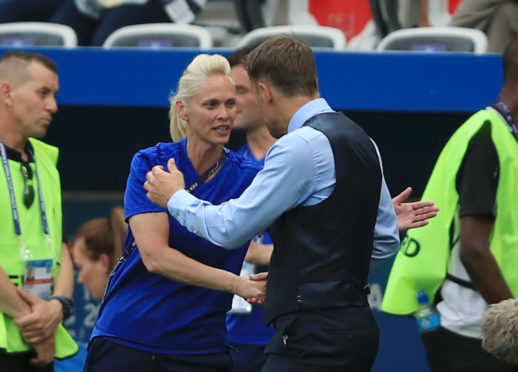 Shelley Kerr wants to see her Scotland team get "more physical" in their second World Cup clash.
Like third in the world England, seventh in the world Japan have got highly-skilled ball players throughout their team.
One of the shortcomings for the Scots in a poor first half against Phil Neville's side in Nice was their inability to disrupt their opponents' rhythm.
Kerr is hoping that the lesson has been taken on board and that her team will be on message from the start of the first half rather than the start of the second when they face Japan.
"It will be a tough game for sure," said the Scotland coach.
"They keep the ball for fun and have possession all over the pitch.
"They've been in a transitional period. Senior players have retired and some young ones have come in.
"We need to put them under pressure. We need to be more physical. We need to stop them playing – that's the big thing for us."
Kerr will give her players a couple of days to recuperate after a gruelling 90 minutes in the heat of Nice.
Yesterday was a travelling day and today they will have more rest in Rennes.
"They need time to recover," she said.
"Some coaches have a tendency to get the players back on the pitch but the players need to rest."
Reflecting on the England match, and the difference she was able to make in the interval, Kerr said: "I thought we needed to change a couple of things at half-time. After they scored they were really on the ascendancy and hurting us all over the pitch.
"We knew what their strengths were – we knew exactly how they would play – but you have to look at it realistically. They're a good team, they have good players.
"The pleasing thing for me was how well we responded in the second half. The big question we have to ask is why we didn't do it in the first half.
"That can be because of one or two things. It can be because England have taken their foot off the gas. That alleviates the pressure on us because nobody expects us to come back.
"Shape-wise we could definitely have been closer to press at times. Not playing up high, because then they put the ball through you. But we were almost half way there and not putting enough pressure on.
"Positionally, we could have been closer – and that was all over the pitch. We got dragged out of position as well and they were able to find spaces."
She added: "I have to give our players huge credit because they played one of the favourites to win this and we came back in the second half.
"We were confident we could get a draw in the end because we were coming at them."
The energy of Perth's Lisa Evans helped spark Scotland's fight back, according to Kerr.
"Lisa really got her second wind towards the last 15 minutes of the game," she said.
"She has a winning mentality, as has Kim (Little).
"It's a good finish by Claire (Emslie) and I thought we could have got another one. There were some times in the game I felt Claire had the beating of (Alex) Greenwood and she chose the wrong option.
"But we've run them close at the end."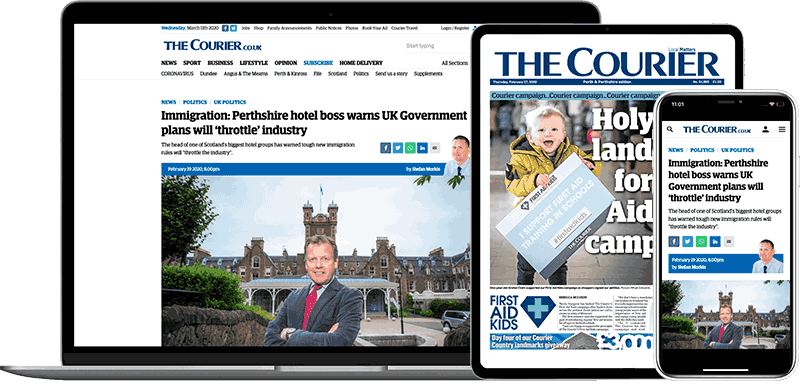 Help support quality local journalism … become a digital subscriber to The Courier
For as little as £5.99 a month you can access all of our content, including Premium articles.
Subscribe