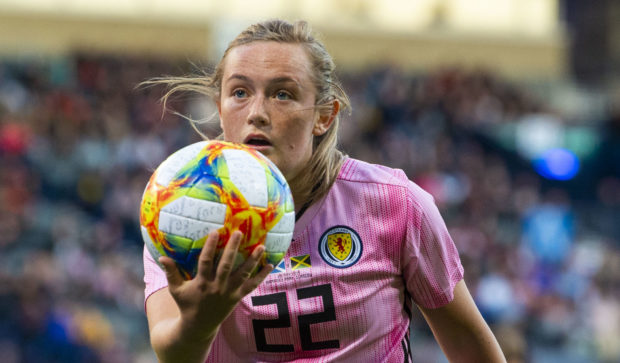 When you mention the World Cup and Argentina in the same sentence it usually sends a shiver up the spines of Scotland fans.
Sadly, it did so again.
While 1978 and all that may still be viewed as a humiliation for the men's national team, the women created a nightmare of their own by throwing away a 3-0 lead with just 15 minutes to go.
They blew a great chance of reaching the knockout stages and suffered the greatest of heartbreak, surely worse than anything they have experienced before in their careers.
With the game almost finished and the Scots hanging on, they suffered a VAR intervention not once but twice to concede a last-gasp equaliser from the penalty spot, scored by Florencia Bonsegundo.
Kim Little had opened the scoring on 19 minutes before a Jen Beattie header made it 2-0 four minutes into the second half.
Erin Cuthbert seemingly had Shelley Kerr's team home and dry when she made it three on 69 minutes.
However, the South Americans roared back and scored three times to rob Scotland of a spot in the knockout stages.
Kerr had made three changes to the team that lost 2-1 to Japan in Rennes last Friday.
Nicola Docherty replaced Hayley Lauder at left-back, while Leanne Crichton was given a midfield start and Claire Emslie was reinstated.
As well as Lauder, that meant there were no starting spots for Jane Ross and Lizzie Arnot.
At least the Scots' task was straightforward. They had to win the game.
After that, they would wait to discover their fate.
Lose or draw and they were on a flight home. Sadly, they are coming home too soon.
The tournament motto is 'Dare to Shine' and it was time for Kerr's players to do just that.
With some build-up words of encouragement from Sir Alex Ferguson ringing in their ears, the Scots took the initiative on just two minutes when Cuthbert tried a snap-shot from just inside the box but it didn't trouble Argentina goalkeeper Vanina Correa.
The South Americans hit back with a neat run from Estafania Banini inside the box that was eventually halted then a long ball by Lorena Benitez almost sliced open the defence on 12 minutes.
Benitez then tried her luck with a freekick from 40 yards but a relaxed keeper Lee Alexander watched it float over the bar.
The pressure was building on the Scots, though, and they had a great escape on 17 minutes. A fine cross from Bonsegundo was delivered to the back post and Mariana Larroquette smacked the bar with her header. Sole Jaimes pounced on the rebound but Alexander saved.
Just two minutes later, however, Scotland were ahead thanks to Little.
Cuthbert was the architect, running into space inside the box before firing a vicious shot at Correa, which was saved. The loose ball came back to Cuthbert and this time she squared it to Little, who stuck out a boot to score from six yards.
It was the first time in the finals that the Scots had been ahead in the game and came at a crucial time, with their opponents enjoying good possession. It also meant they had scored in each of their group games.
With 27 minutes on the clock, Scotland threatened again.
Claire Emslie cut inside from the left and chipped a pass forward to Lisa Evans, who won a corner over on the right. When the ball came in, it was nodded towards the Argentinian goal and Cuthbert was inches away from getting her head on it before Correa made the save.
Up at the other end, skipper Corsie executed a superb tackle on Jaimes on 32 minutes as the Argentina player was about to have a go at goal.
In first-half stoppage time, Caroline Weir raced into space before sending a left-foot shot not too far past the post.
The Scots began the second half with a bang.
It was only four minutes old when Beattie, who had stayed up after a corner, rose brilliantly to bullet home a header after she was picked out right in front of goal by Weir's cross from the right.
Cuthbert was enjoying herself out there and she robbed defender Aldana Cometti of the ball on 69 minutes and forced Correa into a fine save.
The resultant corner, played in from the right by Weir, led to Scotland's third goal and it was Chelsea star Cuthbert who latched on to the loose ball after Leanne Crichton's header had been pushed on to the post.
Argentina didn't deserve to be three down and they got one back on 75 minutes when poor Scottish defending allowed Milagros Menendez to slide the ball home after a great pass by fellow sub Dalila Ippolito.
On 79 minutes, the Scots were suddenly looking exceedingly rocky as they conceded a second goal.
There seemed to be little danger when Bonsegundo took possession outside of the Scotland box with her back to goal.
However, she was allowed to twist and turn before sending in a shot that was pushed on to the bar by Alexander but bounced down and landed over the line to make it 3-2 to the Scots.
Cuthbert was booked for time-wasting before there came the first dreaded VAR decision to get the heart racing.
Sadly, it went against the Scots with sub Sophie Howard ruled to have brought down Aldana Cometti. It took an age before North Korean referee Ri Hyang Ok pointed to the spot.
Up stepped Bonsegundo only for Alexander to pull of what seemed like an excellent save. However, VAR intervened again, with the issue Alexander's movement off her line. The kick was retaken and Bonsegundo scored this time.
Incredibly, it was now 3-3 after the Scots were out.
Attendance: 28,205.
Scotland: Alexander, Smith (Howard 86), Docherty, Corsie, Beattie, Little, Weir, Crichton, Evans (Brown 86), Emslie, Cuthbert. Subs: Lynn, Fife, Love, Lauder, Ross, Arthur, J Murray, C Murray, Clelland, Arnot.
Argentina: Correa, Barroso, Stabile, Santana (Mayorga 82), Cometti, Bravo, Jaimes (Ippolito 70), Banini (Menendez 60), Bonsegundo, Benitez, Larroquette. Subs not used: Sachs, Oviedo, Garton, Gomez, Pottasa, Chavez, Juncos, Pereyra.
Referee: Ri Hyang Ok (North Korea).