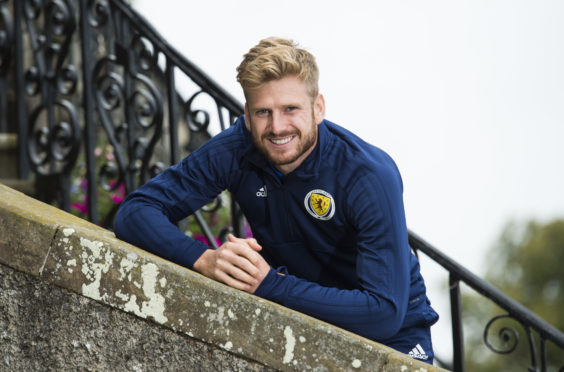 Stuart Armstrong has dismissed as "defeatist" suggestions that Scotland are unlikely to make it out of their qualifying group.
The Scots host Russia on Friday then welcome Belgium to Hampden on Monday as they bid to get their Euro 2020 campaign back on track.
They are on the back foot largely because of the 3-0 hammering they took in Kazakhstan on March 21 and probably need to beat the Russians to have any chance of pipping them to second place.
After four games, Steve Clarke's men sit in fourth spot in Group I with just six points, behind the Belgians (12), Russia (nine) and the Kazakhs (six and a better goal difference).
Southampton midfielder Armstrong, though, chose to be upbeat ahead of the double-header and stressed that there is no negativity among the players.
Asked if it was wrong to write the Scots off already, the former Dundee United man said: "Yeah definitely.
"I think it's a pretty defeatist attitude to be thinking like that.
"Certainly, that's not the feeling within the group.
"We are all quite positive and the team is quite strong.
"We have all played with each other before and know each other so there is a good atmosphere."
The Russia match is a must-win, though, surely?
Armstrong replied: "I don't think you can put a number on points.
"I think we need to, obviously, aim as high as possible.
"It also has to be focused on one game at a time and not dwell on the two games as a package.
"We have to just look at Friday first and foremost and make sure we put on a good performance and give ourselves the best chance of getting something out of it.
"Undeniably they (Russia) are going to be a big part of the campaign and we are under no illusions that they won't be.
"So I think a good performance and result against them will put us in the best position to get what we want out of it."
Armstrong reported for international duty after playing for Saints against Manchester United in the English Premier League on Saturday.
In that game he came up against United's Scott McTominay, an illustration of the decent options the Scots have in the midfielder area.
Armstrong agreed that it is an area of strength, saying:  "Yes, definitely.
"I think we have six or seven central midfield players who are all very good in their own right and all performing really well at club level.
"I feel it is a part of the pitch where we are very strong at the moment.
"I don't think it should ever be the case when you come away with Scotland (that you are guaranteed to play) as it is the best selection in the country.
"The players are performing well throughout this season and performed well last season as well.
"There is always going to be competition here and that is the way it should be."
Despite that commendable 1-1 draw against the Old Trafford side, Armstrong admitted things haven't quite gone to plan for him at club level.
"It always makes it nicer to come away with Scotland when you have got a good result for your club.
"Had we lost that game it would have been a bit different.
"We have got a bit of momentum in the last two games with a win at Brighton and draw with Manchester United.
"It is nice to have that feeling of progression going into the international break.
"You are not anxious to try and get back and get some points."
However, on a personal note, he summed up his own start to the campaign as: "Pretty poor.
"I wasn't involved in the first game of the season then came back in and played parts in the next three.
"It had been difficult because in the summer I came away here (with Scotland) and got injured so I missed a bit of the pre-season at Southampton.
"Then I had a bit of an illness so it was a combination of bad luck and bad timing that I missed a chunk of pre-season with the team.
"It is always difficult not being involved but the best thing to do is try to work even harder and put the effort in during training and show that you want to be part of the team.
"I would like to think I have done that so far and I will keep on doing that.
"When you are by yourself and doing your rehab it is tough because you want to be part of the group.
"Any player will tell you when you are injured that is part and parcel of the process."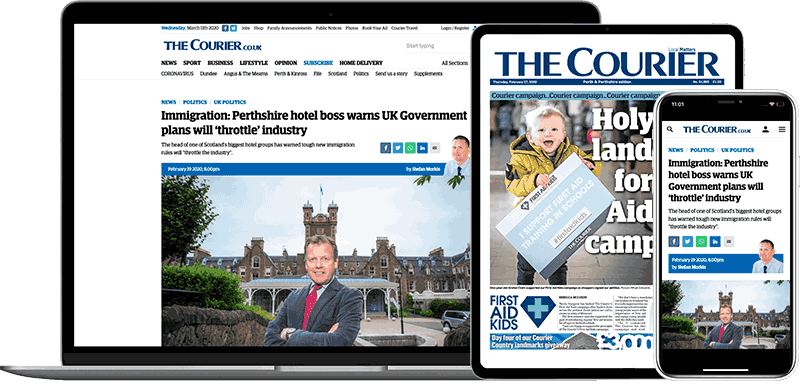 Help support quality local journalism … become a digital subscriber to The Courier
For as little as £5.99 a month you can access all of our content, including Premium articles.
Subscribe