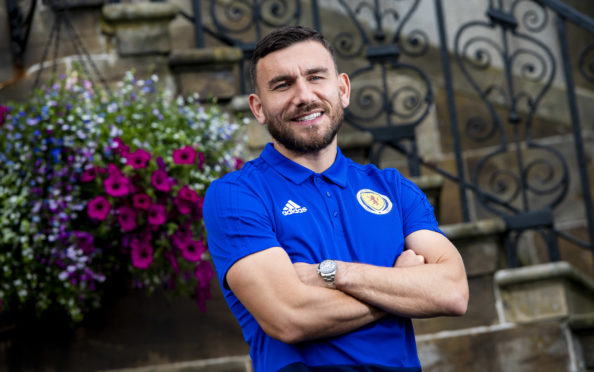 Robert Snodgrass claims he was left "mentally scarred" when on Scotland duty but insists he has never turned his back on his country.
Just over a year ago, the West Ham United midfielder asked then national boss Alex McLeish to be left out of his squad for games against Belgium and Albania after his mother Irene had suffered a stroke.
Then, when Matt Phillips pulled out of that squad through injury, Snodgrass agreed to be a late replacement.
As the Scots prepared for the Nations League game in Israel in October, Snodgrass suffered the bereavement of two cousins within three days.
He was reluctant to head to the Middle East but, allegedly told by McLeish that he would feature in the Haifa match, he travelled only to discover he wouldn't even be stripped for the game.
It was then that he began to think about calling it a day at international level but had the decision taken out of his hands when McLeish didn't select him in his subsequent squads, including the ill-fated trip to Kazakhstan.
Then, when Steve Clarke took over from McLeish, it seemed the new man didn't pick him because of a question mark over his availability.
That Snodgrass was still keen to get caps became clear when Clarke called him up for the Euro 2020 qualifiers against Russia tomorrow and Belgium on Monday.
It is new start for Snodgrass, who has already played 26 times and scored seven goals for Scotland.
He said: "I am good and glad to be back.
"Straight away, it just feels different.
"I think the manager is clear in his approach and it feels good.
"It is good to be involved.
"Big games are coming up, aren't they? We need to be at our best to get results because they don't come much harder than Russia and Belgium."
Snodgrass stressed how much appreciates the "honesty" he is getting from Clarke, suggesting that wasn't always the case when on Scotland duty.
The player said: "He just said to me: 'Listen, whatever happened in the past. That is nothing to do with me. I want you to come and play for Scotland.'
"And I just said: 'Listen, I have never made myself unavailable for Scotland so I want to play.'
"It is that simple. All the boys have been through different stages in your career and you are always at your happiest when you are playing.
"When you have played so many games for Scotland, it was just: 'Be honest to me.'
"In the last campaign, I won't go into it, but it wasn't honest.
"I am not 16 anymore. I am 32.
"I am coming to the back end of my career and I just want people to be honest with me.
"I have always come and backed the lads – every opportunity I get – playing or not playing.
"But don't tell lies to me. I am not a kid.
"I have played over 500 games so just be straight with me.
"He (Clarke) has been straight with me. I won't tell you the conversation but he has been straight with me and when people are straight with you in any job, any walk of life, then you can appreciate that and have respect for that."
Snodgrass insists he isn't looking for a cast-iron guarantee that he will be on the pitch every time.
He said: "Listen, let's make this clear, it's not about me not playing.
"There were loads of games I didn't get picked for and I would still be there for the next one, backing the boys.
"It's not a case that I am only here if I am playing.
"I never played under Gordon Strachan and I came back.
"My Scotland career hasn't be plain sailing.
"I didn't play under Craig Levein to start off with but I'm there, I'm there, I'm there, I'm there.
"Nobody can ever question my commitment to play for Scotland.
"Listen, if they do then that's fine but what I'm saying is that I just want honesty because it's small things like that that matter to me.
"Even if you're not playing me, just be honest with me. I'm fine with that."
Clarke may have told his player that he is keen to forget the past but it appears that it still riles Snodgrass.
He claimed he kept his own counsel back then out of respect for his colleagues.
"There was a lot that happened during the campaign which left me mentally scarred," he said.
"I can't speak about it. I don't want to speak about it.
"It happened, that's it, but the biggest thing is that you keep your dignity for your teammates, and the reason was that the team is more important than me.
"If I come out making it all about me, then straight away it is not about the team.
"The lads, first and foremost, they had to get some big results."
However, Snodgrass insists his relationship with McLeish did not turn sour.
He said: "I got on really well with him.
"I liked him and there's nothing against him or his staff.
"It's just certain things that were done that baffled me.
"You could say that (not getting the truth told) but it's nothing against the gaffer.
"I didn't want to think about me. I wanted to help him and the boys go forward but it didn't work out like that.
"I want to talk about moving forward.
"It's one I'll keep to myself and maybe speak about it in years to come."
Snodgrass appreciates the clarity and professionalism of the Clarke regime, saying: "I've only been with him one or two days but in the meetings…he's clear what he wants going forward.
"Everyone wants to see us get to a big tournament and sometimes it's the hope that kills us. Every one of those lads would run through a brick wall for you but there's more to it than that.
"You need the SFA working with us to get every single thing right so when you come into these games you are tuned in, at your best physically and mentally, and ready to believe you can win these games.
"It is the small things. For example, we turn up at Mar Hall (the previous Scotland team hotel in Renfrewshire) and, no disrespect to Mar Hall, but it is a bit of grass that has been cut. Boys in previous camps were rolling their ankles.
"We now have Oriam (the new training base near Edinburgh) and it is a big set-up.
"We've got boys here at top clubs winning the Champions League and now they are getting proper looked after.
"Every single time we have come (on Scotland duty), we've never questioned it.
"You're so privileged in every way possible to play for your country.
"The boys have touched on it, (how) lads are used to certain things at their clubs.
"It's a case of getting a happy medium for Scotland going forward and they have done that. The training facilities at the Oriam have everything so they're trying their best to get everything right."
Snodgrass revealed that he was one of those during the previous era who wanted improvements to the Scotland set-up.
He said: "When I came in for the last campaign we were having meetings about doing everything we all could to make the country better.
"There were a few of us – some of the more experienced lads – who spoke about our experiences. We put all our cards on the table and pushed for what we thought as players.
"The thing is, playing down south, we heard about England and they get paid for going away.
"We don't get paid. We do it because we love it. There is no one from Scotland who says: 'Come and play for us and we'll give you money.' That's got nothing to do with it.
"We are all here because we love playing for Scotland.
"I will say to you truthfully, I don't want be away from my three kids but I'm here because I love playing for Scotland.
"I could use this time to spend with my family – I'm over 30 now and have done this for years – but it's the love that drives us forward."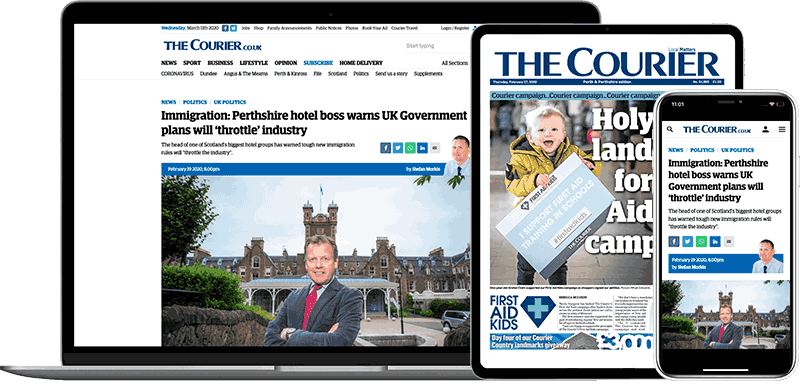 Help support quality local journalism … become a digital subscriber to The Courier
For as little as £5.99 a month you can access all of our content, including Premium articles.
Subscribe