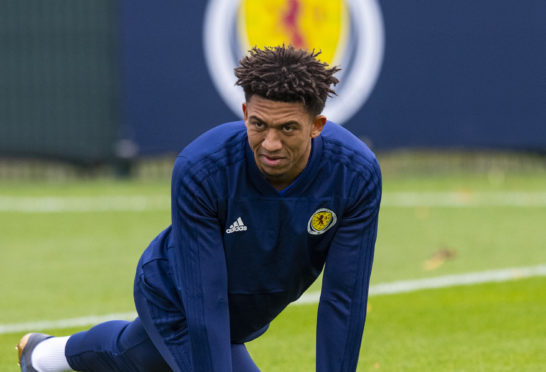 Safe to say Liam Palmer didn't make the best first impression on the Tartan Army.
And the Sheffield Wednesday full-back, whose Scotland debut came in the calamitous defeat to Kazakhstan, is hoping for a second chance to prove his worth in Moscow tomorrow night.
On top form for his club side, the right-back is "desperate to play" for his country again.
"I've been concentrating on doing well for my club and getting that call-up," said Palmer.
"I won my first cap in Kazakhstan and it was a difficult start to the group and then the new manager came in.
"Obviously, it can come down to tiny margins on the pitch but the new gaffer has changed the whole structure of the training and everything else has been spot-on as well.
"It was such a tough one to take against Kazakhstan, coming into the squad and all the uncertainty about the manager at that time.
"It was a difficult one to be thrust into.
"As far as the game went it was very disappointing. It was a bad result and a bad performance.
"The whole trip was a big learning curve for me – the demands of international football, dealing with the travel, the meetings, the time difference and all that sort of stuff.
"All of those things play a part and ultimately we probably didn't get them right, so you have to take that on board.
"Going away now I think we might do things a bit differently.
"The only positive way to look at Kazakhstan is to learn from it. What's done is done and you look forward."
Palmer is hoping that the rise in off-the-pitch standards in the Scotland camp will extend to on-the-pitch.
"Coming away now, everyone sits down to eat together and nobody leaves until you're all finished," he said.
"Everyone walks out to training together. Nobody wears flip-flops round the table.
"All little things that probably don't sound like much but they are the things that keep the standards up to a level.
"If people are coming in in dribs and drabs, it doesn't look good.
"You have to have standards and have rules to adhere to.
"If you have that then it carries on into the training.
"Am I surprised it wasn't happening before? It's difficult because it was my first trip away with the team.
"Going back to club level, I've seen it done loads of different ways and especially when there's a change in manager standards can get lost.
"So it's up to the new manager to say 'right, this is what we're doing' and for me it's a lot better when it's more structured and boys have things they have to adhere to."
Scotland are now trying to balance finishing their Euro 2020 group on a high with preparing for the all-or-nothing play-offs in March.
"With the play-offs around the corner there is no better time to come into the squad and get that chance to plant a seed in the manager's mind," said Palmer.
"Even if that is just doing the right things in training and making him think about you.
"I see the games coming up as that chance and right across the squad all the boys will be of that mindset.
"Everyone wants to be part of it in March and help the team do the business to qualify.
"We all know how important the play-offs are but we have to start building momentum now. We need to get some points on the board for the feel-good factor.
"The group has pretty much gone for us now but we can still take some positive results into the New Year.
"It would be great on Thursday to be able to repay the fans who have travelled everywhere with us in this campaign and a strong performance against Russia would be a good start."