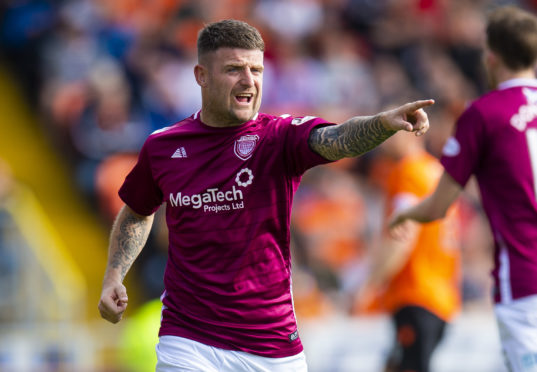 Firing goals into Gayfield's top bins is off the agenda for Bobby Linn.
But the hard-working Arbroath hot shot won't stop grafting to keep Dundee's rubbish bins from overflowing during the coronavirus lockdown.
Red Lichties star, Linn, works full-time for Dundee City Council as a refuse collector.
So while his football gig is firmly on the back-burner, he is still beating the streets as part of a three-person bin lorry crew.
The striker has watched Dundee become a near ghost town over the last month.
But even with Government lockdown extended – and concerns over transmission of coronavirus naturally at the front of his mind – Linn insists he and his selfless colleagues will keep doing their bit for their city until they are told to stop.
"We're going to keep on working," said the former Dundee man.
"There are guys here who are off work with underlying health problems, just to be safe – and I was off for two weeks myself in self-isolation – but the guys who are here will keep coming in and getting the work done.
"Until we're told otherwise, that will be the case.
"It has changed a wee bit in that I'm now not in the lorry – I'm driving behind it in a van so the guys can all follow the social distancing rules.
"But I think the two boys in the lorry are probably delighted I'm not in there with them actually. It gives them a wee break!Foot
"To be honest, it was a wee bit hectic at the start as everybody realised how serious the situation is.
"Of course it's a worry – I've got two kids of my own, Harvy, who's four and Blaike, who's eight.
"We've got a workforce full of people in a similar situation, and it's not just kids, it's wives, partners, families.
"But we've had advice about we have to do after work, before we see our families and kids, and we're all following that advice.
"It's only natural to be worried, but the job still needs to be done and we'll keep doing it until we're told to stop."
Linn's goals this season helped make Arbroath the Championship's surprise package.
Having kicked off in August hoping only to avoid relegation, they finished the campaign just four points off a possible promotion play-off place.
It was a fantastic achievement for Dick Campbell's part-time side.
And, for Linn, countless messages of congratulations and support have cancelled out the disappointment of not being able to complete the final games of the season.
"I think we've done ourselves proud to be honest," he said.
"The bottom line is we will definitely be in the Championship next year – and that's what we set out to achieve.
"None of us will be getting drawn into talk about the play-offs or anything like that.
"But what I will say is that my phone has been lighting up all season with messages from fans of other clubs, Dundee, Dundee United, Celtic, everybody.
"I think they appreciate what we've done this year. We've won a lot of respect and that can only be a good thing for the guys in our dressing room.
"They way we've gone about things and imposed ourselves on the Championship should give us belief for next season.
"But to be honest, until now, I've not really thought much about the football side of things.
"We had made a decision four weeks ago that we were going to be apart from each other for six-to-eight weeks.
"I'd still been doing bits and pieces to keep myself ticking over fitness wise. I always got myself out.
"But don't get me wrong, it was one of those situations where you're out for a run and you're thinking: 'Are people looking at me? Are they thinking I'm being selfish?'
"I was also beating the streets all day – some days I'm doing 10 or 12 miles – then thinking: 'Right, I've got to get myself out for a run now.'
"It was definitely a surreal feeling.
"The guys on the lorries have got people coming out from houses at the moment saying: 'Good for you guys for working through this. Take care. Good job.'
"But we're just the same as anybody else. We're normal guys just trying to keep as normal a daily routine as possible."