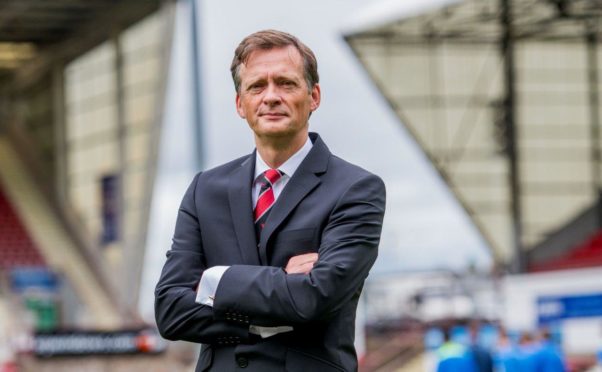 Chairman Ross McArthur felt Dunfermline were left with no choice but to revamp their coaching set-up due to a sense of under-achievement.
McArthur and his fellow directors wasted little time in making drastic changes by first ending Allan Johnston's time in charge at East End Park on Wednesday then yesterday upgrading Stevie Crawford from caretaker to permanent head coach in time for Saturday's Championship clash against Dundee United.
Crawford is being assisted by another former Pars player, Greg Shields, while a third fans' favourite, Jackie McNamara, has been appointed as club consultant.
It has the look of a well thought out plan that didn't materialise overnight and McArthur hopes the backroom changes will have an immediate impact by helping secure a win at Tannadice tomorrow.
In the longer term, while stopping short of claiming the Pars should be winning the Championship, he did make an argument for being higher up the table than their current seventh spot.
"We feel like we have under-performed this season," said McArthur.
"It is a very, very difficult league.
"I think if you are maybe an Ayr United fan or an Alloa fan then you might be quite happy but I'm sure every other fan in this division is thinking their team has under-achieved as well.
"We have invested in the playing squad this year and we feel as if we've got a good squad, although we are maybe not getting the right blend at the moment.
"We just feel as if there has been a number of missed opportunities.
"Games are there, situations arise and then we can't build up any momentum.
"The game on Saturday at home to Alloa was probably a prime example of our season.
"We played really good football in the first half and scored two goals. We had opportunities to put the game to bed and then the game just turned completely on its head.
"It is hard to say, because there is a person involved, but every manager has a shelf-life and we just feel we need some different ideas.
"I don't think we are far away – we are actually on quite a good run of form – I just think it was time we needed fresh impetus," added McArthur.
"We've been looking at things, planning behind the scenes and preparing but obviously Allan had my full support and I got on well with him.
"I liked him and I felt I was very loyal to him, which he appreciated because he told me that on Wednesday.
"But Saturday epitomised our season because it was a missed opportunity."
McArthur still feels that, under Crawford and Shields, there can be a successful finish to the campaign.
"There is still a lot to play for," said the chairman.
"The play-offs are still achievable.
"We probably had aspirations to not just get to the play-offs but realistically that's where we are now.
"And who knows what can happen in the play-offs.
"I still think we've got a good group of players, we just maybe need to get a different dimension to it and a wee bit more out of them.
"We never said the title was the target but what we said was we wanted to be in contention at the right end of the table.
"Right now we are mid-table, just off the play-offs, but it is a condensed division.
"We are on a decent run of results but we are playing catch-up and we need victories and not draws.
"That's probably been our Achilles heel. We have had too many draws when we should have won games.
"We have never got that momentum going. It has been stop-start."