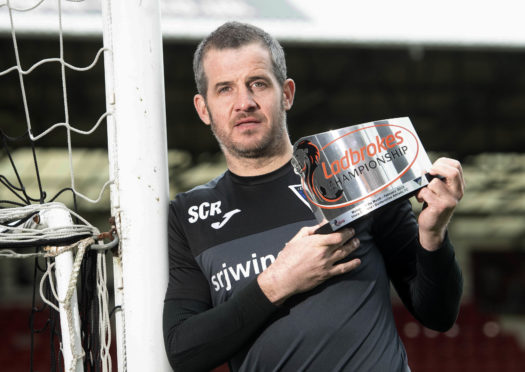 Stevie Crawford has dedicated his maiden manager of the month award to a late mentor after leading Dunfermline to a remarkable revival with four successive victories.
The former Pars player had to endure a difficult start to life as boss of his hometown team, struggling to four games without a win and crashing out of the Scottish Cup to Fife rivals Raith Rovers.
However, the 45-year-old has helped turn the East End Park side's fortunes on their head with a run that has eased them into fourth place and in possession of a play-off spot ahead of tomorrow's trip to face Alloa Athletic.
With fears of being dragged into a relegation battle having been wiped away by four wins and four clean sheets, Crawford has heaped praise on his coaching staff and players, as well as a close confidant who he preferred not to name.
The Scotland cap said: "From where we were, in terms of results, three weeks ago, it's nice. But the pleasing thing for myself is not actually getting the award, but getting people talking about Dunfermline in a positive manner. That's the important thing, for me.
"It's credit to the boys and the coaching staff, and everybody about the place for how they've helped since I came into the job.
"It's been a frustrating season but the frustration has gone in the last five or six games. We've hit a wee run of form and the positivity comes from winning games of football.
"The more attention we can bring to the club in this manner the better. The feeling I've got for the place is what I'm going to try to bring out, whether that's in the coaching staff or players or anybody else I come across at the club.
"I was fortunate to play for the club and it has a lot of history behind it, but to actually be in charge and driving people forward, there's nothing better than bringing positive attention to the place.
"It makes it more vibrant, the supporters get a lift from it, the players get a lift and the staff will get a lift.
"It's a wee bit more of a sentimental one for me, because someone who is no longer here with us played a massive part in giving me advice.
"He wasn't a football man, but that will mean a lot to the family."
Crawford is adamant that hard work and disciplined performances have sparked the turnaround and he has warned that any drop in recent standards could prove fatal to the Fifers' new-found hopes of a shot at promotion via the play-offs.
The former Hearts and MK Dons assistant added: "I know it doesn't sound the most exciting, thrilling, revolutionary idea in football but what's got us where we are at the moment, in a tough season, is hard work and discipline.
"If we come away from that, things can very quickly turn against us and we can start scraping for things here and there to try to turn the corner again.
"There's a bit of confidence and belief now, and a bit of positivity about the place because of the results. But we can't get away from the reasons that have got us the results.
"Alloa is our next game and our next challenge, and we've got to stay focused on what's allowed us to turn the corner, and that's hard work and the disciplined side to our performances at the moment.
"We'll demand more of that. The focus is to get better, day-in, day-out."