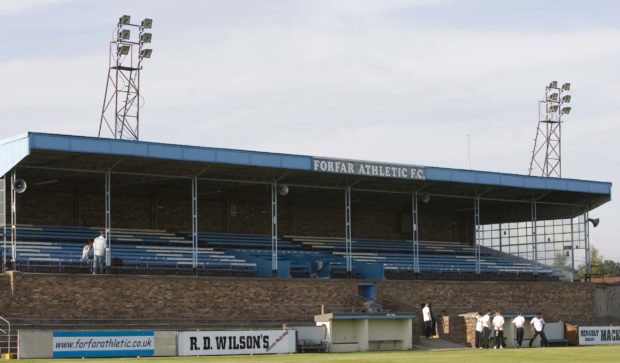 Forfar have laid bare the challenges facing Scotland's lower league clubs in order to get back on the training park.
While the Premiership's restart has been pencilled in for August 1 and the Championship teams been given a goal of October 17, the teams in Leagues One and Two have seen no such light at the end of the tunnel.
The Loons did reveal that a mid-October kick-off had also been discussed for the bottom two divisions but the matter was left unresolved after the indicative SPFL vote on reconstruction and subsequent confirmation that the second tier would attempt to get going in four months' time.
Top-flight teams have been taking that tentative first step back, with Dundee United's squad experiencing their new, socially-distanced reality on Monday.
The Angus club, though, have raised concerns about whether coronavirus testing required to resume pre-season training is viable for part-time sides at their level of the game.
In a message to fans, the Station Park directors said: "Discussions are still ongoing as to a potential start-up date for Leagues One and Two of the SPFL set-up.
"It now looks as if Championship clubs are proposing a 27-game league campaign commencing on 17th October and this date has also certainly been mentioned at meetings of clubs in the lower two tiers.
"It is to be hoped that by that time crowds of at least a few hundred might be allowed to attend games but that is by no means a certainty.
"Equally as worrying for part-time clubs are the protocols currently in place for even a resumption of training.
"It is estimated that it could take up to a minimum of six hours a week to carry out the testing process required and, of course, most part-time clubs do not even train for that length of time!
"The Loons' board have submitted their application to the SPFL Trust for the £50,000 grant provided so generously through funding from Edinburgh-based business man James Anderson, but if the testing requirement remained in place for, say, the whole season, it would – as has been widely reported in the press – land clubs at our level with a £100,000 plus cost to fulfil the requirements.
"The board are setting up a COVID-19 subcommittee to focus and oversee a potential return to training if and when possible and a similar group will be set up once full protocols have been received to focus on a potential return to playing organised football at our level."
There was also an update on the staffing at the club.
"Five players are on contract for next season while a further 10 of the squad have joined them at present on the furlough scheme," added the directors, who have decided not to sell season tickets until the picture is clearer.
"Like many other clubs at our level, it is very difficult in fact almost impossible to set budget figures for a forthcoming campaign for all the reasons listed above.
"Club officials, who, as ever, will try and do the right thing for all concerned in what is an extremely fluid scenario, have asked the players to be patient in the meantime and the same message is the only one that can be issued to the fans at this juncture."