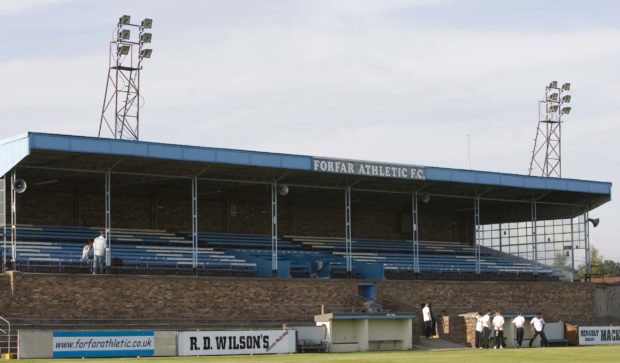 Forfar's directors have revealed how agreeing to an October restart was "the most difficult decision" their board has ever made.
In an open and honest update, Loons officials disclosed how the coronavirus crisis is hanging a menacing, dark cloud over Scottish football.
According to the Station Park board statement, there is concern over a "worst-case scenario" that could result in a "catastrophic six-figure loss" in this current financial year.
Such a nightmare would come true if the season started on October 17 behind closed doors under the current Covid-19 restraints, without hospitality revenue and no new external funding such as was donated by businessman James Anderson.
The Forfar statement reads: "League One and Two clubs would appear to have registered their overwhelming intention to resume league fixtures in October and, like their Championship counterparts, compete in a reduced 27-game league programme.
"This will obviously mean that for one season five teams will play 14 games at home, the others 13.
"All 20 clubs had to provide a firm indication of their thought process to the SPFL by noon on Friday past and they have now been asked to submit a formal vote on a resolution along these lines.
"Like many others, the Forfar Athletic directors debated long and hard on the issue, finally deciding…to support the 27-game option.
"Other possibilities on the 'table' were a full fixture programme, which was never an option, an 18-game schedule starting in either December or January or 'hibernate' for a season.
"Each option – the 36-game scenario apart – was debated at length," added the Loons board.
"The hibernation option probably gave the most financial security but it could have brought with it relegation without kicking a ball and obvious problems that would evolve starting from scratch some 10 months on.
"Both 18-game suggestions merited serious consideration but divisional meetings held over the past seven to 10 days gave out the opinion that, with the ever-improving situation in regard to the pandemic in Scotland, following the Championship's lead was the preferred route certainly of the vast majority at the time.
"However, at Station Park we are not going to kid anyone, least of all our loyal supporters.
"This was the most difficult decision that a Forfar Athletic board will ever have had to make in, of course, circumstances that are totally unique and could never have been planned for.
"For clubs like ourselves there is a worst-case scenario of a potential, and what could be catastrophic, six-figure loss for the financial year.
"This situation could arise if, for example, medical protocol requirements having to be adhered to at present by Premiership clubs are not relaxed considerably by late August and if games still have to be played behind closed doors come October with no hospitality revenue, allied to the potential of no further new external funding from any source.
"The £50,000 payment that the Loons, like all SPFL clubs, have received from the SPFL Trust through the benevolence of Edinburgh businessman James Anderson has been so welcome and his generosity will and should never be forgotten, but if current circumstances were still to prevail it will not cover start-up costs.
"Of course, we all hope and pray that by the time training commences at our level, the medical requirements will be significantly reduced and certainly the daily statistics provided by the First Minister (Nicola Sturgeon) continue to give great reason for optimism that this may be the case."