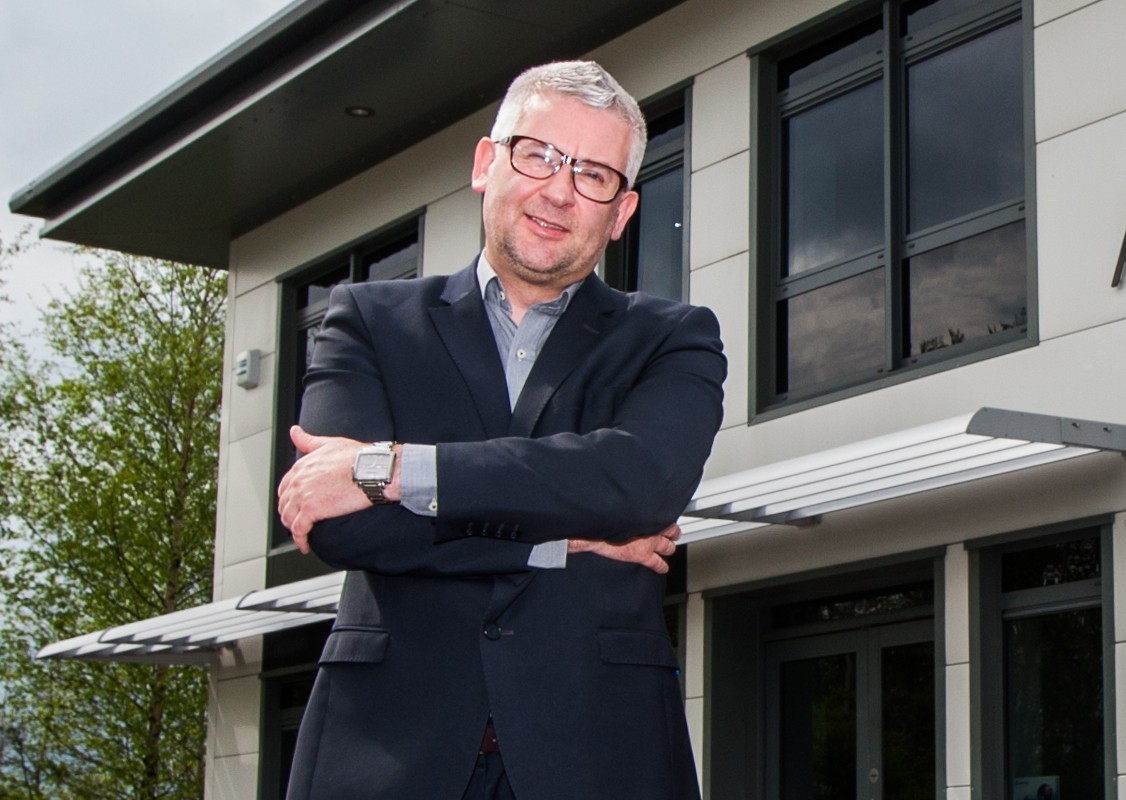 During his five years as Forfar chairman, there were plenty of highs and some lows for Alastair Donald.
However, after finally stepping down from his post, he is in no doubt over what was his biggest achievement at the club.
He could be forgiven for citing last weekend's play-off victory over Peterhead that secured promotion to League 1 as the highlight.
The semi-retired businessman could even list notable achievements that he played a part in such as the success of the youth set-up at the club or the installation of the artificial surface at Station Park.
Instead, Donald insists it was a triumph in adversity that stands out for him.
Last summer, Forfar should have been deep in the doldrums after a season that had seen them part company with long-serving boss Dick Campbell with his successor Gary Bollan unable to prevent the team sliding into League 2.
It was a rapid fall from grace for the club, who just a year before had come within a whisker of securing promotion to the Championship.
However, Donald insisted no-one would feel sorry for themselves and the spirit of positivity – and the help of a certain Baxter the Bridie – ensured that Forfar started the season in high spirits.
The Loons raced to the top of the table and stayed there for most of the season only to be overhauled at the death to the title by Arbroath.
However, Forfar would not be denied in the play-offs, beating Annan and then Peterhead to ensure the club was promoted and Donald could go out on a high.
He said: "We had 10 straight wins at the start of the season but I knew Arbroath would come strong and they did.
"We then lost the league on the last day of the season.
"I remember many years ago when we relegated Arbroath in a play-off game at Station Park, the Arbroath directors stayed in the Forfar boardroom and (their chairman) John Christison spoke and wished us all the best.
"I remember looking at him and thinking, 'That is real class and absolute dignity'.
"So 20 minutes after Arbroath won the league down at Stirling, I phoned John and wished him all the best.
"He was touched by that but I just said you taught me this.
"I then spoke to Gary and said that with his permission I wanted to do something unusual.
"We had lost on the Saturday night in the league, and then we were training on the Monday before the Wednesday night trip to Annan.
"So I asked Gary if I could come into the dressing-room and speak to the players.
"He said, 'No problem at all'.
"So I went in and spoke to the players for two or three minutes. I got a round of applause from them at the end and had phone calls the next day from players saying that was brilliant.
"I will never disclose what was said.
"It was just fantastic for the club to go on and win promotion.
"But the biggest achievement for me in football was how we managed to get relegated and then had a close season and a start of the season feeling like we had almost been promoted.
"Within a week of the final whistle of the season, Gary and I were driving all over Scotland signing players.
"We then had an absolute stroke of genius by pure accident.
"We approached two or three local girls to come in to set up a new club shop which they did.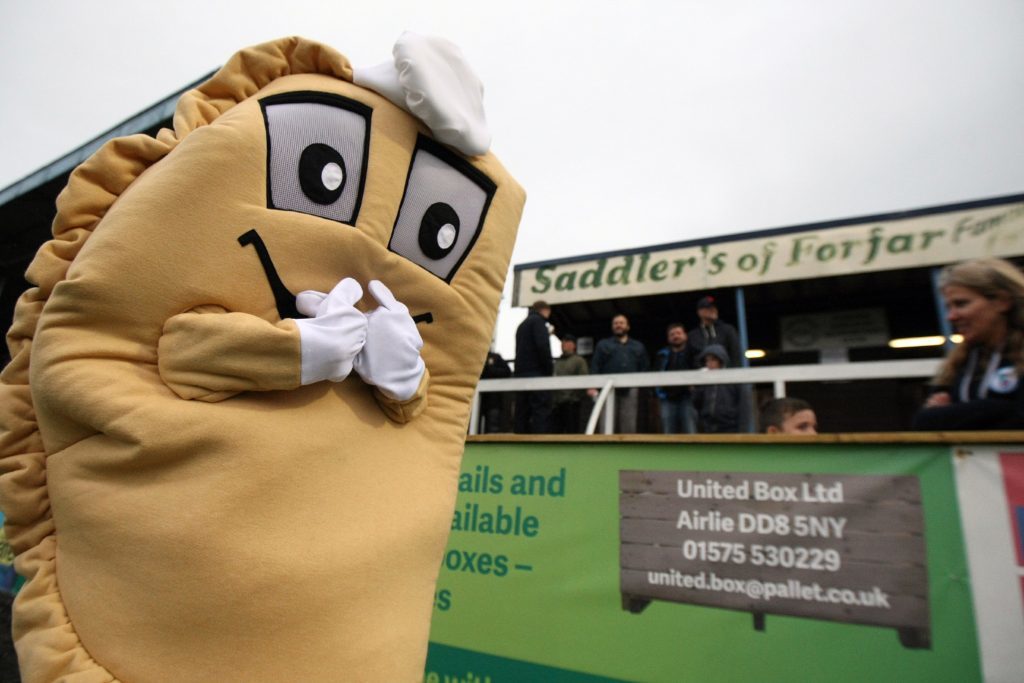 "They were a huge breath of fresh air and they went away and came up with that Baxter the Bridie thing.
"Throughout the close season, this Baxter the Bridie was in Kenny Dalglish's hands, Gavin Hastings' hands . . .
"We then had hundreds of people coming for the strip launch.
"The club had a spring in its step and that was my biggest achievement."
Donald's partner Paula and the rest of his family have been by his side throughout his tenure and it was fitting that she shared a special moment with him on the pitch at Peterhead.
He said: "I have had so many emotional times with Paula and my family.
"She goes to most of the home games, occasionally the away games and was at Peterhead.
"There were actually one or two good moments on Saturday.
I had an arrangement with Martin Gray the groundsman.
"I had champagne in my car but no-one knew about it apart from me, Martin and (club secretary) David McGregor.
"As we drove up I said to Martin I would get in touch with him if I felt it (promotion) was on.
"So we went 3-0 up, nothing from Martin, 4-0 up, still nothing.
"They scored to make it 4-1 with 15 minutes to go and you are thinking we could implode.
"But when we scored to make it 5-1 I looked round to see Martin walking towards me.
"It was a beautiful moment as he just said, 'Will I get the champagne, Mr Chairman?.
"I just said, 'Yes, you can get the champagne'.
"Another nice moment for me came when I walked down to the tunnel and into the technical area.
"The fourth official looked round and just nodded and smiled when he saw it was me.
"So to be in the technical area for the last five or six minutes with the people I wanted to be with was great.
"We were all hugging each other with five minutes to go and there was a great moment when Gary who was further down the technical area saw me.
"Gary being Gary, started walking in the opposite direction thinking, 'Get out of here! There are still five minutes to go and we are only 5-1 up'!
"When the final whistle went, all hell broke loose for three or four minutes and I suddenly realised I hadn't seen Gary.
"Then I saw him and that was a good moment. One or two private words were exchanged.
"Then I realised that I had left Paula somewhere. I looked up and she was still in the stand as she didn't want to do the wrong thing and come onto the pitch.
"I shouted her down and she came onto the pitch and that was brilliant.
"I spoke to my daughter coming down in the car as I was meant to be at the UB40 concert in Dundee.
"She had bought tickets for us so I had to ask her if it was all right if I didn't come to the concert.
"She is football daft so she said you have to go to the club and we had a great night in Forfar.
"But it is history now and you just move on."
Donald had been a director of the club before being asked to become chairman.
With other time-consuming business interests, was it a post he had to think about accepting?
He said: "Probably for about half a second.
"Forty-two people out of five and a half million can be chairman of a Scottish football club.
"So to be one of that 42 is a phenomenal honour.
"It is a massive privilege. Sometimes it wasn't a good privilege and it was hard.
"But to be asked to be chairman of a football club because they wanted you to be that, not because you had invested in the football club and became the chairman – that's a completely different scenario.
"It is probably the greatest compliment that can be paid to you, to be honest.
"I was lucky as I had David McGregor who has been there since about 1404!
"He is absolutely excellent and I couldn't have done it without him.
"From the very first day I took over to the very last act as chairman, which was hugging him he was just fantastic to me and kept me right."
Donald came close to calling it quits once before two seasons ago.
He had already made his decision before the gut-wrenching disappointment of the Alloa Championship play-off defeat but was persuaded to have a change of heart.
He said: "In the eight years I was involved with Forfar that was the best season.
"We couldn't do anything wrong and some of the football we played was just breath-taking.
"We got through to the play-off final with Alloa and beat them 3-1 at Station Park.
"At Alloa, with five minutes to go to half-time it was still 0-0. Then we gave away a goal on the stroke of half-time.
"With just 15 minutes to go, we were 2-0 down but we were still in it and had chances but they got the third goal and that was it.
"Win or lose, we had booked a hotel for afterwards but the place was like a morgue.
"But then Dick grabbed hold of the microphone and addressed them as only he can and everyone was on a high after that.
"I had decided before that I would be stepping down as chairman as I had decided three years was enough.
"Everything in life is about timing and I just felt it was the right time for me to leave.
"I told my family and everyone was in agreement but the players got wind of it that night and Robert Douglas, Derek Young, Gavin Swankie, Foxy (Martyn Fotheringham) and Pink (Ian Campbell) said we are only here because of you and we want you to stay.
"When these people come to you and say that, you kind of get seduced back into it.
"I asked for a few days to think about it. I spoke to my family and they said I had to do one more year.
"But then we had that horrendous spell when we had to change the manager and then we got relegated. I knew it wasn't the time for me to step down.
"I had unfinished business and I couldn't go out on that basis."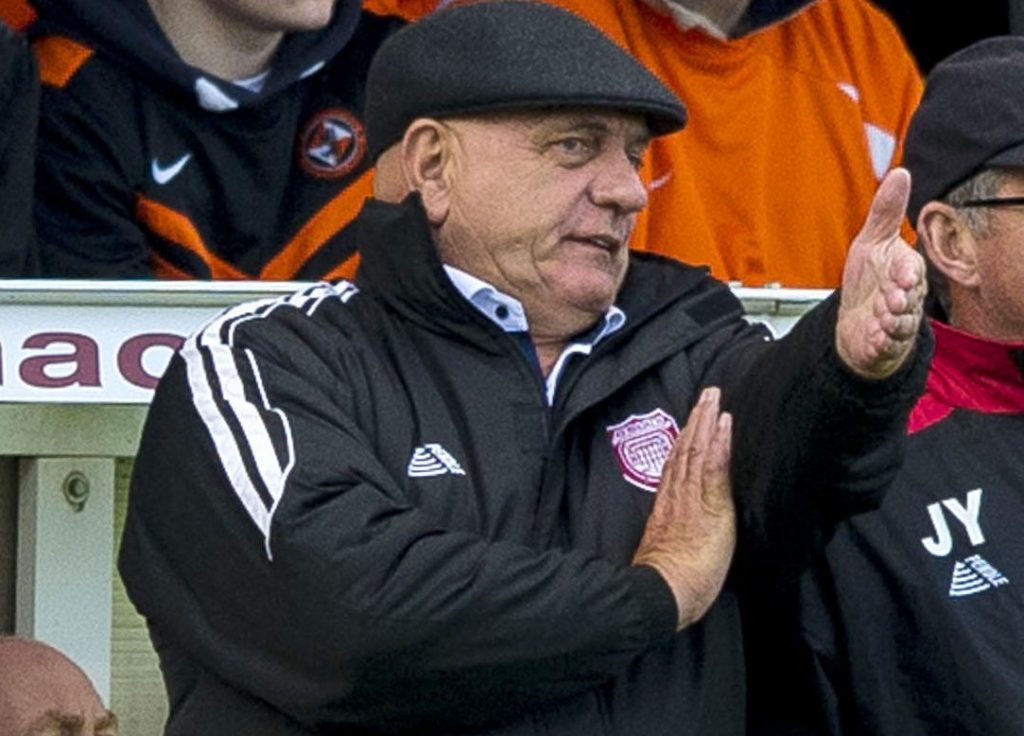 Donald admits changing that manager on December 12, 2015, was the hardest day of his life.
He said: "We started the season quite well and on September the 7th we were clear at the top of league after beating Brechin.
"But then we unfortunately went 14 or 15 games without a win. It was difficult as it was just fine lines.
"It was the hardest time of my life going through that.
"In hindsight when you see what Dick has gone on to achieve with Arbroath, maybe he was just needing a break and a change of scene.
"Nobody doubted he was a good manager.
"In the lead up to that (his sacking) he came up to me a couple of times and said just go and get a different manager.
"But it got to the stage where I had to make a decision. It was a board decision but it hit me the hardest. I like to think we were more than just a manager and chairman – we were good friends.
"It was a hard, hard decision and I was in tears that day.
"I was immensely fond of him and still am. To be honest, he has been absolutely fine with me since then.
"He shakes my hand every time and I have absolutely nothing bad to say about him him."