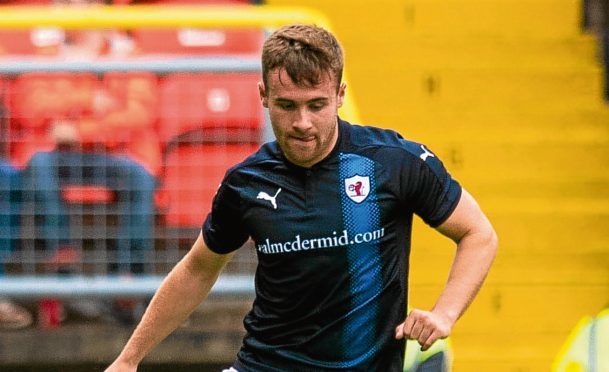 Lewis Vaughan insists losing top spot will make no difference to Raith Rovers after they slipped behind Ayr United on goal difference despite a narrow win over East Fife.
The Kirkcaldy side were unable to build on Vaughan's first-half opener, and were forced to grind out the three points as East Fife dominated the second period.
With Ayr romping to a 4-1 victory in Arbroath, Raith – who have a game in hand – dropped to second in League One ahead of the trip to Somerset Park a week on Tuesday.
"Being behind on goal difference doesn't make a difference to us. The boys are confident in the team and I'm sure we'll get back up there," Vaughan said.
Vaughan's 18th goal of the campaign proved the difference between the sides in a scrappy, hard-fought Fife derby in front of 2,656 fans, League One's biggest crowd of the season so far.
"It was a difficult game to play in and they made it very hard for us," Vaughan said.
"It was probably a mistake for the goal, but I'll take it. I was due a tap-in.
"I thought we'd go on and break them down a bit more and score more goals but it wasn't to be.
"It probably wasn't our best performance in the second half but we got the win and that's the main thing."
East Fife boss Darren Young was left "gutted" by the result and praised his part-timers for taking the game to Rovers in the second half.
"That's probably one of our better performances of the season, and one wee mistake in the whole game has cost us," he said.
"You couldn't tell who the part-time team was, and how we've not got anything out of the game, I don't know.
"It's disappointing to get nothing for our efforts but the level of performance makes up for the last derby game."
A game of few chances was settled by a mistake in the East Fife defence in the 28th minute. Ben Reilly was caught in possession at the edge of the box by Kevin McHattie, and the ball ricocheted into the path of Vaughan, who fired home from six yards.
The opener was Raith's reward for starting the match on the front foot.
However, East Fife were the dominant force thereafter, albeit without creating a clear-cut chance.
Despite missing key players Raith's defence was unbreakable and the closest the visitors came was in the final five minutes when a header from substitute Kevin Smith was held by Graeme Smith.
Raith boss Barry Smith said: "I thought we were excellent in the first half.
"We moved the ball at pace and created good opportunities to attack.
"In the second half we had to really dig in and be disciplined in terms of our shape. We had to defend properly, which we did – and if we have to grind out a result, we've got the resilience in the dressing room to do that."