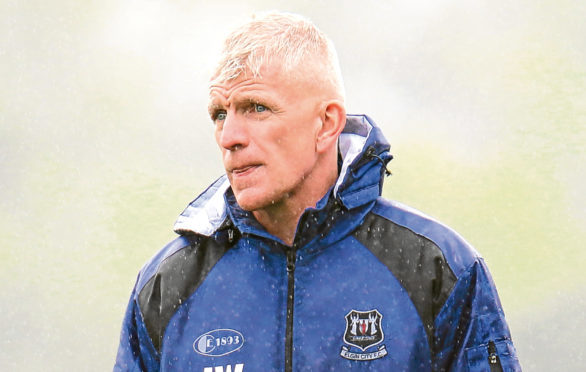 Forfar Athletic's League One status was secured not with a bang but with a whimper as the Loons relied on results elsewhere to avoid the end of season relegation roulette.
Jim Weir's side went down 1-0 to Alloa, who all but secured their own promotion play-off spot.
The performance from Forfar perhaps summed up their entire season of ups and downs and inconsistencies – they were pretty woeful in the first half but came much more into the game after the break.
None of that took away from the sense of relief around Forfar and the manager's huge pride in his players that they had secured their league status with two games still to go.
"I pointed out to the players that we had four points after eight games and were four points behind at one point," Weir said. "Considering some of the positions I have been in at other clubs, to avoid relegation and even the play-offs with two games to go is remarkable.
"That is credit to the players. I won't take any credit for it. What you ask for from the players is hard work and they have come in and do that.
"Yes, they are raw and they will make mistakes but these young boys have stepped up to the plate. And we have added a bit of quality with the likes of Hilson and Easton coming back to full fitness.
"I've never had promotion – I seem to be brought in when we are at the other end of the table – so I can't judge that, but of all my clubs it is the proudest I have been of a group of players.
"That might sound negative but what it does is give us a focus to build on next year, a platform to attract players because we are in a better league.
"There could be four Angus teams in this league next year and that could be a cracking league.
"The most important thing is the directors saw me as the person to keep us in the league and thankfully I've repaid them for that."
Weir also acknowledged the backing he had received from Forfar fans.
"I want to thank them for their support," he said. "I wasn't everybody's choice, I'm not everybody's favourite but that's because they don't know me. I've got my faults like everyone else but I'm a winner and I make sure I put that into the team.
"It's been a season of so many ups and downs but it is up to me now to take this club forward."
Alloa took the lead after 14 minutes when Callum Crane strode into the Forfar box down the left and curled a cracking shot over keeper Marc McCallum and into the top corner of the net.
Forfar were sluggish in the first half and their solitary effort came from Matt Aitken right on the break when he whistled a 20-yard shot past the post.
Hilson hit a free-kick just over the crossbar a minute after the restart but that was as good as it got for the home side.
Jordan Kirkpatrick almost doubled Alloa's lead with a neat clip that sailed inches over, then moments later was denied again, this time by the fingers of McCallum, who tipped his fierce drive over the bar.
Alloa's Jamie McCart was shown a straight red card in injury-time for an off the ball – and off the pitch-kick – on Easton after a tussle between the two as the ball was ushered out.
Young Loons striker Matty Aitken was stretchered off and taken by ambulance to Ninewells Hospital as a precaution after he took a heavy hit in a bad challenge by Andy Graham.
The youngster suffered concussion but thankfully no broken bones.