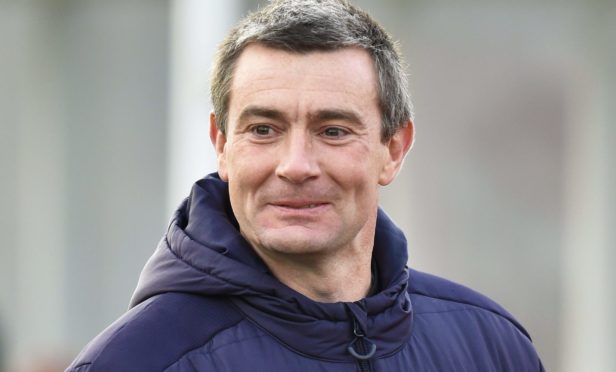 Barry Smith has spoken of his delight at being appointed Brechin boss and the fact Stevie Campbell has become his assistant at the second time of asking.
The 44-year-old had been out of work since he stunned Raith Rovers when he suddenly resigned as their manager at the start of September.
However, after Brechin parted company with Darren Dods a week ago, Smith quickly emerged as the club's top target to take over at the Glebe.
The former centre-half, who has also managed at Dundee, Alloa, Aldershot and East Fife, spent time playing at the Angus club in 2009/10.
And he jumped at the chance to return to the League 1 side as manager.
Smith said: "I am delighted to be back in at a club I know well having played there.
"Brechin asked permission from Raith at the weekend to speak to me.
"Due to contractual terms, Brechin still had to contact Raith but everything moved very quickly after that.
"I know the club and a few members of the Brechin board. Obviously I am delighted Stevie is staying on as well.
"I previously asked him to be my No.2 at another club but he couldn't do it. This time it has worked out well and he agreed to stay on.
"It is not just the fact that Stevie knows the players inside out.
"I have known him for a long time and he was a youth coach at Dundee when I was a player.
"So for as much as it is helpful he knows the team, one of the main reasons I want him here is because I know how good a coach he is.
"That's more important than the fact he knows the players."
Smith has inherited a squad who have lost their last three games and have only won once in eight matches.
However, he is determined to spark a revival in fortunes starting on Saturday in an Angus derby at home with Forfar.
Smith added: "There is a good core of a squad there.
"They have had it tough but hopefully a change will give them that wee spark to help the guys fulfil the potential of the squad.
"It is a very tight league and a couple of wins can really propel you up the table.
"But we are just looking at it short-term at the moment, trying to get points on board, letting the boys play with a bit of confidence and freedom.
"We have a derby with Forfar on Saturday which is a great game to be going into.
"As a player, I always liked playing in derbies.
"It is a game the players should look forward to."
Smith has kept his cards close to his chest over the exact reasons for leaving Raith at a time when they had just beaten Forfar 4-0 and were sitting joint top of the table.
He said: "When it comes down to it, it is in the past.
"After meeting the (Brechin) board on Monday night, they were really positive and I know they will allow me to do my job properly."