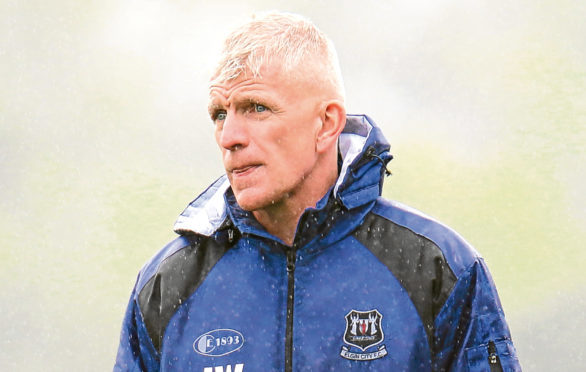 The fact that they would be the first League One club to beat Arbroath this season isn't in Forfar manager Jim Weir's thoughts ahead of today's Angus derby.
The only motivation he and his players need is ending a frustrating run of head-to-heads with their local rivals.
Arbroath have won the last five encounters between the two sides. And if you go back further, Forfar have only won once in the last 10.
Now the Loons want to start turning the tide at Station Park this afternoon.
"I'm sure our fans would love to see us end Arbroath's unbeaten run," said Weir. "But the main thing is they are just desperate for a derby victory.
"It's been a while.
"We've been unlucky in a couple of the defeats and these games are all about taking your chances when they come.
"Arbroath are a very strong side. They are two or three years into their recruitment, they're strong at the back and they are a threat at set-pieces.
"Momentum in football can be hard to stop but somebody will beat them and hopefully it will be us. We were the first team to beat Raith Rovers this season.
"Our home form has been good recently and hopefully our forward players like Baird, Hilson and Easton can make the difference."
Matty Aitken is still four or five weeks away from a first team comeback.
Arbroath manager Dick Campbell knows that this is a fixture which stands out on the local football calendar.
Campbell said: "People from outside Angus do not realise how important this game is.
"It really matters to everyone involved and it will be played with an edge to it.  I have told people for a long time that this fixture is huge, and I cannot wait for it to get going.
"There are 12 local derbies in our league this season and that is fantastic for the fans. All you do is focus on them one at a time and that is what we have done this week. We know that everyone at our club wants to win this one, but we also know that everyone at Forfar wants to win it as well."
Campbell added: "They have the added incentive of knowing that they could be the side that ends our unbeaten run so there is plenty at stake. They have good players and their front two of John Baird and Dale Hilson will need careful watching.
"However as always I believe that it will be what the Arbroath players do that will determine the outcome."
Former Station Park defender Thomas O'Brien is an injury doubt.
Campbell reported: "Thomas will be given until close to kick-off to prove his fitness.
"He wants to play at Station Park and he can be trusted to say whether he is right."
Another ex-Loon Omar Kader is expected to shrug off a knock to play, with only on-loan Dunfermline striker Callum Smith ruled out at this stage.