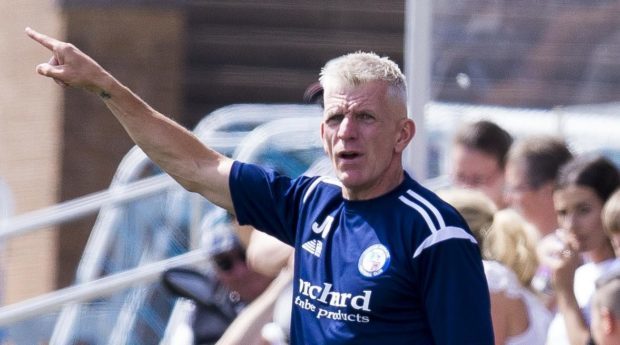 Forfar are the only team Brechin City have taken points off since Barry Smith took over.
And Station Park manager Jim Weir is determined that their Angus neighbours won't repeat the trick this afternoon.
The 4-0 victory for City back in November in Smith's first game in charge after replacing Darren Dods sticks out like a sore thumb given the five defeats that have followed.
And Weir knows that the Glebe Park side will hope that the sight of sky blue strips brings out the best in them again.
"We've had a few games when we've lost goals in quick succession and that was one of them," Weir recalled.
"There were three goals in seven minutes.
"I expected Brechin to get a bounce from that result but that hasn't happened. They'll be hoping that there will be thoughts in our minds that they can do it again."
The league has reached its half-way point and Weir believes the next set of fixtures is the most significant one.
"I always think the third quarter is the most important," he said.
"If you have a good quarter you can establish yourself in the play-offs or end up in trouble at the bottom.
"After that, with nine games left, time is running out.
"We were punished for one bad bad decision at East Fife last weekend and it was a hard defeat to take but this is a derby and an important game for us to win."
Dylan Easton may miss out through illness, while Lewis Moore is injured. Michael Travis is available after suspension.
Meanwhile, Smith has been dealt a big blow after it was confirmed Callum Tapping will be out for at least the next six weeks.
The influential midfielder was stretchered off last week against Airdrie with what was feared to be a bad ankle injury and it has now been confirmed he has sustained a fracture.
Smith said: "Callum has suffered a break and he is in plaster.
"He will be out for a minimum of six weeks which is a huge blow. He has done very well since I came in so it is very unfortunate to lose him.
"But that's been the story of the season – we have lost experienced, senior players like Ryan McGeever, Paul McLean, Dougie Hill and Dene Shields.
"So it hasn't helped the situation.
"We know what we need come January and we will be trying to help the players who are already at the club by bringing in guys who are going to better the team."
Smith added: "It is just about getting that next result which will hopefully come at Forfar.
"For as much as we won 4-0 the last time we played them and it was a great result, every game is different.
"Forfar caused us problems and they are a good force going forward.
"So we will have to be at our best again to get any type of result."
As well as Tapping, Smith will also be without McGeever and Shields.