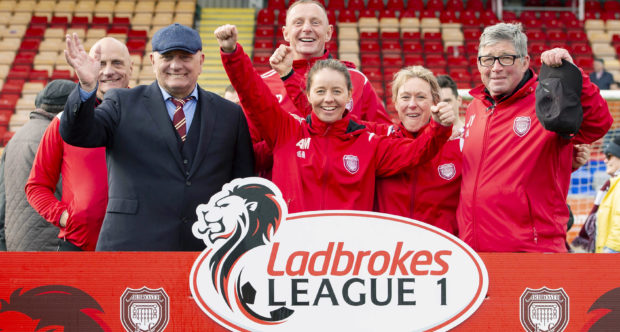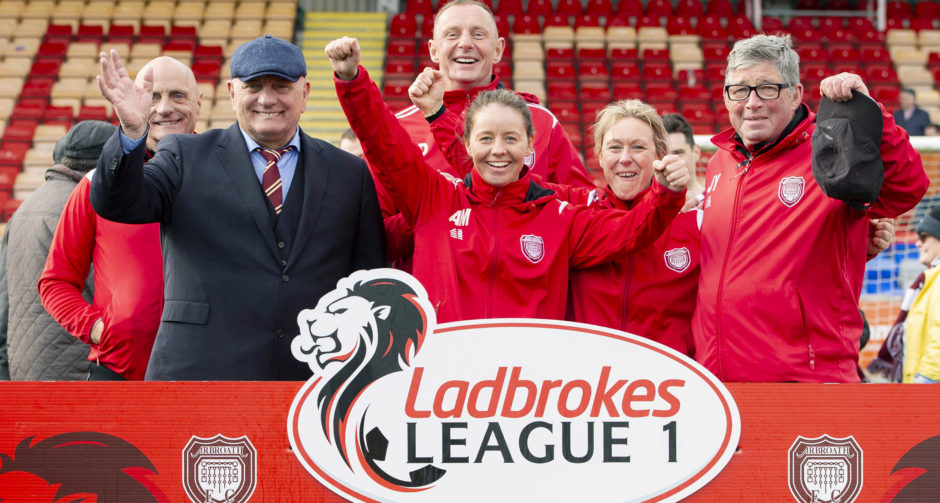 An emotional Dick Campbell has dedicated Arbroath's title win to his dearly departed friend and former Red Lichties goalkeeping coach John Ritchie.
There were joyous scenes at Brechin on Saturday as the Gayfield side were crowned Ladbrokes League 1 champions.
However, as the champagne was sprayed around and the fans began celebrations that would continue long into the night, the veteran manager's thoughts were still occupied by memories of Ritchie – his "dearest friend" since they first met in 1975 who passed away last June.
Campbell said: "We have limped into the Championship but that is an indirect compliment to our players.
"We were so far in front and teams make it very difficult for us to break them down as Brechin did.
"But we have won the Championship by 12 points with three games to go.
"Nobody will tell me differently – we deserve to be champions.
"We have been at the top from day one. One or two people may disagree with that but league tables don't tell lies.
"We are champions of League 1 and no-one is prouder than myself.
"Everyone who works with me, the staff, everyone, I thank them all for their efforts, I really do.
"I dedicate this to John Ritchie.
"He was my best pal, my goalkeeping coach and God bless him, he was on my right shoulder today.
"My brother Ian was on my left shoulder.
"I have needed all the help I can get."
Arbroath will, of course, be playing their football in the Championship next season and despite the fact they will be remaining part-time, Campbell insists the Red Lichties will give a good account of themselves.
He added: "On the football front, we have good players.
"We will go in next year and we will not be embarrassed in that division.
"We will have a go and we might add one or two but let's enjoy this for the next two or three weeks."
The Arbroath fans will still be in dreamland at the thought of games in the Championship next season especially as the club were toiling at the foot of League 2 when Campbell took over at Gayfield in March, 2016.
He added: "I am just so happy for everyone at Arbroath.
"I came here three years ago along with my brother and what we have achieved is miraculous.
"So let's have a go next year and if you go down, you go down.
"But if we don't it will be because of good organisation and effort.
"But let's enjoy this. We have three games to go and I will play everybody as I need to make up my mind who is staying and who is not."