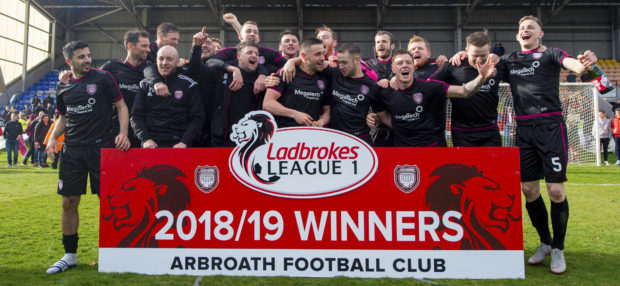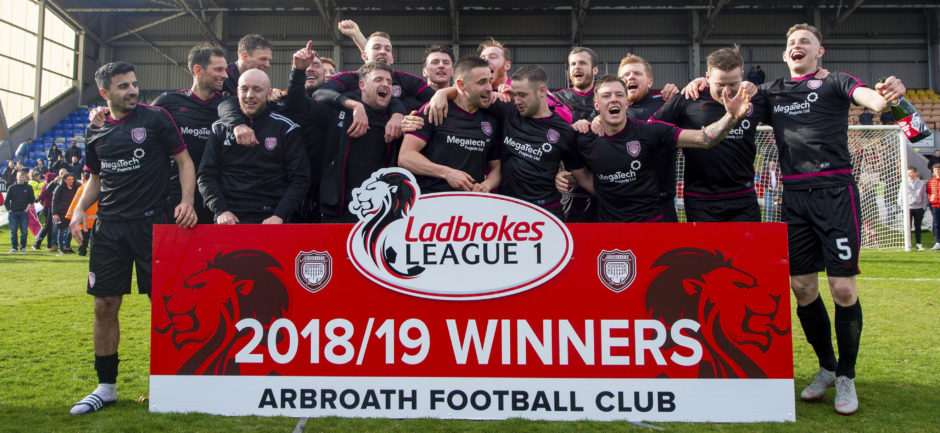 Arbroath have taken Ladbrokes League 1 by storm this season and Gavin Swankie insists they can do the same when they line up against the big guns in the Championship.
The Red Lichties have been champions elect for months but the title was finally sealed at the home of Angus neighbours Brechin on Saturday.
Dick Campbell's side made the short journey to the Glebe knowing that the champagne corks would start popping if they could secure a point.
They took the lead on five minutes through a Ryan Wallace header with Mikey Miller equalising for the home side shortly after.
There was no further scoring and at full-time, the ecstatic Arbroath fans streamed onto the pitch to celebrate with their promotion-winning heroes.
Local boy Swankie admitted it meant so much to him to help secure the title for the club's loyal supporters and he promised them the Red Lichties will not be in the Championship just to make up the numbers.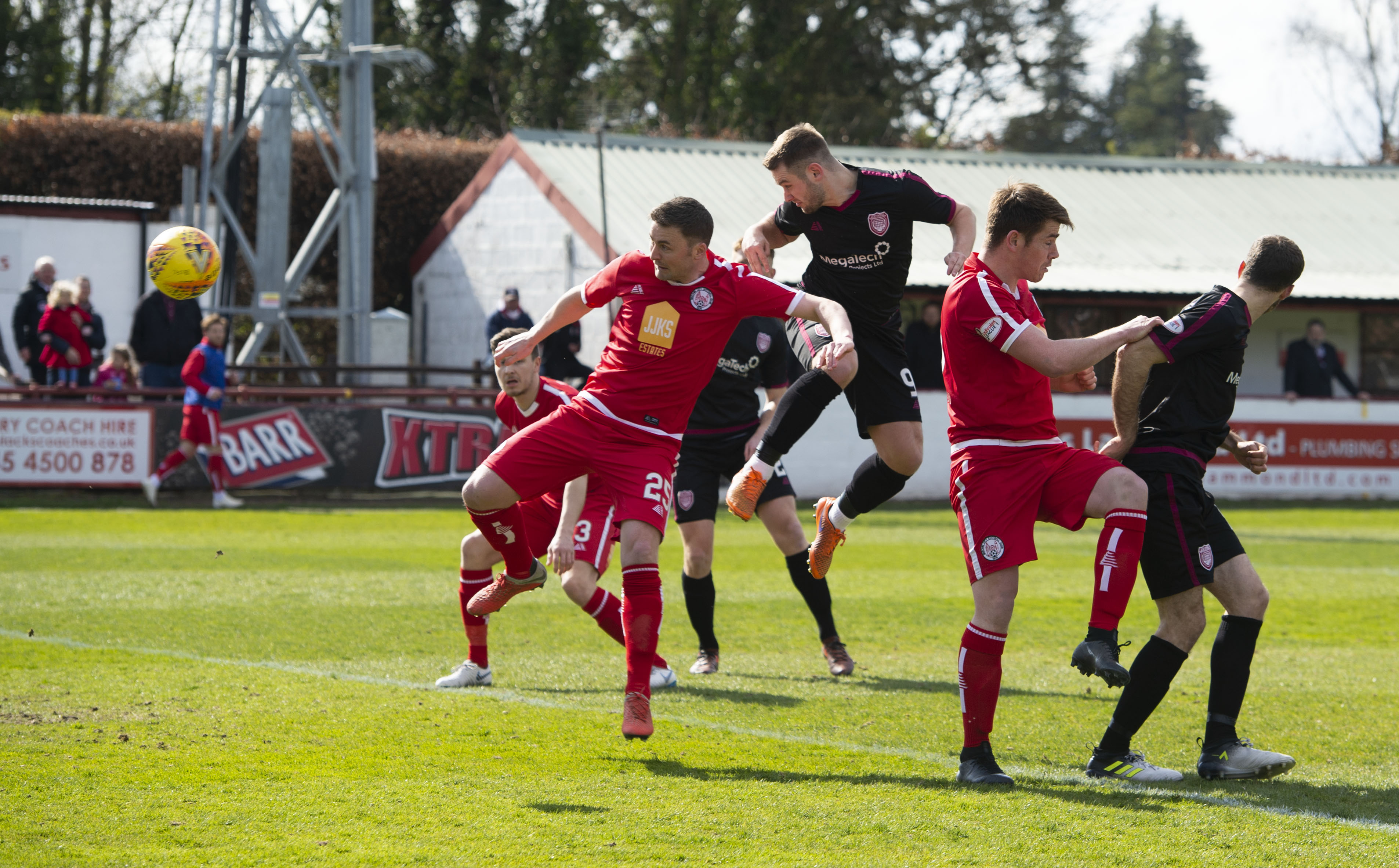 The former Dundee, St Johnstone and Forfar midfielder said: "It is a massive achievement for the club and you can see what it means to the fans – that's what it's for.
"We train two nights a week and it is hard work with a lot of fun as well but first and foremost it is all for the fans, the board, everyone involved with the club.
"You know just about everyone in the crowd which is great. They will party all night long but so will we!
"I am 35 now and I have another year left on my contract which is brilliant.
"You never know, there might be another one (title). That's the way you have to look.
"If you are going into a league regardless if it is the Championship, you are still going to try to do the best you can.
"You start the season trying to win a league – that's the main aim and it will be no different.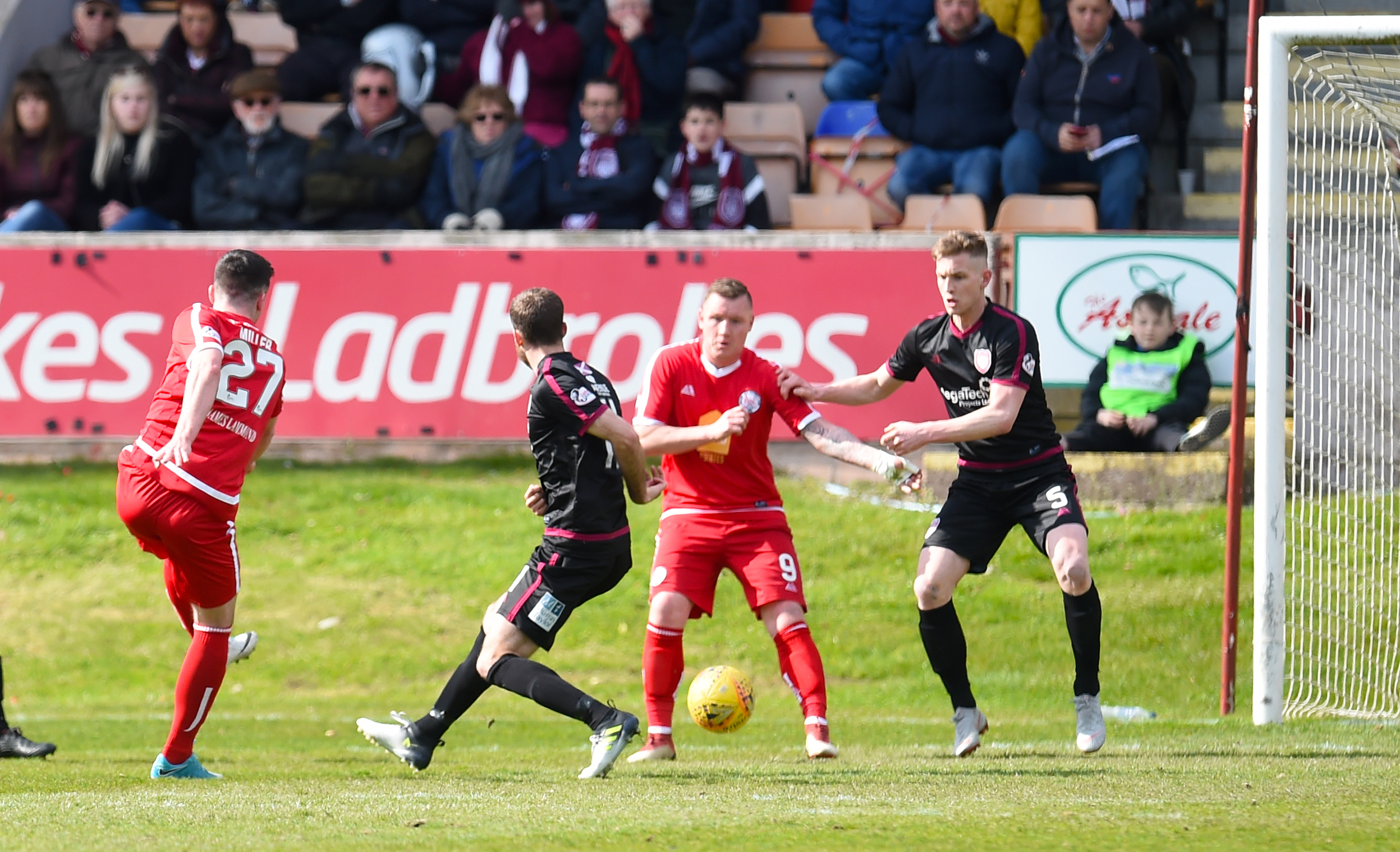 "We will recruit in the summer and hopefully give a good account of ourselves.
"That's what we are hoping. The gaffer will bring in more strength in the close season but the team that we have would do all right in the Championship."
Arbroath will be pitched into battle against a host of full-time sides after winning promotion but Swankie believes things will be no different for the Gayfield squad as they combine work with playing.
He added: "We are going to be part-time regardless but you look at Alloa and they are doing well.
"So I don't see why we can't do the same.
"I work with the oil ships in Montrose.
"I am in and out of them all the time. We refuel them and stuff.
"I have worked a Saturday morning and then gone to a game and done a night shift before a match.
"But it is just part and parcel of playing part-time football."
Swankie, who has now won promotion twice with Arbroath as well as with St Johnstone and Forfar, admits that while the players will receive the plaudits, a huge part of their success belongs to boss Dick Campbell and his coaching team of brother Ian, John Young and Rab Douglas.
And he echoed the sentiments of his manager in paying tribute to John Ritchie.
Swankie said: "They all deserve huge credit and obviously JR as well.
"This is for him. Obviously JR passed away during the season but the gaffer kept saying this is the JR championship. So this is for him."
He added: "The gaffer is definitely one of a kind. It is hard to describe.
"On a Saturday, once his team talk starts, there will be a wee bit of a laugh but then it is serious after that.
"As I said, he is a one-off and he is brilliant."
Arbroath have three games left to negotiate before they can take a well-earned rest to reflect on their achievements.
Last summer Swankie took to the bowling green and enjoyed success, winning the Scottish inter-County Top 10 Championship playing in pairs with Commonwealth champ Darren Burnett.
However, he admitted that the bowls might now stay in the bag after a new addition to the family.
He said: "We won the top 10. It was the whole of Scotland but it is a lot easier playing with Darren Burnett!
"He was really good and it was brilliant.
"I don't know if I will do it again this summer though. It is a big commitment.
"You finish your football after training two nights a week and then you are out again with the bowls.
"It is not fair as we have just had a wee one who is seven months."