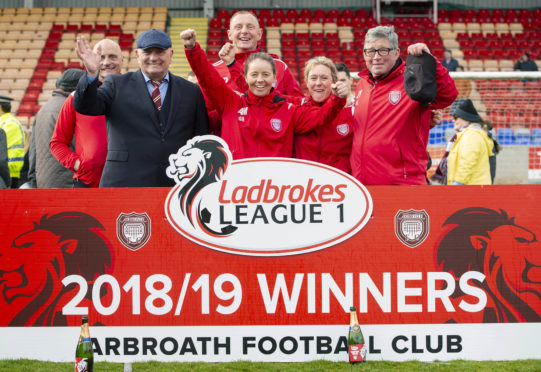 It will be a gala occasion at Gayfield this afternoon as the League 1 trophy is presented and the title-winning medals are handed out.
However, Arbroath boss Dick Campbell is determined that before the celebrations begin in earnest, his players will take care of business on the pitch by beating Dumbarton.
The Red Lichties secured the title and promotion to the Championship three weeks ago at Brechin and since then they have drawn against Raith and then lost last week at Airdrie.
Tam O'Brien was sent off against the Diamonds and will miss out today along with the injured Jason Thomson but Campbell revealed that the talismanic Bobby Linn – who it was feared could be out for the season with a knee injury – may yet play a part against the Sons.
Campbell said: "We were obviously disappointed last week but at this stage of the season, there is no point dwelling on it.
"Instead, we will look forward to a great occasion at Gayfield.
"First and foremost, we want to win the game against Dumbarton – we want to show why we are champions.
"The last thing you would want is to be presented with the trophy after a disappointing result on the pitch.
"So I will be looking for the boys to go out and finish this season with a flourish.
"Then it will be time for everyone to be presented with the medals and trophy they thoroughly deserve for everything they have done this season.
"Tam O'Brien is suspended after being sent off last week at Airdrie which is a shame as he has been immense for us this season while Jason Thomson will also miss out again.
"He will probably be sent for a scan on his knee.
"Bobby Linn trained this week and he will be on the bench. His knee is feeling a lot better but I have a decision to make on whether to bring him on at some point.
"However, I will be looking for a big contribution from everyone else on the bench."
The manager is long enough in the tooth to know that today's occasion is definitely one to savour with memories that will last a lifetime.
Campbell added: "These days don't come around too often – this is only the third time Arbroath have won a championship in their entire history.
"Each one is a unique thing for the club. Peanut (former boss Paul Sheerin) was obviously the first to do it and we have now done it twice in the last three years.
"So hopefully we can beat Dumbarton and then for the first time in years, I will have a six-week break.
"Usually I have been involved in play-offs which can go on until the end of May but this year is different before we start back again on the 15th of June."