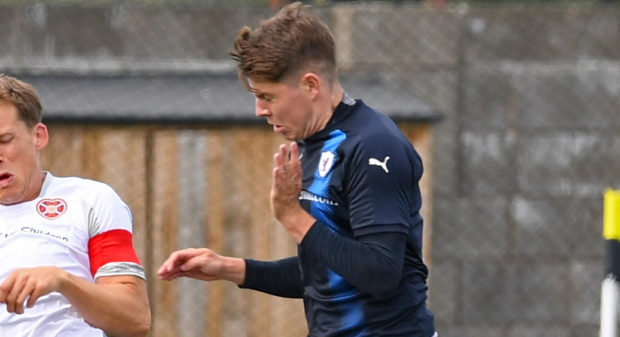 Raith Rovers have been dealt a big blow with top scorer Kevin Nisbet 99% certain to leave Stark's Park.
The 22-year-old former Partick Thistle striker netted 34 goals last season and picked up the SPFL Tartan Boot award.
Not surprisingly, Nisbet's form in front of goal attracted attention from elsewhere with Raith chairman Bill Clark now confirming that three Championship clubs are in a race for his signature.
Talks with the trio of clubs have begun after the player triggered a clause in his contract following Rovers failure to win promotion this season.
However, when he leaves, Raith will be entitled to some compensation.
The chairman said: "It is a tricky one. Kevin had a clause in his contract that allowed him to talk to other clubs if we didn't go up to the Championship and of course we didn't.
"So he has activated that clause in his contract.
"But there is another clause in his contract that says this does not prevent Raith Rovers from claiming training development compensation from whichever club he goes to.
"The present position is we know there are three Championship clubs that are interested in him.
"We have talked to all three of them. His agent is involved as well.
"And at the moment it is a question of will one of these clubs pay the compensation that we are looking for.
"If they do, that's fine, he can to go them. If not, then it will probably be referred to a tribunal at the SPFL.
"All of that is ongoing at the moment and there is no solution to it yet.
"We thank Kevin very much for his contribution but now we have to look at if he goes, how do we fill that gap?
"We have ideas on that but without Kevin Nisbet which is looking 99% certain, we are looking to have three or four forwards up there who can score goals."
While the striker looks certain to depart, Clark admitted that the club are just waiting for the transfer window to open next week to officially announce four new signings spread across defence, midfield and attack while former fans' favourite, goalie David McGurn, has already returned to the club in a player/coach capacity.
Raith are also involved in contract talks with Dean Lyness, Dave McKay, Grant Gillespie and Iain Davidson.
Clark, Speaking to Raith TV added: "We have offered them either an extension of their contract or a new contract. The present position is that we are waiting for them to respond.
"There has been some negotiations with some agents and with the players themselves but none of these have come to a conclusion yet.
"We are hopeful that will happen within the next week because the boys are back training on the 13th of this month.
"So there needs to be some conclusion to those four.
"We suspect that one or two of them will stay but one or two of them for personal reasons might want to go."