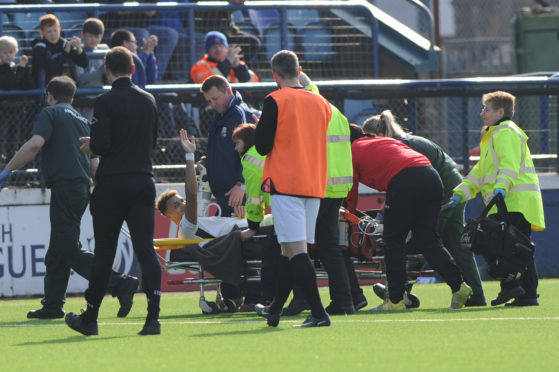 Montrose took another massive step to securing the League 2 title and automatic promotion with Saturday's narrow win over Berwick Rangers.
However, all thoughts of possible glory were pushed to one side by manager Stewart Petrie and his players who were more concerned about the opposition's Ousman See after he suffered a horror injury that led to play being suspended for over an hour.
Montrose had taken the lead in just the 10th minute after a superb run and low cross from Andrew Steeves found big Chris Templeman for the easiest of tap-ins.
It looked like the Gable Endies would go on to secure a comfortable victory but shortly before the half-hour mark, See went down under a challenge from the home side's Terry Masson.
It became immediately clear that the Berwick player had suffered a serious injury as the physios from both teams rushed to his side.
The game was then put on hold as an ambulance travelled to Links Park with paramedics administering gas, air and morphine on the pitch before rushing See to Dundee's Ninewells Hospital.
It has now been confirmed that he has a broken leg and a dislocated ankle and is obviously facing a long time out.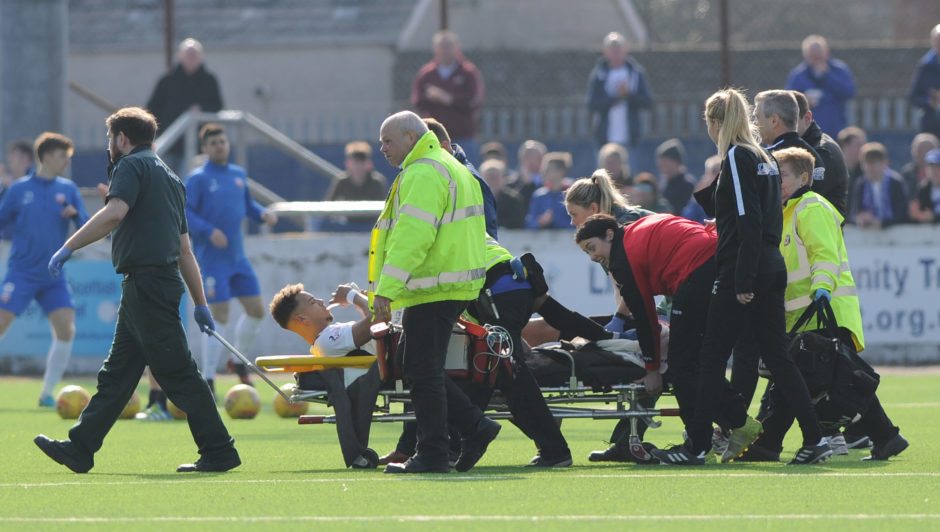 Thanks for all the support&messages from yesterday and today especially from all the @OfficialBRFC and @Official_MFC staff and fans that were at the game, it's been emotional reading them all, not getting the opp for a few days now cause the swellings to bad ??

— Ousman See ?? (@ouzysee) April 15, 2018
Broken tibia and dislocated ankle was the injury but I'll try keep everyone updated, yeah we still went live ?

— Ousman See ?? (@ouzysee) April 15, 2018
Probably one of the worst days as a manager yesterday. Horrific injury to @ouzysee. Players showed character to continue as they did. Steph & Montrose Physio were fantastic as were the medical staff. Hopefully a speedy recovery especially with his livelihood at stake. #whataguy!

— Robbie Horn (@RobbieHorn77) April 15, 2018
When the game restarted, it was apparent that the upsetting incident and the lengthy stoppage had affected both teams but when the final whistle was finally blown, Montrose were still top of the table, three points ahead of Peterhead with just two games to play.
However, Masson was mostly concerned with See's welfare rather than the possibility of going up as champions.
The midfielder said: "It is a shame what has happened to him.
"People in the league will know that I am a physical player but I would not wish that on anyone.
"I think you can see it was a fair tackle but my weight has landed on his ankle.
"I didn't realise it was so serious at first but it is a really bad one.
"He will be out for a long time now so I will make sure I get in touch with him but it is just one of those things that happen in football.
"I think the length of the delay was a bit of a joke. If there is a serious injury like that, the medical team need to be there much quicker.
"That could have been much worse today. Turning up after all that time is a bit of a disgrace.
"We kept asking (how long ambulance would be) but it was far too long.
"It also killed the game for both teams really."
The result means that if Montrose can take four points from their final two games, starting at Stenhousemuir next week, then no matter what Peterhead do, they will be champions.
Masson added: "The win was as important as the 5-0 last week or the one in midweek.
"We have had a lot of matches recently so to churn out a 1-0, we are delighted.
"To get the win is massive, especially at this stage of the season.
"I have never been this close before (to winning title).
"It is a great feeling but Stenny are one of the best teams in the league so it will be a really tough game next week.
"I think there is only one player in our squad who has won a league, so it would be brilliant if we could do it."
Montrose boss Petrie admitted that the result paled into insignificance considering what had happened to See.
He said: "The injury overshadows the whole thing.
"We were more concerned about Ousman than the result. We just hope he makes a speedy recovery.
"It is probably as flat as I have ever been after a win."