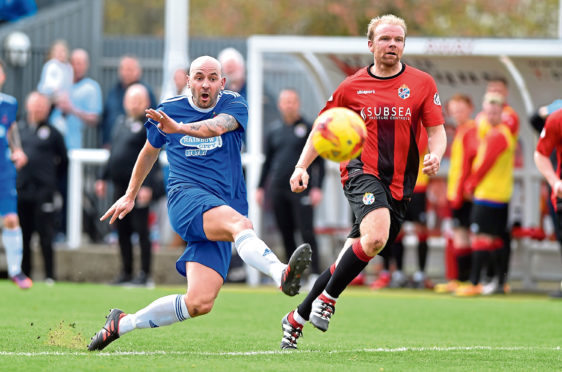 David Cox admits the hand of history is weighing heavily on embattled Cowdenbeath.
A team fighting to preserve a 113-year Scottish league heritage is also charged with saving jobs and livelihoods around the club.
The burden of responsibility could easily overwhelm the Blue Brazil players, but they stood strong and rode their luck in the face of what might easily have been a hammering from Highland League champions Cove Rangers.
The hosts had five or six good chances to take a first leg lead but will travel to Central Park on level terms after drawing a rare blank in a high-scoring season.
Cowden keeper David McGurn was also in superb form with vitals stops.
For Cox, who joined the Blue Brazil from Forfar in January, the stakes are almost too much to bear.
Cowdenbeath's most effective performer on a difficult day, the 29-year-old said: "When you think about how much it means, it is massive.
"We need to think of everybody involved in the club, everyone with the club at heart, and not just ourselves.
"If the worst happens, there are people's jobs at risk, not just ours. Boys will find different clubs or whatever else and continue to play football, but others at the club might not be so lucky.
"It is about so much more than just the current squad and management and I think everyone realises that."
Cowden can count only four league wins in a season where Cove's winning machine went unbeaten before clinching the title.
Cove's top scorer Mitch Megginson, with 50 goals, has netted more than double the Blue Brazil's entire tally in the league.
But Cox remains optimistic his team can win Saturday's final showdown if they recapture the form that brought a run of three wins, three draws and just one defeat from mid-March to early April.
He said: "What we need to do is go out on Saturday and play the way we had been up until the last couple of games.
"Before that, we went out and battered teams. The boys have come on leaps and bounds in my time here.
"I've only been with the club since January, but I've noticed a massive difference in the players and their fitness. Today was just one of those days. Luckily for us, it is still 0-0 with everything to play for.
"To be fair, if it wasn't for our goalkeeper we might have been out of the tie already – we just weren't at the races. We need to pick it up for next week."
It was nervy at Inverurie's Harlaw Park. Among Cove's spate of chances, former RaithRovers and East Fife striker Paul McManus knocked one great chance wide and sent another over the bar.
Cove snatched at chances and, when they did connect sweetly, veteran keeper McGurn was there to thwart him, the best seeing him dive low to left to turn a low Connor Scully drive against the post.