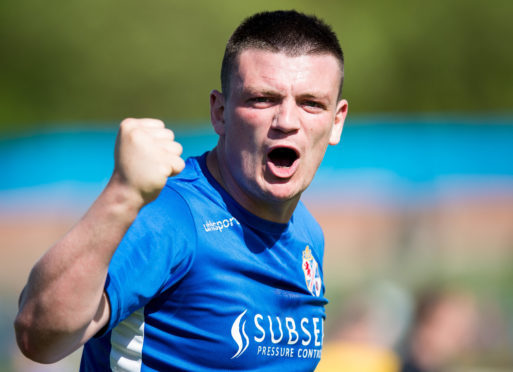 You can argue whether finishing bottom of the SPFL and winning a survival play-off for the second year running is an achievement for Cowdenbeath but it certainly felt like one in the Central Park sun.
Goodness knows what the consequences for Fife's oldest club would have been had they fallen through the trap door into the Lowland League but the players were left in no doubt about the importance of extending their league status from a 113th year to a 114th thanks to their flamboyant chairman.
Oratory comes naturally to Donald Findlay and it would appear that his words have the same impact in a football dressing room as they do in a court of law.
Jordyn Sheerin, one of the Blue Brazil players who helped inspire a second half fightback to over-turn the one goal deficit they were faced with, revealed that the advocate's team talk worked its magic.
Even if it maybe took 45 minutes to sink in.
"The chairman gave a speech to us before the game in the dressing room," said the big striker. "It was right from the heart.
"I don't want to go into what he said but he's from Cowdenbeath and it means a lot to him that he's the chairman of this football club.
"It really got us up for the game."
Cowden got off to the perfect start when Harvey Swann scored an early penalty but the Highland League champions looked bound for League Two when Mitch Megginson scored goals number 51 and 52 of an incredible season.
However, when Stuart McKenzie let a Swann free-kick, which was meant as a cross, squeeze under him at the near post you could see the belief drain from the Cove players and rise in their opponents.
Sheerin was involved in the decisive moment of the match – and both teams' seasons – when he collided with McKenzie on the edge of the box and Brad Smith lofted the ball over the pair of them into an empty net from 30 yards out.
"I've stood up and the keeper has run into me," said Sheerin. "I've not meant it. The referee has seen it and chose not to give a free-kick. If anything, it was a free-kick to me.
"I didn't trip him up."
It was the sort of statement that the Monday to Friday Donald Findlay would have picked apart but it matters not. The goal was given and Cowden were staying up.
Smith said: "They were saying big Jo tripped the goalie but I didn't see it. I just saw the keeper off his line. I actually thought my shot was going to hit the bar but it dipped just in time.
"It's so important to this club. We know we've had a poor season so it's more about relief than feeling like celebrating.
"Next season we need to get away from the relegation battle we've been involved in for the last two years."
Where Sheerin is playing his football next season remains to be seen but what wasn't in doubt was his double cause for celebration.
"I've still got two years left on my deal at Kelty Hearts," said the on-loan forward. "We'll need to see what happens.
"They're a rags to riches story and I'm delighted for the boys that they've gone up (to the Lowland League). I needed both results to go my way today and it's brilliant that they have."
It was quite the ending to this match. Five red cards were handed out (we think) after an all-in confrontation in front of the dugouts that even had management teams, a substituted player on crutches and stewards in the thick of it.
Sheerin said: "It's a few years ago since I've seen anything like that!
"It was actually quite funny. It was the dying minutes and they were trying to save the game. It was handbags really but there was a lot of emotion going about.
"There was massive pressure out there.
"All the boys just feel relieved now that it's over.
"It's huge for the community that we stayed up. You could see that by the number of fans who turned up today."
Cowden boss Gary Bollan was one of those ordered off but after temperatures came down he was already starting to think about what will need to be done to break the cycle of the club flirting with disaster.
"It's job done," he said. "That was the aim when we came in and now we have to move on to next season and make sure days like this don't happen again."