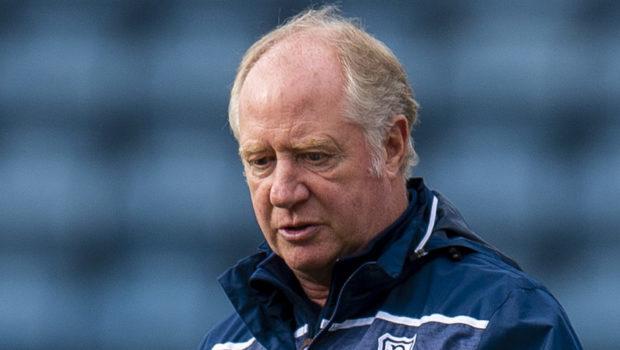 Jimmy Nicholl had to pinch himself as he gazed around the Estadio Luis Casanova in Valencia after Northern Ireland's 10 men had just beaten Spain.
He also wandered around Wembley soaking up the adulation from jubilant Manchester United fans after his club had upset the mighty Liverpool in a thrilling FA Cup final.
We won't even mention the cups and championships Nicholl won when at Rangers.
That June 25 match at the 1982 World Cup finals still ranks as one of the biggest shocks in the history of football's grandest tournament. Gerry Armstrong's goal undoubtedly secured the finest result in the history of Nicholl's national team, who had Mal Donaghy sent off with half an hour still to play against the host nation.
The beating of Bob Paisley's star-studded Anfield side, achieved on May 21, 1977 in front of 100,000 people, was put into perspective when Liverpool went on to lift the first of their six European Cups just four days later.
Any one of those would be a dream come true but neither achievement is considered by Nicholl to be his greatest in football.
That considerable honour goes to something special that took place on November 27, 1994 – 25 years ago today.
That grandest of all occasions for Nicholl was Raith Rovers' victory over Celtic in the final of the Coca-Cola Cup.
As if any fan needs reminded, the match finished 2-2 after extra-time and Rovers won the penalty shoot-out when goalkeeper Scott Thomson saved from Hoops captain Paul McStay.
Nicholl, now assistant manager at Dundee, declared: "It is undoubtedly the greatest achievement of my time in football.
"People always say to me that you can't beat playing but if you win things during your playing career you do it as part of a team.
"If you are managing, you have been responsible for most of the things that have happened and brought that set of players together. You have helped them achieve and that's a great feeling.
"When I have talked to players at the clubs I have managed, I have mentioned when Northern Ireland beat Spain and when Man United won the FA Cup against Liverpool despite being serious underdogs.
"However, I have also talked about Raith beating Celtic and how that was a brilliant example of how players beat the odds.
"I say: 'That shows you can do this.'
"If you put your mind to it and do your job properly then amazing things can happen."
The venue for that "amazing thing" was the home of Rangers because Hampden was being redeveloped.
Nicholl was the ebullient boss of the Kirkcaldy team and he had assembled a talented and determined squad of players.
On the way to the grand finale, Rovers had been extremely impressive.
Entering the competition at the second round stage, they beat Ross County 5-0 away, a 3-2 home victory over Kilmarnock followed before a quarter-final against St Johnstone in Perth that Raith won 3-1.
They travelled back to McDiarmid Park for their semi-final against Airdrie, a match that had its own fairytale ending.
Substitute keeper Brian Potter, then a trainee aged just 17, took over in goal after Raith's number one Thomson was sent off.
The game finished 1-1 after extra-time and Potter was the hero in the shootout when he saved Alan Lawrence's kick.
That experience would prove invaluable to the Raith players for what was to follow.
Nicholl recalled: "Looking at the level of opposition we were beating you did start to think your name was on the cup.
"There were things happening in the games – circumstances – that made you think: 'Maybe…'
"There would be a lucky deflection or a late goal and people would start saying that it might be our year.
"Those were all good performances against strong sides and I think the tougher the opposition the better we played.
"We just had a great group of players and everything just came together at the right time.
"Of course, the big thing in that semi was that Scott got sent off. Brian came on and he was only a kid at the time. It was pretty dramatic stuff.
"When you have a young lad coming off the bench to be the hero that's when you know something special is happening."
It certainly was, with the mighty Hoops, managed by the much loved and respected Tommy Burns, to be faced in the final.
The bookmakers offered odds as generous as 4-1 for Rovers to lift the trophy so some lucky Fifers were about to cash in.
The line-ups at Ibrox were:
Raith Rovers: Scott Thomson, Stephen McAnespie, Julian Broddle, Dave Narey, Shaun Dennis, Davie Sinclair, Stevie Crawford, Gordon Dalziel, Ally Graham, Colin Cameron, Jason Dair. Subs: Brian Potter, Jason Rowbotham, Ian Redford.
Celtic: Gordon Marshall, Mike Galloway, Tom Boyd, Mark McNally, Tony Mowbray, Brian O'Neil, Simon Donnelly, Paul McStay, Charlie Nicholas, Andy Walker, John Collins. Subs: Pat Bonner, Paul Byrne, Willie Falconer.
Referee: Jim McCluskey.
It was a day that Nicholl will always remember.
He said: "Celtic's form wasn't great going into the final, whereas ours was quite good.
"However, it was a still a final against one of the Old Firm in Glasgow so you couldn't just think: 'Ach, we're going to win it.'
"We did have a good mix of youth and experience and it was great for me to be able to tell so many of our younger players on the eve of the game that they would be playing in a cup final the next day. I knew what it meant to them.
"Then everything just fell into place."
Stevie Crawford opened the scoring for Raith on 19 minutes, with a perfectly-placed low drive. Andy Walker equalised for Celtic after 32 minutes.
The Parkhead men edged in front with just six minutes of regulation time remaining and that appeared to be that.
However, driven forward by the brilliant Dave Narey, Rovers were resilient both physically and mentally.
Gordon Dalziel nodded home from close range four minutes from time to take the game into an extra 30 minutes.
Nicholl reflected: "We got a great goal from Stevie, who was always a good finisher.
"Walker then equalised for them but what you can't afford to do when you are playing Celtic or Rangers is give up after you get a wee setback.
"My players didn't do that.
"They remembered all the things we had worked on and the game plan did not go out of the window.
"We had belief when it would have been easy to forget that we were still drawing the game. It was a psychological battle.
"Then Nicholas scored with just six minutes to go and that could have been that.
"We dug in, though, and Daz scored to take it to extra-time.
"I actually remember the extra-time really well and it certainly wasn't a case of our hanging on – we were taking the game to them."
There was no further scoring, however, so it was on to the shoot-out.
What is often forgotten is that Thomson was almost the hero at the penalty before the McStay one. He got a strong hand to Mike Galloway's effort but the ball slowly made its way into the net.
Raith's Jason Rowbotham, who had come on as a sub, gave goalie Gordon Marshall no chance with a beautiful penalty and thus placed all the pressure on McStay.
Covering the game for TV, commentator Jock Brown blurted out: "Unthinkable, surely, for the skipper to miss…"
Indeed, it was unthinkable for him to miss because he didn't – Thomson saved it!
Nicholl added: "At kick-off that day we were 90 minutes away from being cup winners and playing in Europe.
"Then it became 30 minutes and then a penalty kick away.
"I had a great view of that last penalty.
"Scott was great after he saved it. He looked around to see if the referee was allowing it. Maybe he thought he had gone off his line early…"
Of course, the joy continued for Rovers the following season when they ventured into the Uefa Cup, where they would go on to meet German giants Bayern Munich.
The return game in the Olympic Stadium would lead to one of the most iconic sights in Scottish football history: the scoreboard that read FC Bayern 0 Raith Rovers FC 1. All thanks to a goal from Danny Lennon.
That was the last time the League Cup winners automatically qualified to represent Scotland in Europe and Nicholl revealed continental competition was a huge incentive for his men during the final.
He added: "That was a huge bonus for us and I pushed that point.
"I wasn't playing it down. I was saying: 'Listen, as well as the chance to win a cup final, you have the chance to represent Scotland in European football.
"Raith Rovers in Europe! That will probably never happen again.
"It was the last opportunity for them, in my opinion.
"That was a heck of a motivation for the players."