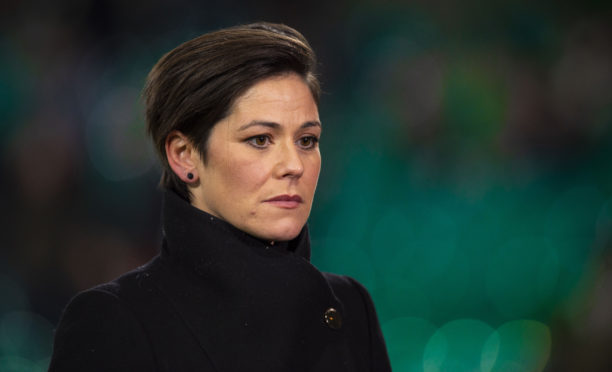 The news that Sky Sports had secured exclusive rights for the Scottish Premiership didn't exactly meet with universal enthusiasm, shall we say.
When the coverage was shared over the last few years, BT Sport were applauded an appreciated for talking up the flawed but unique product north of the border. The general perception seemed to be that they got Scottish football and everything that goes with it.
With Sky, fairly or unfairly, the general perception was very different. There was a feeling our top flight fell somewhere between schedule-filler and inconvenience.
You just need to look at the likes and retweets of a long Twitter thread put together this week, detailing some of their 'highlights' in recent seasons.
Mistaking Derek McInnes for Pep Guardiola is obviously a mistake any of us could make but my personal favourite was Paul Merson being asked to give his predictions for the weekend card and admitting it would be total guesswork because he "didn't have a clue".
The hope is that now Sky are in sole control, the Premiership will get the attention it deserves and choosing Eilidh Barbour as the face of their production has started them off on the right foot.
It will take passion, pride and professionalism to make this a TV success story and the Dunkeld presenter will bring all three of those Ps.
"I'm in Scottish football because I love it and I grew up watching it as a fan," said the 37-year-old, who has has built up an impressive golf, football and Olympics CV.
"Scottish football isn't the most glamorous at times so you have to be passionate about it. You have to love it. I'm really looking forward to working with everyone and getting that passion across. Especially at a time like this, when supporters aren't allowed into the grounds, there's a greater emphasis on putting on a good show.
"For me it's not something that's forced. I don't do it because I want to be on TV, I do it because I love the game and have done since I was 10 or 11-years-old.
"That's just me. I was always a stats geek when I was a kid as well – top goalscorers and stuff like that. The fact that it's now my job, means it's just a case of fine-tuning things with a lot of the research."
Just like the game of football itself, there's a lot to be said for recruiting a host  and pundits who were part of a high-performing rival team. Eilidh, John Hartson and Ally McCoist have all switched BT furry mics for red and blue ones.
"In any industry, you always want to keep improving and learning," she said.
"Some things might work and some things might not work. You always have to strive to continually be better.
"There's only so much you can really do around a football match. Ultimately, it's the match itself which people want to see.
"You've got an opportunity to add to that. That's what I'm really looking forward to doing with a big team of people now at Sky Sports."
The timing of the start of the season certainly couldn't have been any better, with all the big European football nations now between league seasons. There will be no danger of the Premiership being pushed to the fringes.
"At Sky there's a real commitment to Scottish football," said Eilidh. "We've got the contract exclusively. We'll be showing every single club in the first month of our coverage.
"It's huge for Scottish football that there's nothing up against it in terms of the Premier League or EFL. It's a huge window for Scottish football. It's a brilliant opportunity to showcase our game. There's Champions League and Europa League but essentially there's nothing up against it. It has the airwaves to itself.
"It's going to be a huge season. It could be an historic one for Celtic. It will be really interesting to see the competition between Celtic and Rangers and Rangers trying to stop that magical number 10. I'm not a Celtic fan but it's nice to be working at a time when there's a chance of history being made."
Being a fan of Celtic or anybody else apart from St Johnstone isn't something even the most jaundiced social media cynic could accuse Eilidh of.
She has followed Saints for nearly 30 years, is a one-time ball girl and 'Junior Saint of the Week' (choosing Gary Farquhar as her favourite player dates it a bit).
There will be room for guest pundits in the Sky line-up, she revealed, and Tommy Wright could well be one of them.
"He has an opinion or two, that's for sure!" said Eilidh.
"I wasn't entirely shocked that he left. I'm glad he went out when it was his own choice and decision. What a manager, the best years of being a St Johnstone fan. Not only mine but my dad's too and he is in his 60s.
"So I have been very lucky to live through this spell. And now it's over to Callum."
Sky Sports is the home of the Scottish Premiership. Watch up to 48 games exclusively live on Sky Sports Football and NOW TV.