Dundee win at last, St Johnstone can't take the chance to go second, Dundee United continue their upward momentum and a trip to Wembley looms large. These issues and Gareth Bale's wages get the Talking Football treatment from the Courier's sports writers.
Out of the blue. We all definitely knew, ahem, that Dundee would go to Hamilton and win but what now for the Dens men?
Ian Roache: The key thing to remember ahead of playing Motherwell next is that it's not job done just because of that Accies result. The Steelmen didn't do too badly themselves last weekend, beating Ross County 4-1, so this looks like a close one.
Neil Robertson: Having finally ended the long wait for a win against Hamilton, Dundee simply have to back that up with a similar result and performance against Motherwell. The home support has had little to shout about so far this season with their favourites yet to triumph at Dens in the league. Hopefully, that will change this weekend.
Eric Nicolson: The last match before an international break is particularly important for teams in a relegation battle. The mood in the camp (and amongst the fans) can fluctuate so dramatically that it's crucial Dundee build on the positivity of Hamilton and give themselves a fortnight of feeling good about themselves. A draw (with Rangers beating Ross County) wouldn't be a disaster and I think that's what it will be.
Red faces. St Johnstone were stung by Partick Thistle in stoppage-time on Saturday but can they bounce back against Hearts?
IR: That defeat was regarded as a coupon-buster but having seen Thistle win easily at Dens the previous midweek it didn't shock me. Saints can be pretty resilient, though, and victory at Tynecastle isn't beyond them by any means.
NR: The loss was certainly a shock to me as I had also covered Saints midweek draw at Ibrox with their second-half performance in particular in that game a stylish one. Against the Jags, though, too many players failed to reach those heights and I would expect a strong response in Edinburgh.
EN: The lads are right. This is exactly the sort of game Saints win. I'm going for a draw in this one as well, though.
Tangerine dream. Dundee United look to have established themselves as solid and serious title challengers after another vital win but can they keep it going in Dumfries?
IR: If United can go down to Queen of the South and win then it really is game on for promotion. That would be a big marker to put down. They can do it and arguably the most encouraging thing on Saturday was the doggedness with which they defended their lead in the closing minutes.
NR: The Doonhamers made a blistering start to the season but are without a win since September 17 and have lost their last three games on the bounce. It will still be a tricky fixture for the Tangerines but if it goes to form, then Ray McKinnon's men should continue their recent good run.
EN: United will win and they definitely look the best of the rest just now. Hibs are still strong favourites for the title however.
Grey day. Will there be any surprises in Gordon Strachan's squad for the England match considering the injury situation or will he play it safe at today's announcement?
IR: Sadly there will be no Andy Robertson, Robert Snodgrass or Kieran Tierney, who are all crocked. Someone mentioned to me that Scott Brown will come out of retirement but they've kept that quiet and I haven't seen much publicity about it (only joking). I don't think Strachan will be too imaginative given what is at stake for him and, more importantly, the team.
NR: "Broony" may be back but I cannot see there being many drastic changes or shock additions to the squad. It would be good to think there are a whole host of uncapped players knocking on the door for international recognition but unfortunately there isn't and it will be the tried and trusted (sort of) who will take on England.
EN: Some people have suggested Kenny Miller should get a recall but I'm not having that, and the other two strikers who have got big fan clubs, Jordan Rhodes and Ross McCormack, aren't getting starts for their clubs. They'll not be in either. I can see Stuart Armstrong making the squad and there's a case for bringing back Charlie Adam, given his performance for Stoke the other night. He had a pop of sorts at Strachan a while back, though, which might count against him.
Pretty in pink. What do you make of this Scotland kit shenanigans and does it actually matter what the players wear at Wembley (as long as it's a football strip)?
IR: I covered the game in Malta and when you looked at the Scotland supporters they looked like a giant bowl of strawberry ice-cream so the strip is popular. However, it is absolutely ridiculous that a Scots side will walk out to face England in anything other than dark blue.
NR: Headline writers everywhere will have their pens poised after this "gift" but the strip is just an irrelevant side show given the importance of the game to Scotland's World Cup aspirations.
EN: Ever the optimist, I'm looking back on that glorious night when Don Hutchison helped us beat Germany in salmon pink.
In the black. Gareth Bale's new deal at Real Madrid will earn him £150 million over the next six years and has a £900 million buyout clause. Has football gone a bit bonkers?
IR: Si, senor. The money is just daft and how any ordinary Madrid supporter can relate to that kind of dosh being paid to one person is anybody's guess. I like Bale, though, and wish him well. I'm sure what I think about him will be a comfort as he counts his cash.
NR: A mere mortal like myself has long given up trying to come to terms with the outrageous sums of money awarded to the football gods. However, that buyout figure is more than the gross domestic product of a small country which is just crazy.
EN: This is the sort of money Real Madrid and Barca have to pay their stars to keep them out of the English Premier League. Neymar got something similar, and Suarez and Messi are expected to follow. Mind you, they're all worth every penny when you look at what Man United have splashed out on Paul Pogba. Now that is is bonkers.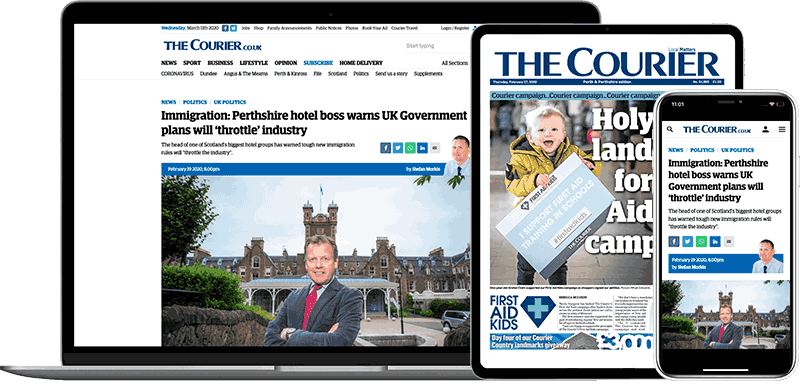 Help support quality local journalism … become a digital subscriber to The Courier
For as little as £5.99 a month you can access all of our content, including Premium articles.
Subscribe