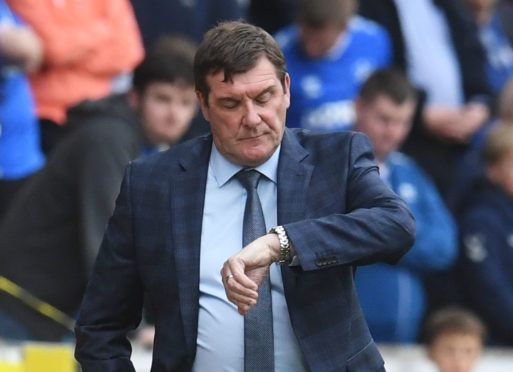 Grim results and worrying trends are put under the microscope in this week's Talking Football with Eric Nicolson and Ian Roache.
There is a lot of worry spreading through Tayside on the back of Saturday's results. St Johnstone first – are we now officially calling this a relegation battle?
EN: Yes and no. Clearly, Saints' only focus just now is getting themselves off the bottom of the table. Actually, it's just winning a game of football. But do I think they have to already resign themselves to a fate of third bottom at best? No, I don't.
IR: It is a bit scary to see Saints sitting with just four points after nine matches. A solitary point has come from the last three fixtures against Motherwell, Ross County and St Mirren – all winnable games on paper. They have one match left in their "easier" run – against Hamilton at home – and that's a must-win.
Is it premature to say that Tommy Wright's job is under threat?
EN: Only Steve Brown can answer that one. But if the question is rephrased to 'should Tommy Wright's job be under threat?' then I would say '100% no'. I know that past successes don't protect you forever but come on, who could Saints possibly get who is a better manager than Wright? We've been used to watching teams unravel in this part of the country over recent seasons but this Saints side is different in a lot of ways. The quality of their manager – and the players' faith in him – is one big point of difference.
IR: I have said it before and I'll say it again: there will eventually be a statue of Wright erected outside McDiarmid Park to mark the Scottish Cup win. Things may not be going well at the moment but it's definitely a case of be careful what you wish for here. It will be a sad day for Saints when he leaves the club and I imagine it will be on a date of his choosing.
If he is the man to steer Saints out of this crisis but how will that happen?
EN: Centre-back is the big glaring problem – a combination of bad luck with Liam Gordon's injuries and not signing an experienced, battle-hardened player in that position in the summer. If I was the chairman for a day, I would ask my manager if he wants to bring in an out-of-contract veteran until January to organise things and bring out the best in Jason Kerr and the young full-backs.
IR: I agree with Eric's answer almost word for word. The central defensive area has been left too light on experience.
Will the bounce-back start against Hamilton on Saturday?
EN: I think it will. It might actually be more emphatic than most will expect. With the talent Saints have in attacking positions, the goals have to start flowing at some point.
IR: To be frank, it has to start then. A home loss to Accies does not bear thinking about. I would actually say this is the club's biggest match in a long, long time.
Dundee United up next for a grisly post-mortem. What has happened to Robbie Neilson's team?
EN: This result and performance worries me even more than the defeat to Alloa. You could put the first one down to complacency – which isn't good in itself but can happen. But getting hammered by an average Queen of the South team when you're looking to make a point after sucking up criticism for a fortnight? No wonder some fans are panicking. Everywhere they look at that team at the moment they can see issues.
IR: United were rank rotten on Saturday. They were awful at the back, far too feeble in midfield and punchless up front. Having seen them play so well at times this season, that performance at Palmerston was rather bewildering.
Is it an away from home thing, a plastic pitch thing or something else?
EN: Forget the plastic pitch theory. That's a red herring. If there are question marks over a team's collective mental strength they usually surface away from home first. That's what has happened with United.
IR: In this job, you do look to analyse form and try to explain why things are happening as they are. However, for United to have scored 18 times in four straight wins at home – an average of 4.5 goals a game – but also to have crashed to three straight losses on the road is inexplicable. There is no sensible answer.
Going back to Tannadice on Saturday should get them back on course though, shouldn't it?
EN: It probably will. That certainly seems to be the trend. Dunfermline are a good side for United to face, I suspect. By that I mean the Pars will play football rather than merely sit in. I can see this being a high-scoring match with Lawrence Shankland getting going again.
IR: I think, in hindsight, the Arbroath game showed up some concerns that were maybe glossed over too easily because they were as flat as a pancake in that match until the closing minutes. They were then terrific against Morton. I would suggest it's almost impossible to say if it will be the good United side or the bad one that will turn up on Saturday.
Dundee now. Try to explain conceding three goals in six minutes?
EN: James McPake has taken flak for his substitutions before that late collapse but I'd much rather a manager identifies issues when there is still a chance of them being solved than waiting until it is too late. There is an inconsistency about Dundee (they haven't won two in a row yet in the league) that must be infuriating McPake. That surprises me given the number of leaders he has in that squad.
IR: Dundee almost – but not quite – beat United to the disaster of the day award on Saturday. I am tempted to feel sympathy for the manager in this instance because how could he have predicted a capitulation like that? Surely any player – experienced or not – should have helped see that match out.
Did we get a bit carried away with the two-horse race thing?
EN: Perhaps. I still think it will be a city of Dundee one-two in the end, though.
IR: I had been cautious early on in the season about United because of years gone by but even I started to believe in them because of their results and Shankland's goals. The losses at Alloa and Queen of the South have brought all the old worries back. As for Dundee, you can't chuck away points like they did and expect to be up there challenging. I would argue they now need to win at Ayr to make some amends.
Dundee are still waiting for a 'statement' win to grab people's attention. Would Friday night at Ayr be that result if they can do it?
EN: It would be. Ayr's performance against United is the best I've seen from a team in the Championship this season (I wasn't at Tannadice for the derby, United fans). If Dundee get three points (against a team buoyed by the appointment of a new manager and the incentive of going top) it will be exactly the type of result that can see confidence in a squad soar.
IR: Ayr have now lost their last two games but they should get some kind of boost from Mark Kerr's appointment. Dundee have the players in the squad to go down to Somerset Park and win but this has a worrying look about it.