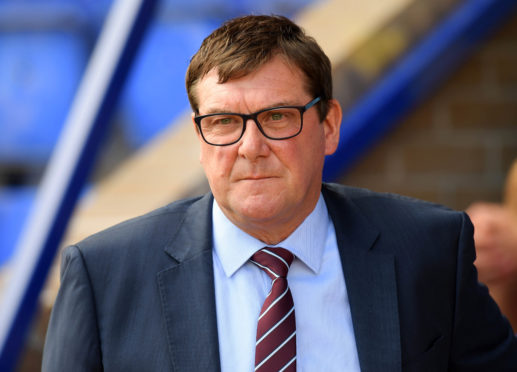 The possibility – more likely, probability – of the Northern Irish FA seeking talks with Tommy Wright will not distract the St Johnstone manager from the task of extending his team's Premiership run to three wins in a row against Hibs this afternoon.
Wright is the favourite to succeed Stoke City-bound Michael O'Neill, albeit the news that O'Neill will double-up with both jobs until the spring takes away the urgency of change.
But when dealing with questions about the domino effect of O'Neill's Windsor Park departure reaching McDiarmid Park, the Perth boss picked up the bat he last needed when his former international team-mate was considering the Scotland job a couple of years ago and wielded it with the defensive skill of peak Geoffrey Boycott.
"It is disappointing that Michael has left the national team," said Wright.
"But I am sure there will be a lot of good candidates for the job, with plenty names going forward.
"It's only natural you're going to be linked with it. But it will be up to the IFA and what they decide.
"I have never been one who puts my name in for every job that comes up. I don't think that's the right thing to do. Whatever happens is going to happen.
"My focus is just on St Johnstone. That is all I can do.
"I am into my seventh season now in the top league in Scotland.
"I am contracted here to 2022 and my focus is on getting points for St Johnstone and trying to get us further up the table.
"I am working here with a young squad and trying to make them better.
"I am looking to get three wins in a row by beating Hibs with a team that is growing. That is my mindset."
The back-to-back wins against Hamilton and Hearts are evidence that the youngsters in the Saints side are starting to gel, particularly in defence.
Talking up the in-house development of several first-teamers, Wright said: "This season we have played half-a-dozen players regularly who have been with the club since under-age level.
"People speak about young players coming through and maybe we have been guilty at St Johnstone of not highlighting that.
"If there's a perception that we don't play young players it's certainly not the case.
"We just haven't been shouting about it from the rooftops."
Liam Gordon will be the only absentee today.
"Not having a weekend game was a blessing because David Wotherspoon, Murray Davidson and Wallace Duffy wouldn't have made it," said Wright.
"It's good to have continuity in terms of selection.
"It will be a tough game. Hibs have a lot of quality in their squad. They have been a bit like us. They have conceded too many goals. But going forward they are an exciting team.
"I think you always get opportunities to play against them. And hopefully we have a strong referee. I would like to see a bit more protection for my players.
"Players like May, Wright and Kennedy have been kicked from pillar to post in recent weeks."
A winless run stretching back to the start of August has resulted in Paul Heckingbottom's sacking and Eddie May being a caretaker boss this afternoon.
Saints striker Stevie May said: "Hibs don't have a manager but that doesn't come into our thinking.
"They could still cause us problems so we have to make sure we are right. We have to concentrate on ourselves.
"I have to say I'm surprised that Hibs and Hearts are down there near the foot of the table.
"But they have a lot of quality players and I don't expect them to be in trouble at the end of the season.
"I think it will change for Hibs.
"We just have to make sure it isn't this weekend."
Picking up where they left off against Hearts is the plan for the Perth men.
"When you're on a good run you want to play but the break gave us a chance to get a bit of freshness into the legs," May added.
"The back-to-back wins have certainly been helpful. It can't be underestimated how important that has been for us.
"The dressing room was always confident the results would come. The spirit was never terrible. But getting the points on the board has lifted us.
"It's great for the defenders to get a clean-sheet against Hearts.
"Wallace (Duffy) is in there at centre-half and hasn't played many first team games.
"But he and Jason (Kerr) handled the physical threat of big Uche Ikpeazu really well.
"He probably knew himself he could handle it. But Wallace has proved it to others now.
"We have been showing more resilience as a team. Grinding out wins is important.
"It's been a stop-start few weeks but it would be great to get another three points."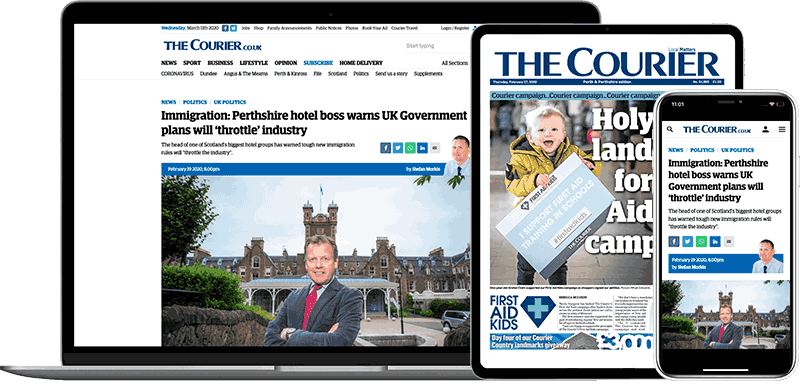 Help support quality local journalism … become a digital subscriber to The Courier
For as little as £5.99 a month you can access all of our content, including Premium articles.
Subscribe