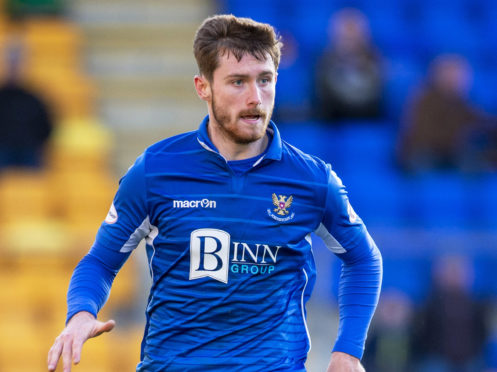 Anthony Ralston is hoping that his first assist for St Johnstone is a sign of things to come.
The on-loan full-back believes he can be an asset for the Perth side at the top end of the pitch, as well as at the back.
After arriving from Celtic late in the transfer window, Ralston has gradually built-up his match fitness.
And one of the consequences of that should be an improved end product, the pass for Stevie May's late consolation in the weekend defeat to Hibs being a prime example.
"I'm enjoying playing week in, week out," said Ralston.
"That was why I came here.
"I feel that my game fitness is building all the time.
"My final ball is something I work on and something I'm hard on myself about.
"You work so hard to get into good areas and it's deflating if you don't put a good ball into the box.
"That's a part of my game I'll be working on. It's a strength that I want to show more of.
"With my match fitness I've got to the point that I can get up the pitch and back. I'm getting in the right areas and I want to show better quality than I have been.
"The goal against Hibs was my first assist and I want to get more.
"Defensive one v ones will always be the most important thing. One v ones against opposing wingers, I've done OK. I need to keep my standard high and hopefully the attacking side of things will come."
Playing regular top flight football has meant Ralston isn't pining for Celtic Park.
"The reason I'm here is to play games," he said.
"I'm enjoying my work Monday to Friday to get myself ready for a game and I'm enjoying going out in front of a crowd on a Saturday with points to play for.
"Celtic have had a great start to the season and had an incredible result in the Europa League but I'm happy with what I'm doing here.
"I enjoyed my time at Dundee United in the Championship and it's the same at St Johnstone.
"There are things I want to improve on and that's what I'm working hard to do."
Defeat to Hibs hasn't done too much damage to Saints as far as the Premiership standings are concerned. The top half of the table remains within touching distance.
"I don't tend to look at tables too often but I did see that the difference between us and sixth is just four points," said Ralston.
"That is a positive.
"Even though we've not had the best start, it's not as if teams have got away from us.
"We know we've got it in the team to go on the run that will take us away from the bottom."
He added: "It is frustrating to lose any game but even more so when we had just been given a big lift by winning two.
"You think 'this is us on a run'. To lose in the way we did was a big blow.
"The boys are still felling it but we'll pick ourselves, up, work hard over the international break and come back ready for Aberdeen."