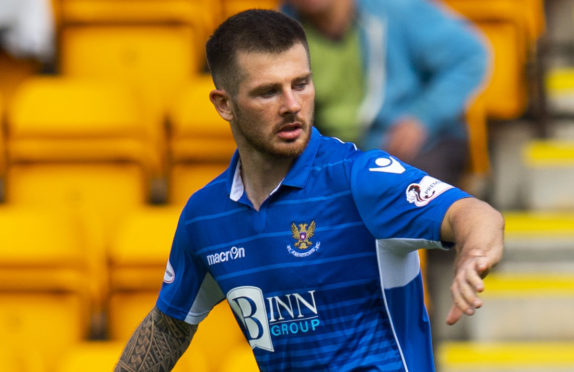 Matty Kennedy is still waiting for his first cap for Northern Ireland.
But the St Johnstone winger has come back to McDiarmid Park from international duty having been given a close-up masterclass from some of the best footballers in the world.
Michael O'Neill's men came up against the Netherlands and Germany in their last two Euro 2020 group qualifiers, with Kennedy in the stand at Windsor Park for the Dutch match and an unused sub in the 6-1 defeat in Frankfurt.
"I wasn't involved in the first game at all," said the former Kilmarnock man.
"But I got to see Holland play a game totally different to the one we do. It's different to watching it on the TV.
"I liked de Jong but the best one for me was Toni Kroos in the Germany game. And in my position there was Serge Gnabry.
"Every time he gets the ball it's one or two touches and he spins in behind all the time. He scored a hat-trick and I really enjoyed watching him."
O'Neill will still be in charge for the March play-offs and Kennedy has been told he has made a good impression on him.
He said: "The manager said I did really well in training. I think he wanted me to play at some point over the last four or five games I've been there.
"Some of the games have been tight so it's been difficult. But I've really enjoyed it.
"You are playing with international players and they are obviously all good. I'm training and doing well with good players which is good for my confidence.
"Obviously you would always rather play than not but I'm just delighted to be there.
"I'll just need to keep trying to do well for St Johnstone."
There is a chance that after the play-offs Kennedy's current club boss could be his Northern Ireland manager.
"It wouldn't surprise me if he (Tommy Wright) was in with a shout," he said. "He has done really well in his managerial career.
"He is a good manager and I've really enjoyed working under him."
Kennedy left Perth a fortnight ago frustrated at the way the Hibs game panned out and he is determined that he and his Perth team-mates make amends for that defeat against Aberdeen tomorrow afternoon.
"The first 20 minutes is really big in every single game," he said. "I think if we start well then we'll play well for the rest of the game.
"If we lose an early goal, the confidence just shatters.
"We've been working a lot on our defence in training so we can only get better. It's a long season with a lot of games to go.
"I think we'll be fine with no worries towards the end of the season."
Liam Gordon is now back in full training but won't be rushed back into the team tomorrow, Wright reported.
He explained: "There's every chance Liam Gordon could make Motherwell next week.
"All the lads have come back from international duty fit.
"Ali McCann played two games, David Wotherspoon was back earlier in the week and Matty Kennedy didn't get stripped in one and didn't play the other.
"That will be extremely disappointing for him because he's still looking to get on for his first cap but I don't think he'll be too down.
"But Sunday is the perfect opportunity for him to show people what he is all about."
Wright added: "None of us were happy after the Hibs game and there was a huge frustration over the type of performance we put in.
"We've got to make ourselves difficult to play against and we haven't done that often enough as a team this season. When we have, we've looked good.
"We're ready for another tough game. It's actually going to be nice to get three games in 10 days.
"The end of November and December will be good in terms of getting games in. Hopefully we can pick up a run of form and get moving up the table."
Wright believes Aberdeen are still the third best team in the country.
He said: "Derek (McInnes) isn't the longest serving manager in the league for no reason. He is a very good manager and has good staff around him.
"He has all his players fit and they seem to be moving up the table. A month ago, unfairly, there was maybe criticism aimed at him.
"He's quietly done his job and won games. They have looked a real threat."