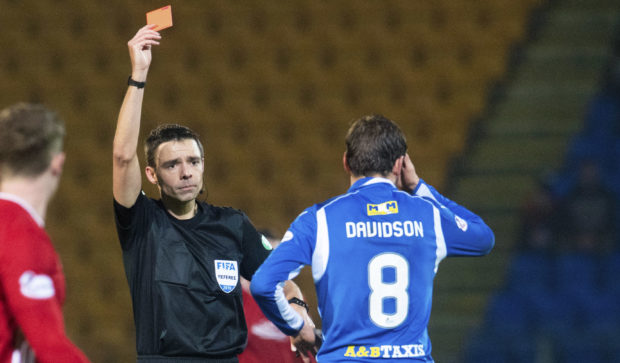 Given Murray Davidson's combative qualities in the centre of midfield it might not come as a great shock that he started his professional career with two red cards.
But what did come as a great shock to the Scottish football community was that the St Johnstone man had then successfully negotiated well over a decade of action without getting a third early bath.
Davidson's ability to be one of the most booked players in the country while staying on the pitch was a source of genuine pride for the former Livingston man, making his ordering off against Aberdeen recently all the more infuriating.
Having served his two-match suspension Davidson, who will be back in the Saints team at Tynecastle on Saturday, said: "I was aware of my record so I was gutted it has gone.
"I was proud of it because I've had so many bookings. It must be around 100. You walk a tight-rope after getting a booking when you're a midfielder.
"I've had to adapt my game from when I started out.
"You can even win the ball now and still get a red.
"I'm all for people getting sent off if they go over the top of the ball, swing an elbow or lash out.
"But I do think that sometimes when the ball's there to be won you do inevitably take the man as well. The rules make it very difficult for everybody.
"I thought that my tackle looked far worse than it was because Bryson's ankle buckled. I didn't go over the top but I did catch him so I can't have any complaints.
"I was so nervous in the last 15 minutes of the Aberdeen game and the fact that the lads held on for a draw made it a bit easier to deal with but I was still gutted.
"I felt like I'd let people down and it's not a nice feeling."
Staying on the pitch was certainly an issue for the young Davidson when he broke into the first team with Livingston.
"On my debut for Livi at Dens I got booked after 10 minutes," he recalled. "Then in the second half I got a second yellow for diving in the box.
"The manager Mark Proctor was going to appeal it but we decided not to.
"I missed one game and then at Morton I was on the bench, came on at half-time and got a straight red in the last minute.
"That was two games and two reds! For a while every matchday programme seemed to mention it.
"But I'd never been sent off after that until Aberdeen. There must have been about 13 years between red cards."
Davidson added: "I've had so many people say to me that they can't believe I had never been sent off for Saints.
"It's probably because of the way I play.
"I'm not massive on stats like goals and appearances but I was well aware of that one.
"It's gone now and I'm looking forward to coming back against Hearts."
New Hearts boss Daniel Stendel comes from the 'gegenpressing' school of management made famous by fellow German Jurgen Klopp. In his first game in charge against Saints this weekend, Davidson knows the Perth men will have to meet fire with fire.
"They'll be up for it but so will we," he said.
"Hearts are struggling and aren't where they want to be.
"For whatever reason it's taken a while for them to get their new manager in. He'll have his own methods that they'll be working on this week but we feel we can go there and get another positive result.
"We believe that we can show as much hunger and desire as them and get a result."
The only upside of Davidson's ban was recharging his batteries.
"I'd much rather have been playing but I'll certainly be fresh," he said.
"The last couple of months I've felt good and it was very frustrating to have missed the last two games.
"I did the co-commentary for Saints TV at Motherwell. That wasn't the easiest game to do!
"The Kilmarnock game was a far easier watch than Fir Park but I still didn't enjoy it. I get so nervous. I'll definitely be glad to get back out on the pitch."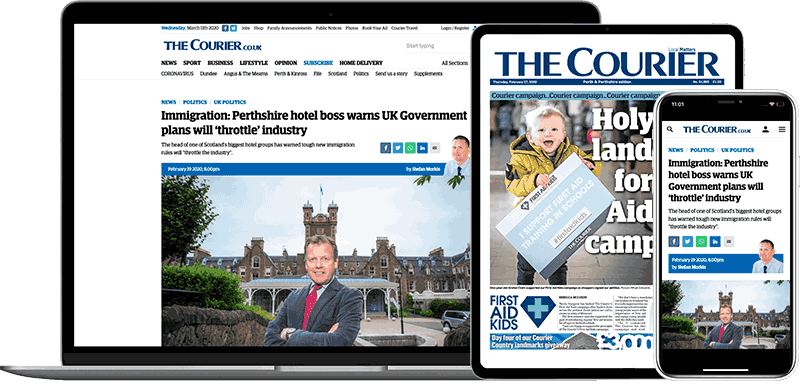 Help support quality local journalism … become a digital subscriber to The Courier
For as little as £5.99 a month you can access all of our content, including Premium articles.
Subscribe