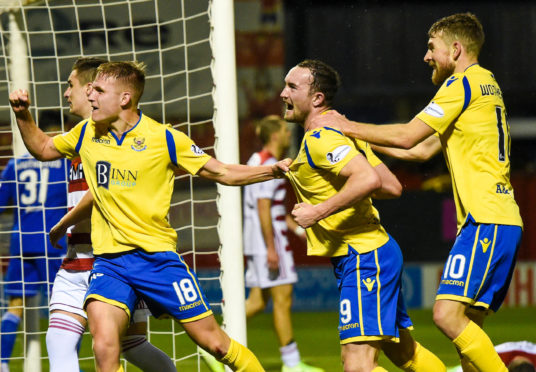 Callum Hendry didn't score the winner on this occasion but St Johnstone boss Tommy Wright praised his supersub again for "making the difference" in the Perth side's crucial 1-0 win at Hamilton.
The striker, who has made a habit of turning games this season after coming off the bench, set up Ali McCann for the goal that takes Saints into ninth and seven points off the bottom of the Premiership table.
"It was a massive game for both teams," said Wright. "We've had a couple of them recently.
"I thought it looked like a 0-0 and there wasn't a lot between the sides.
"I named the team before the game, normally I do that earlier. I said to the ones on the bench they were going to play a big part and it was important they were ready.
"Callum Hendry comes on and makes a difference. It's a well worked goal in the end and the one bit of magic in a pretty quiet game."
He added: "We're absolutely delighted to get three points and another clean sheet.
"We now have an opportunity to get through the 20-point barrier.
"If we can win on Sunday against Ross County, that will finish the year off pretty well.
"We had a bit of a disaster in terms of the start of the campaign, but we seem to be turning that around.
"If you keep clean sheets, you always have a chance to win the game.
"At home, we'll be wanting to take the game to Ross County and have a massive opportunity to move up a place and get to 22 points.
"Six weeks ago, nobody probably gave us any chance of doing that.
"To be fair to the players and staff, we never really get too down.  We know we're not out of it and still have a lot of work to do.
"But it's always important that you are positive. If the players sense any negativity from the manager, then you can be in trouble."
The goal was McCann's first for Saints.
"Ali is growing and growing," said Wright. "He has got a lot of good qualities.
"There are things we want him to improve on like the final ball in the final third and getting goals.
"That is him started and hopefully there are more to come.  He has proved this year what a good young player he is and someone who should have a big future."
Hamilton manager Brian Rice said: "I didn't see it coming. It feels like we've had our pockets picked today. St Johnstone have been doing that for years and fair play to them.
"Our play up until the final third was excellent but putting the ball into the back of the net is the important bit and that part of the game wasn't up to scratch."