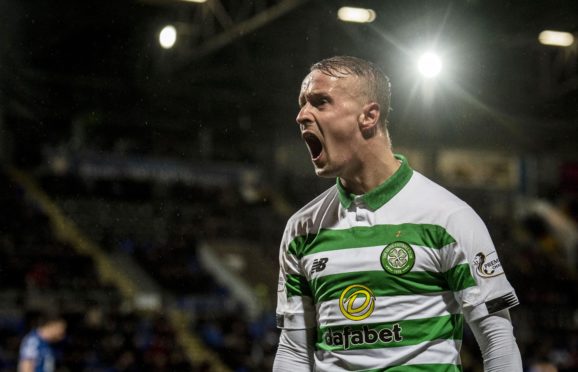 Leigh Griffiths' return to form with Celtic could have come at the perfect time for his country as well.
But the Celtic striker believes he still has plenty of work to do to make sure he is selected for Scotland's Euro 2020 March play-offs.
There was a gap of over five months between goals for the former Dundee mane earlier this season but after his post-winter break recall for the league leaders, Griffiths has scored three times in four games.
Those are statistics that national coach Steve Clarke will be paying attention to as the Hampden Park clash with Israel draws closer.
"It's too far away," said Griffiths. "I am just concentrating on being picked again for Celtic against Hamilton on Sunday.
"Listen, it'll be a nice bonus if I am in the Scotland squad and I get a chance to play again, but there's still another couple of months to go.
"As long as I'm performing on the pitch and doing well for Celtic, hopefully I'll be in contention. But that's not up to me, that's up to the manager of Scotland and what he wants to do."
Has Clarke been in touch?
"Nah, that's been asked a lot," said the 29-year-old.
"He's still not picked up the phone, but I think he was at the Kilmarnock game last week, so, hopefully I've done enough to impress him. But if not, I'll keep working hard and doing what I can do for Celtic.
"It's down to me how hard I keep working off the field and in training to make sure I'm fit enough for games and available for selection."
Griffiths added: "I wouldn't mind to hear his thoughts, but he's got a lot of other players to think about, not just me.
"Naisy is back fit and McBurnie is playing well in the English Premier League. So there are a lot of good strikers who are vying for that one position.
"I can only do my job for Celtic and we'll see what happens come March. If I am scoring goals and playing well for Celtic and helping the team, it is only going to be a good thing.
"It's always going to be nice to be back involved with Scotland, but it's just game by game."
Griffiths would live to surpass the free-kick double against England that made his name a few years ago.
"That's the level I am trying to aspire to," he said.
"It's probably one of my best all-round performances to date, but I can't keep living off that.
"People keep talking about the two England goals and the 40-goal season, but I have to try and keep putting forward my name.
"That's me got 110 goals for Celtic now and I just want to keep adding to it.
"Scotland haven't been at a major finals for a long time, so if I could contribute to that and help us get there, brilliant.
"But there are goals all over that squad – not just the strikers but midfielders chipping in as well.
"If it's not me or one of the strikers sending us to the Euros and it's the midfield, so be it."
Meanwhile, Griffiths is keen to put the recent Rugby Park sock tape-throwing incident behind him.
"I think it got blown out of proportion," he said. "I was getting a bit of abuse and I should not have thrown the tape.
"It was stupid of me. It's water under the bridge now and with performances like my one at St Johnstone, I try to keep my head up and look forward.
"Any player that gets stick, it's hard to try and block it out, so to speak. Especially as it was so close to the bench and the tape was in my hand, it was just a quick reaction.
"But I want to apologise to the guy.
"It wasn't nice and I wouldn't have liked that done to me, so I want to apologise to him and draw a line under it."