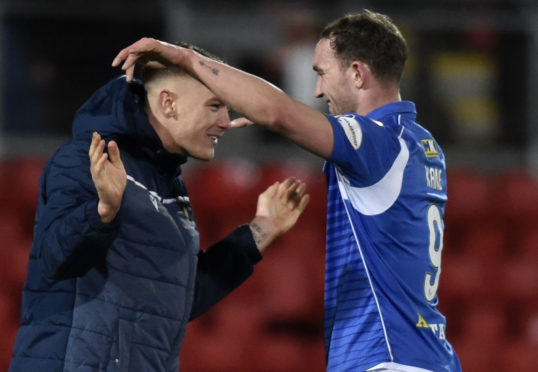 Being a fans' favourite isn't that important for a professional footballer.
But being a manager's favourite certainly is.
Chris Kane's lack of goals this season has seen some supporters question his worth to the St Johnstone team.
Tommy Wright has never had any doubts, though.
And the Saints striker, who scored his first league goal of the campaign to secure a dramatic stoppage time victory against Motherwell in midweek, has thanked the Perth boss for the faith he has shown in him.
"It was a massive boost for me to hear that," said Kane.
"It's been a long time coming but I've been playing fairly well and the gaffer is happy with me. The goals are a bonus.
"Obviously I'm delighted and I want to be scoring goals. Hopefully that is the first of a few now.
"The manager is the one picking the team so if I'm keeping him happy, that is the main thing."
It's says everything about Kane's selfless character, which so endears him to his manager and team-mates, that he wasn't as insistent that Wednesday night's goal was his rather than a Peter Hartley own goal as most members of the number nine clan would be.
"I think I got a touch," he said. "At the end of the day it's in the back of the net and that is all that matters. It's a big win for us.
"Usually Jason (Kerr) is knocking the ball down. A few of my goals last season he knocked them down to me.
"He is always saying that he is the one assisting and he did it again on Wednesday. That was the first thing he said to me.
"It was great play from us. Jason continued his run and it was a brilliant ball in. You expect that from a winger!
"The gaffer always tells me to make the front post run and I'll score. Thankfully I've done that."
The most relieved player on the McDiarmid Park pitch would probably have been Zander Clark, whose error resulted in Motherwell's equaliser. The keeper's long run to join in the goal celebrations told you as much.
"I got a big hug from Zander," said Kane.
"Everyone makes mistakes here and there but it's just brilliant we got the win in the end."
Despite the fact that they were playing against a team challenging for Europe, in injury time Saints were pushing for a winner with their centre-back overlapping, rather than just settling for a creditable enough point.
"We always want to win games and never want to settle for a draw," said Kane.
"I thought we were brilliant in the second half.
"Everyone was on point and we were pushing. Even when it was one each everyone was making runs forward.
"Anthony Ralston was up and down the line constantly and I thought he was brilliant. But everyone was very good.
"Callum Hendry is unstoppable right now and is scoring for fun. We're all doing well."
It wasn't that long ago Saints were bottom of the table and being talked about as serious relegation candidates. Not now.
"We've always been looking up," Kane insisted.
"We know we were down there at the start of the season and had a wee bad run, but we were still in touching distance.
"We knew that we would pick up results here and there. We don't want to settle now and I think the next few games will be big for us."