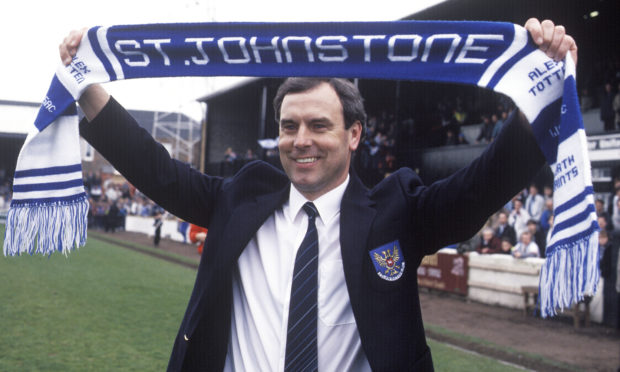 Putting five unanswered goals past the best post-Ferguson Aberdeen team in your first season back in the top flight? Beating your local rivals 7-2 in a New Year's Day game that saw the best pantomime villain of his generation, Chic Charnley, sent off for fighting with his own team-mate?
Beating Dundee again to qualify for Europe on the last day of a season?
Drawing with star-studded Monaco in the Uefa Cup and knocking Rosenborg and Luzern out of its rebranded equivalent?
Twice securing league titles on your own turf?
Worthy of St Johnstone Football Club's greatest game debate, one and all. The problem is, by the time all of those matches had been won or drawn, that debate had already been settled.
McDiarmid Park is celebrating its 30th season but the most iconic afternoon or evening in the stadium took place in its first. March 31, 1990 – St Johnstone 3, Airdrieonians 1.
The stands were shiny, new and packed, the goalposts were wide and square and the footballers were part-time.
Much has changed at Saints' home in the last three decades. There have been far more good times than bad but what will never be replicated is the feeling of limitless horizons that were opened up by a stadium move, big crowds, an aspirational Scottish football landscape, an exciting team and a charismatic manager.
At the conclusion of that unseasonably hot end-of-March afternoon, if the Pied Piper of Perth, Alex Totten, had told the Saints fans who had been put through an emotional wringer that in a few years' time he'd have their team winning the Premier League title, they would have probably believed him.
"Yeah, we would have," said Beverley Mayer, the current supporter's liaison officer at the club and a lifelong fan. "He had that personality. He believed in what he was doing and the fans believed in him. It was a feeling of this guy can walk on water. He had an incredible rapport with the fans."
A man whose senior football career began at Anfield under Bill Shankly certainly appreciated the power of common purpose. And he also appreciated the necessity of finding a club with scope to grow.
St Johnstone of the late eighties were clearly no Liverpool of the late fifties and Dumbarton were no Huddersfield Town but, as was the case when Shankly made his career-defining managerial move across Lancashire, untapped potential was at the top of Totten's reasons for accepting Geoff Brown's offer to swap Boghead for Muirton Park.
"I was at Dumbarton after I left Rangers," said Totten. "We were lying about second in the league and the Dumbarton chairman told me Geoff Brown wanted to take me to St Johnstone.
"My thoughts were: 'I can't get a crowd here even though we're second in the league with boys like Owen Coyle in the team'. All the fans were going across the Erskine Bridge to Parkhead and Ibrox.
"I saw an opportunity at St Johnstone. I'd have Perth, as well as the likes of Crieff, Blairgowrie, Scone and Auchterarder, to myself. That's the reason I went.
"I started virtually from scratch. After one game – a draw with Frank Connor's Raith Rovers – I could see there was a reason we were the third worst team in Scotland. The boys weren't good enough and I freed 11 players.
"We built it up from there and everything fell into place season after season.
"When I came to St Johnstone I met with the fans. They were asking: 'Are you going to get us promotion?' I said: 'I'll give you 100% in everything I do and that's all I can promise'."
Promotion from the Second Division was backed up with a solid campaign in the First and a Scottish Cup run to the semi-finals. If Totten hadn't already been satisfied that his career instincts were correct, seeing 10,000 Saints fans in Celtic Park for the 0-0 draw with Graeme Souness's Rangers would have done the job.
And then there was a new home to get settled into.
There have been 12 new-builds in the SPFL since McDiarmid Park but none of the other 11 has helped shaped a club's future as decidedly and positively as was the case with St Johnstone. History tells you it isn't as simple as build it and they will come. Build it, sell a vision and put an attacking team in it gives you a chance, though.
"That era will never be repeated," said Totten. "Everything came together. It was a moment in time.
"It felt like I saw the stadium going up brick by brick and when it came to persuading the likes of Allan Moore to sign for the club, being able to take him to McDiarmid rather than Muirton was a big help. It was a sales pitch on its own."
Nobody could have predicted that attendances would soar from between one and two thousand the previous season to over 7,000 for run-of-the-mill league games and five-figure gates for top-of-the-table ones.
The players certainly didn't.
Talismanic centre-forward Roddy Grant said: "We had to play our first three games away from home that season and to see the sort of crowds we were getting once we did play at McDiarmid was a big surprise. And the players were on a crowd bonus!
"Starting the season well obviously helped keep things building. Fans want to see a winning team. They kept the team going and we kept them going. I'll always say that McDiarmid Park is a fantastic place when there are crowds of 7,000 and over. You get a great atmosphere. The fans took to the new stadium as well as the players."
Those players also took to their new training pitch – the all-weather surface adjacent to the ground. There won't be a club in Scottish senior football deprived of midweek access to a 4G pitch these days but back then it was more common to see part-time teams train on blaze car parks, as Saints did at Muirton, or the corner of a public playing field if they were lucky.
"Training was always high tempo," Grant recalled. "The artificial pitch was one of the biggest factors in our success that season.
"We'd come from training on a bit of ground next to Muirton to the astroturf at McDiarmid. There weren't many about then.
"It was one of the very first and it was solid. Concrete. But it was great for doing drills and small-sided games. Everybody had a great first touch. It was all short-staff stuff, working on our shape and our possession."
High pressing and a front-three formation have never been more fashionable than just now. Look at Liverpool. Good coaches adapt to the players they have and that was the case with Totten in pre-season when a 4-4-2 manager converted to 4-3-3.
"The change suited me perfectly," said Grant. "It was my ideal formation. Alex always used to say we were like greyhounds out of a trap and we were. We scored so many early goals that year. It was absolutely unbelievable.
"Stevie Maskrey and Moorie were great to play alongside. Moorie's first intention was always to get to the byeline. Stevie had more trickery and would come inside to link up with me, driving inside and looking to play one-twos.
"It was the three of us and Harry Curran bombing forward. He was the ultimate box-to-box midfielder. We were involved in a lot of high-scoring games.
"It was new that season. We'd been 4-4-2 up until that point. Moorie was probably the final piece in the jigsaw. The formation took teams by surprise. Nine times out of 10 teams were forced to go long because we pressed defences high up the pitch. We hounded teams. Everybody squeezed up.
"I always remember that after we scored a goal Alex's assistant, Bert Paton would be screaming 'get the ball back' when they were taking their centre."