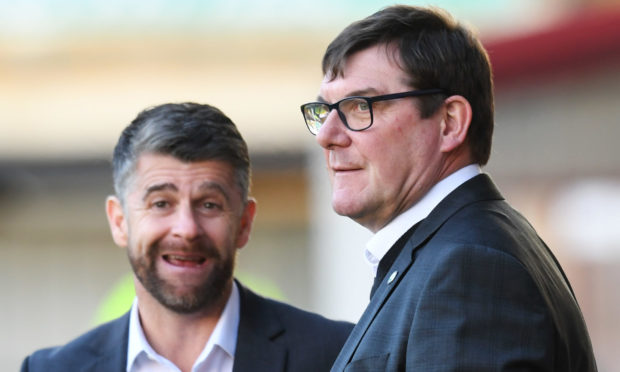 St Johnstone boss Tommy Wright is a frontrunner for the now vacant Northern Ireland manager's job.
But Courier Sport understands that there is no need for full-on panic in Perth just yet.
Despite Wright's impeccable credentials to replace Michael O'Neill, who has officially stood down from the role after eight years in charge, Ian Baraclough is holding a strong hand and is ahead of the pack at the moment.
The former Motherwell manager is the bookies' favourite, and sources in Belfast suggest that the post could even be regarded as his to lose.
The Irish FA have been impressed with the Englishman's work as their under-21 coach, with a win in Spain catching the eye in the current Euro qualifiers.
Since O'Neill was appointed by Stoke City in November on the understanding that he would see through the Euro 2020 campaign, Baraclough has been performing the day to day duties of the senior manager. He was also due to be part of O'Neill's backroom team for the European Championship play-offs had they taken place as planned.
The indefinite postponement of those play-offs has prompted O'Neill's decision and the IFA have stated that they intend to make an appointment by September, when there are Nations League matches, with the delayed Euro 2021 ties pencilled in for October and November.
Baraclough may even be appointed as interim boss but if interviews are held – a problem in itself, given the current lockdown – Wright's chances would greatly increase.
Once you look beyond the fact that Baraclough would probably be the cheaper and more convenient option, the Saints manager's CV takes him to the top of the pile.
The second most successful in club football of the contenders is current Fir Park boss Stephen Robinson.
His achievements in Scottish football don't come close to Wright's but there is no doubt that he has built a successful Motherwell side in recent times.
Robinson said last week: "I think it would become a very difficult job but one that would be a privilege for anybody to take.
"The ultimate goal is to manage your country at some stage, whether that stage is now, whether people see fit, whether I think it's the right thing to do at this stage, that remains to be seen."
Austin MacPhee, O'Neill's assistant with Northern Ireland, has also been name-checked but it is thought that he doesn't have a strong chance given the qualifications of others.
Frazer Wright, a Scottish Cup winner with Saints, believes his old Perth manager is a perfect fit for Windsor Park.
He said: "Tommy is a proud Northern Irishman. He captained his country back in his goalkeeping days and also spent time as a coach with Michael.
"Saints fans have been through this before when Michael was linked with Scotland, when he looked set to go to Birmingham and then again when he did join Stoke City.
"So they will be bracing themselves for more speculation about their manager. But it's hardly surprising given Tommy's track record.
"He has regularly taken the club into the top six and in 2014 we won the Scottish Cup for the first time in Saints' history.
"But what he has done this season must rate among his best ever achievements. It can only push him further up the pecking order.
"He had to show a different side to his managerial qualities to take a team that was bottom of the league and favourites for relegation at the start of December to be seventh and looking good for another top six finish when the pandemic kicked in.
"People don't see what a manager does behind the scenes day after day to get the best out of his players.
"He obviously had confidence in them but what a turnaround it has been over the last few months.
"And Tommy has the trust of the players. That is important whether you are managing a club or a country."
Wright added: "You see Stephen Kenny getting the Republic of Ireland job. He was at Dunfermline before going back to Shamrock Rovers and Dundalk. That appointment was a surprise when he stepped up from the under-21s.
"Northern Ireland might be thinking along the same lines with Ian Baraclough. I don't know. But if not, I can't imagine Tommy won't be under consideration for following on from Michael, who has done a great job there."
In a statement confirming his departure, O'Neill said: "I feel it is only fair that now is the right time for me to step aside.
"It was important to leave the association and team in the strongest possible shape in order to not only have the best chance of qualifying for Euro 2021, but allow the new manager time to build upon the success that we have had during my eight-year tenure..
"Throughout my time here, I have been fortunate to have worked with many great coaching, medical and support staff who have all contributed to our successes and shared in some great moments."
Irish FA CEO Patrick Nelson said: "It is within a unique set of circumstances that we bring our unforgettable chapter with Michael O'Neill to a close. His time as manager, as well as chief football officer at the Irish FA, will be remembered as some of the headiest for our fans and most successful for our players. We were all looking forward to having Michael back to lead the team in March for the game against Bosnia and Herzegovina, but, for obvious reasons, it simply wasn't to be.
"Now that we have a clearer sense from Uefa on their next programme of games, it is the right time to move forward in a new direction to give Michael's successor the best possible chance of planning for and competing in the Nations League, as well as gearing up for those crucial play-off games that will hopefully take us back to Euros next summer.
"We will work with our board to ensure the next manager is in place for the games in September."