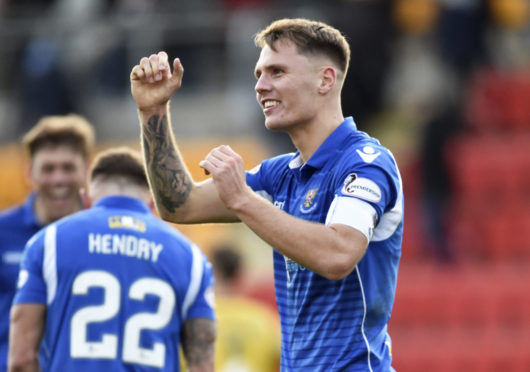 At the start of this season Jason Kerr was a rookie skipper about to learn on the job.
At the start of the next one he'll have the armband experience of a veteran to help him in the St Johnstone leadership role.
The highs and lows of a Premiership campaign that included a calamitous start and a magnificent bounce-back were more than enough to give Kerr a crash course on captaincy at the top level.
But nothing could have prepared the Perth defender for the situation he now finds himself in – being a lockdown focal point for team-mates and supporters coming to terms with a long and uncertain football-free hiatus.
When the game eventually resumes, nobody will be querying the 23-year-old's captain credentials, that's for sure.
"It's been an incredible season to have as my first as captain," he said. "Talk about ups and downs.
"People were questioning whether I should have been made captain in the summer because of my age. And then the spotlight was really on me when results weren't great for the first few months.
"Obviously we turned the tide and have been playing well for a while now.
"The timing of the season being stopped was really frustrating because we were playing so well and I'm sure that we would have got even better. I felt we could push even higher than sixth.
"Individually, everything that has happened has really brought me on. I've been put in situations that you could never have predicted. They've matured me as a person.
"The season before I was still just a young player coming through and I only really had to worry about myself and how I was playing.
"Now, as the captain of the team I'm focused on other players as well – both on the pitch and off it. I've enjoyed all the responsibilities that go with the captaincy role.
"At the moment, it's all about keeping in touch with the lads and making sure everybody is OK. That means being the messenger to make sure all the players are in the loop with what's happening.
"And there have been the phone calls to the senior season ticket holders. I think I've made about 20 of them.
"I'm staying by myself so it's been nice to have people to speak to. It's a flat, so it's not as if I even have a back garden to go into.
"The season ticket holders seem to have enjoyed it and I certainly have. It's been great to talk about football and St Johnstone with them all.
"They're missing it as much as we are. They're all worrying whether I'm keeping my fitness up and a few of them admitted they were shouting abuse at me at the start of the season!"
None would have been shouting abuse from the stands in 2020, though. Kerr, like the rest of the Saints defenders, has raised his performance level significantly. When football returns, Kerr could be back in the Scotland squad conversation.
The former under-21 international said: "The thought of being called up for Scotland still drives me on. Every player wants to play for their country.
"I feel like that if I can keep playing as I was over the last few months and we can pick up where we left off as a team, then hopefully I might have a chance. When your team is bottom of the league, you're not going to get picked.
"I'd like to think that coming back from what happened at the start of the season will help my cause. There were people who were saying I shouldn't even be in the St Johnstone team.
"I feel like I've come through that test as an even better player."
How the Scottish football landscape will look when the pandemic is under control is anybody's guess. What can be safely assumed is that St Johnstone will be better placed to deal with a post-coronavirus sporting world than most of the other SPFL sides.
"The way the club has been run over the last few years will hopefully stand us in good stead when football comes back," said Kerr. "That's a testament to the chairman.
"Obviously there isn't a single club that won't be affected by not having any revenue coming in but he's saved up for a rainy day, which is going to be crucial.
"As a St Johnstone player, that's a reassuring situation.
"A lot of the players here are under contract. It's going to be a stressful time for players without deals.
"This is all unprecedented. You know that clubs will be making cut-backs and there is uncertainty about who will be spending money.
"It's worrying times but as players, we have the PFA to help us out. Liam Craig has been working really hard over the last few weeks and will be advising lads as much as he can.
"Having a contract is going to be important, you would think.
"It's strange to think that I could have played with some boys for the last time. Hopefully a few of the out of contract boys will still be here next season and the rest will get clubs."