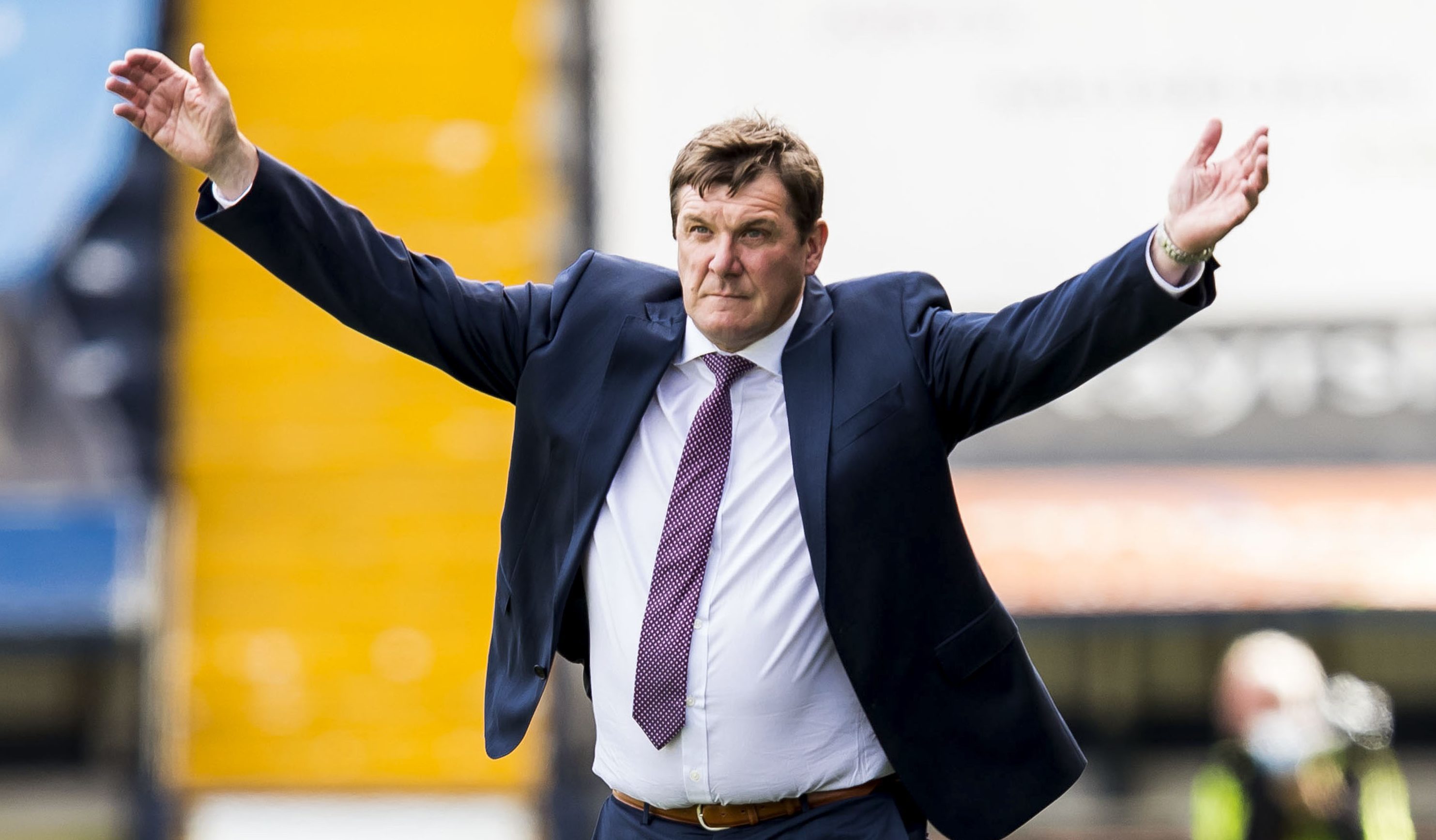 Tommy Wright believes he has left St Johnstone in a strong position for his successor.
The Northern Irishman said a 40-minute goodbye to Perth fans on the club's website, and admitted to a "tearful" moment when the point of no return on his decision to quit was reached.
But Wright is in no doubt that his departure has been timed correctly, with the fact that the new manager has a chance to build on the foundations he has put in place one of the big reasons for that.
Points per game average is set to return Saints to the top half of the Premiership if and when the SPFL call the top flight over – and that's where he expects the McDiarmid Park side to stay.
"Hopefully they can be a top six side again and do well in the cup competitions," said Wright.
"It was a difficult season. We were so low – bottom of the league. There aren't many teams who get out of the position we were in at December without spending heavily like Ross County did a few seasons before. But once the mistakes stopped, the confidence came back.
"They should all learn from this season and get unbelievable experience. They should take that forward next season.
"Everybody's squad will be smaller next season, which will give the younger players an opportunity, but it's is a really good position. That's another highlight for me. It's gone from being an experienced squad to the youngest in the league.
"If they call the league as they say they're going to, they'll deserve to be top six."
Hearing Wright using the word "they" rather than "we" will take some getting used to for Saints fans. It won't fall off the tongue easily for the man himself after giving the club his "365 and 24 hours" attention for nearly a decade, as he put it.
"It was extremely difficult after being at the club so long," he said of the decision to leave, which had been in his thoughts for a few months. "I've got so many happy memories.
"But it was something that's been considered for a while. When you're at a club for a long period of time sometimes there comes a time when you need a break. I do need a break.
"The way I approach the job is 365 and 24 hours a day.
"I leave the club in a really strong position. The future is bright. Unfortunately I won't be the man to take the team forward. But I think that could be good, not only for me, but for the club as well.
"I'm extremely proud. When I take a job on, I take the club on as mine."
It would have taken a lot more than three quarters of an hour for Wright to do justice to all his highlights as Perth boss.
"It's not just the cup or the European nights you look back on," he said. "Over the last couple of days, I've been thinking about things like all the young players who I've given their debut to – Scott Brown, Zander (Clark), Liam Gordon, Jason (Kerr), young Jordan Northcott, the list is endless.
"I normally give them a heads-up a day or two before. They think they're in trouble because they're coming into your office!
"The cup final squad will always have a special place for me in terms of what they achieved that season but overall the players have been magnificent and I can't praise them highly enough.
"We didn't have a huge turnover of players, which is a good thing.
"Even the ones who didn't play as much were important – somebody like James McFadden, who lifted the club in terms of his quality in training. It was just right at that time.
"I never hold grudges with players who have left or didn't play much. Everybody who has played for me has made me better as a manager and helped achieve the success we've had."
The members of his backroom team down the years have also done their bit.
"I've picked good people with good values and ability to work with me, which has been really important," said Wright. "I'll not only miss the players and my staff, I'll miss the staff upstairs as well.
"I want to say a massive thank you to everyone who supported me –players, coaches, my family, my wife Anne – but the game is nothing without supporters.
"We might have a small fan base but it's a loyal one that gets behind their team and they certainly got behind me. Never did I feel under pressure from them.
"They've deserved all the success that they've experienced over the last 10 years.
"I'll miss them but I'll be back to hopefully watch games.
"I'll be back at functions for the club. It hasn't been an easy decision. It's not an easy time but I think it's the right decision. I was quite tearful, I don't mind admitting that.
"I said a few years ago there might be clubs with more money, bigger resources and a bigger support than St Johnstone but none with a bigger heart."
The heart of the manager has been pretty big as well.
ERIC NICOLSON: JFK moment for St Johnstone fans – Tommy Wright would take on any fight to defend his club