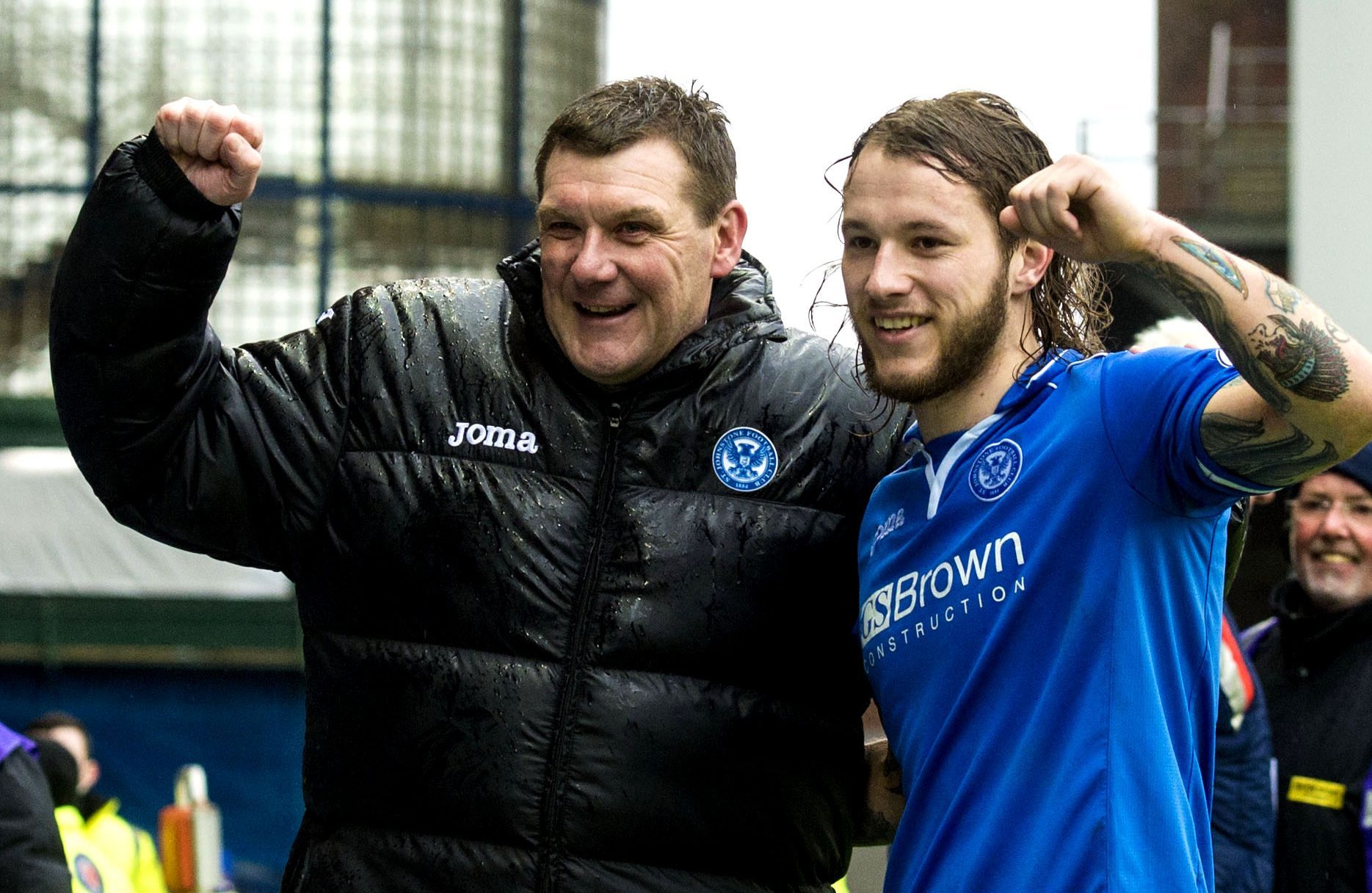 That Tommy Wright has been the perfect manager for St Johnstone is beyond debate.
And that Tommy Wright has been the perfect manager for Stevie May is equally obvious.
The Northern Irishman give May his chance to be a first team regular at McDiarmid Park after a couple of lower league loans, setting in motion a career best run of form that would help the Perth club to historic heights, and earn the striker a big money move to England and a Scotland cap.
A combination of injuries and being tasked with adapting his game to suit different formations and tactics under several other coaches watered the 27-year-old down into a centre-forward incomparable to the lethal, shoot-on-sight marksman who left Perth in the summer of 2014.
Wright had a plan when he re-signed May for last season. It was to get the local hero rediscovering his uninhibited, off the cuff streak.
Through patience and perseverance, going back to the future has paid off.
Seven goals in a curtailed campaign is just one short of the grand total May amassed over two seasons at Aberdeen – and there is a promise of even better yet to come.
Stripping his game back has been shown to be a shrewd decision from Wright.
"He has always been brilliant for me and he just let me play," said May. "I always worked hard for him and everything else took care of itself.
"Personally, I was really enjoying my football. I was getting a few goals and playing in a great changing room.
"I think there is no doubt that he will go down as the best manager St Johnstone have had.
"I'm really sad to see him go but it's obviously a decision he has really thought about. Maybe he feels a little break is what he needs."
Neil Lennon and his Celtic players have had to bat away talk of a tainted title now that the Premiership has been officially declared over. And don't try to tell the Saints squad that being bumped up a place on points-per-game means it's a tarnished top six.
"We deserved it after coming back from where we were," said May.
"As a group we were confident we would have managed to do it if we'd finished all the games.
"The coronavirus situation is a terrible one, no matter what position you are in.
"It was all up in the air with what was going to happen. I think we all knew deep down that it would be a struggle to finish the season.
"Our young squad was bottom of the league going into Christmas time, so sixth is a good finish to the season.
"To get another top six for the gaffer in his last season is a nice feeling.
"The amount of top six finishes and European football achieved over the years is a real credit to Tommy."
May added: "When you've got a younger squad sometimes you just need a win or two for belief.
"We were starting to defend well and were going forward as a unit.
"We were getting results at home but were also picking up points on the road which was a big thing for us. We were enjoying our football so much as a squad."
All Premiership clubs are dealing with the uncertainty of when football will resume and in what guise. For Saints, there is also a changing of the managerial guard after seven successful seasons under Wright to be thrown into the mix.
May isn't fearful of a dramatic change in the Perth form graph, though.
"We're more than confident that, when we do get playing again, we'll start where we left off before the season stopped," he said.
"As far as looking forward goes, it's probably the best situation the squad has been in for a good number of years.
"There is a lot of young talent signed to the club and it looks like they are only going to improve.
"It will be a great squad for the new manager to come in and take. Whoever it is, I'm sure they will love working with the squad.
"There are no big personalities that cause bother. It's just a hard-working squad with a young base."
Jason Kerr has grown into St Johnstone captaincy role, says Alec Cleland