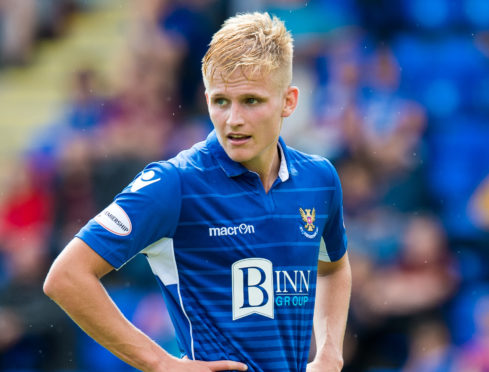 Ali McCann already carries himself like a Premiership veteran, according to Matt Butcher.
But the young St Johnstone star still has plenty of room for improvement.
Butcher played alongside McCann during his short Perth loan spell last season and couldn't fail to be impressed by the Northern Ireland under-21 international.
"The biggest compliment I can pay Ali is by saying that you don't think of him as a young lad in his first season," said the Bournemouth man.
"The way he plays and the way he conducts himself is the same as one of the senior players.
"And when you see him on the pitch he looks like someone who has been playing in the Premiership for years.
"Obviously he has improved steadily over the season. It's incredible to think he only made his league debut at the start of the year.
"I was really impressed by him. He has added goals to his game now and that's valuable for any midfielder.
"He's got the right kind of attitude you need to keep progressing and I'm sure he'll continue to improve."
INTERVIEW: Former St Johnstone striker Graham Cummins has found football happiness in defence