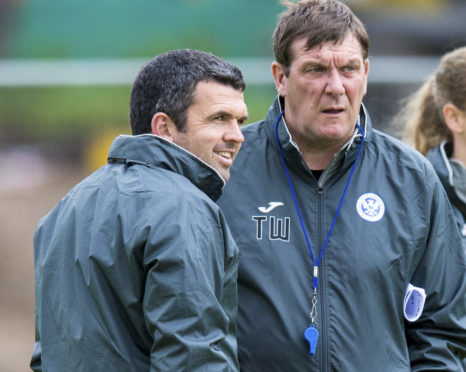 Following on from the greatest manager in St Johnstone's history won't inhibit Callum Davidson at McDiarmid Park.
Tommy Wright's successor has been a big part of the Perth golden era and he wants to build on the strong platform the Northern Irishman has put down, not dismantle it.
"Tommy was a brilliant manager here and he won't be forgotten for the job he did and what he brought to the club," said Davidson, who was Wright's assistant until he left for Stoke City a couple of years ago.
"So obviously it's a tough job but following Tommy isn't something that was going to scare me off. Not at all.
"I worked with him for five years and was part of what we did during that time.
"Tommy was the manager and I helped him along the way.
"So, for me, there is no pressure from that – the pressure comes from wanting to do well."
Davidson, who is set to add another Saints legend, Steven MacLean, to his backroom staff, added: "I spoke to Tommy about a week ago. We still speak regularly.
"He just told me it was a great opportunity for me and if I get offered it then I should take it.
"He said I know the club inside out, I know what works and that it was the right time.
"He gave me a few other little bits of advice that I will keep to myself on how to deal with things.
"He's someone I'll pick up the phone to. He'll always be there to help me and he's a great ally to have.
"I won't change too much. It would be stupid to make wholesale changes to something that has been so successful.
"So what I'll do is tinker with one or two things, use what I have learned along the way."
ERIC NICOLSON: Callum Davidson has been a St Johnstone manager-in-waiting for a long time