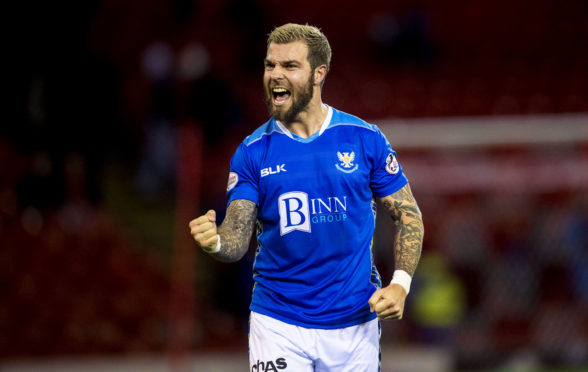 Ex-St Johnstone defender Richard Foster has revealed he's buried the hatchet with his old boss Tommy Wright.
The 34-year-old left the club last August after a training ground bust-up with the Northern Irishman, prompting a war of words between his pop star wife Amy Macdonald and Wright, 56, a month later.
Seven weeks have passed since Saints legend Wright's own departure from McDiarmid Park and Foster wasn't surprised by the Scottish Cup-winning manager's exit.
Speaking to the Open Goal podcast, he said: "I think there were a few things that were starting to annoy him about the club I think.
"I don't know what they were but just through the grapevine, it got to the point he actually went, 'You know what, I've had enough'.
"Weirdly, I've spoken to him a few times in the lockdown.
"We fell out but the first time I saw him was when he came back up to Ross County and we played against them.
"I shook his hand and we spoke after it, everything was fine. The two of us are similar, there's no point in holding grudges I don't think.
"It happened, you fall out, make up, it's fine."
Former Rangers and Aberdeen full-back Foster – recently released by Ross County – has regrets about the conclusion to his three-year spell in Perth.
He said: "I certainly do and I got the feeling from him…I kind of regret the way it ended at St Johnstone because I played some of my best football under him.
"He probably understood me more as a person than any other manager I've worked with.
"It was just disappointing the way the two of us let it end."
Last month Foster criticised teams who opted not to extend the furlough scheme for out-of-contract players.
He said: "Clubs just seem to be choosing to not use it.
"I just find the whole issues around the furlough scheme ridiculous, and why clubs are choosing not to furlough their players when there is a scheme there in place. Which to me is morally shocking really."
Shaun Rooney suspected Tommy Wright might not be St Johnstone boss when he joined as he reveals job Wright told him he couldn't turn down