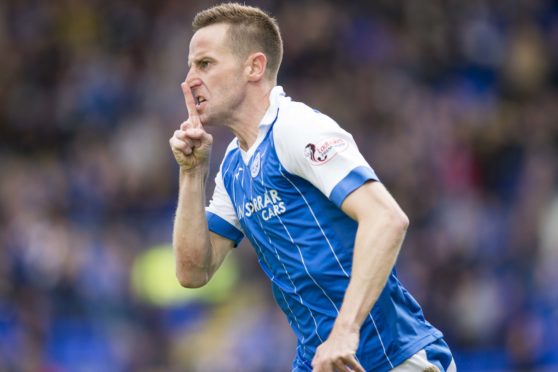 It wasn't the way he expected his playing days to end.
But after deciding to hang up the boots, Steven MacLean jumped at the chance to begin his coaching career at a club where he enjoys legendary status.
His scrambled 2014 Scottish Cup final goal to secure a 2-0 win over Dundee United will be forever imprinted on the memories of Perth supporters.
But two years after being lured to Hearts and signing-off with a League One title win on loan at Raith Rovers, the fans' favourite got the call from new manager Callum Davidson to join him at McDiarmid.
"It's going to be different for me," admitted MacLean, whose career began with a cup medal with Rangers in the Alex McLeish era.
It took in Sheffield Wednesday, Cardiff City, Plymouth Argyle and Yeovil before a productive six-year stay with Saints.
Now, following the departure of previous boss Tommy Wright, MacLean is gearing up to share first team coaching duties with Alec Cleland in the countdown to the new season.
"Playing was always the best thing, but you can't play forever," he said.
"I'm certainly not getting any younger.
"If you said to me when I was 30 that I would play until I was just about 38, I'd have bitten your hand off for it.
"It was a bit disappointing how it finished with Covid-19 but I've had a good career and one I'm happy with.
"I've made some mistakes but I've had great times along the way.
"I'm really looking forward to this new adventure."
MacLean admits it's the perfect club to get a foothold on the coaching ladder, with Davidson given the No2 role by Wright when his own playing days ended.
"I spoke to Callum and it's a great opportunity for me. I'm grateful for this chance.
"I'm looking forward to making the transition from playing to coaching, working with the players and improving as a coach.
"I'll be trying to improve the players and will be passing on my experience to help them.
"You have ideas when you move from playing to coaching.  I've played under quite a few managers and you take that in.
"I'll follow the route Callum wants me to take and will help out in any way he wants.
"I'll be giving my opinion and Callum is open to that. The three of us will be working together, with Callum having the final say.
"Callum knows the club very well. He went away and gained experience with Gary Rowett at Stoke and Millwall.
"He will have learned a lot at both of those clubs. He worked with big players.
"Hopefully he can bring that experience and put his own stamp on the team at St Johnstone.
"I have got all my coaching certificates and have always known I wanted to do this.
"As each year goes by, you think: 'I'll maybe get in soon,'  but you never know how it will happen and in what capacity.
"I really want to take the opportunity to support Callum and Alec. We want to be as successful as we possibly can be."
MacLean revealed Davidson is keen to strengthen the young squad he has inherited from cup winner Wright.
And he knows forwards like Stevie May, Callum Hendry and Chris Kane from his Perth past.
"We've got good players and the squad is a lot younger from when I played.  Hopefully we can help them improve," he said.
"We might need to add a couple to the squad and we're already looking and doing our homework.
"I've played with all of the strikers and I'll get out on the training pitch to work with them.
"Whatever they need, or whatever extra work they want, I will always be there to help and talk them through things.
"All of them can improve still and hopefully I can help with that on the training pitch and through video analysis."
MacLean delighted Perth fans with his on-field passion and kung fu goal celebrations.
But he has no idea how he's going to react in his new role in the dug-out.
"I've not really thought about that yet. Let's just hope we are scoring plenty of goals and winning plenty of games," he said.
"I can worry about it when it happens. In all seriousness, I'll certainly be enthusiastic and I'll have stuff to say.
"But I think I have mellowed as I've got older. We'll soon see.
"If the players need a kick up the backside, I'm sure the gaffer will give them it. If I need to, I'll do that.
"The players will be fine and they will know what to expect from the three of us."