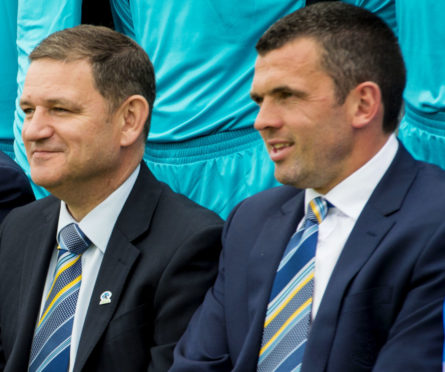 St Johnstone will be ready to pounce when the time is right for Callum Davidson to make his first signing, according to the new Perth boss.
One of the benefits of appointing Davidson to replace Tommy Wright was his knowledge of many players still at the club from his time as the Northern Irishman's right-hand man.
He has also kept his finger on the pulse of the Scottish game as a whole by taking in several matches over the last couple of years while he has been working in England.
And going through the recordings of all Saints' games of last season over the last couple of weeks has also been of value.
The squad Davidson has inherited from Wright won't need much surgery but he has been told there is scope to supplement it.
And, together with chairman Steve Brown and head of football operations Kirsten Robertson, the groundwork has been laid for some business to be done in the summer transfer window.
"As a manager you always want to add players to your team," said Davidson.
"I have been watching all the games from last season – just going through them to see how people played and what I need for this year.
"I have been working closely with the chairman and Kirsten on some deals.
"I will be limited on what I can and can't do but I knew that anyway before I came in.
"I realise the time that we're in.
"The club is very well-run financially so I'm in constant dialogue with the chairman about what we're doing.
"We will need to make sure they're the right fit for the team before we do anything."
Davidson added: "Ideally I'd like to get players in quickly because you want them up to speed.
"They will have been off for a while so it will take time to get their fitness.
"There are a lot of players available because it's a hard time for people who are out of contract this summer and I don't envy them.
"With some you can afford to be patient but with others if it's someone you really want then you might have to move quickly to get a deal together."
Ali McCann will have the desire to improve, says St Johnstone boss Callum Davidson